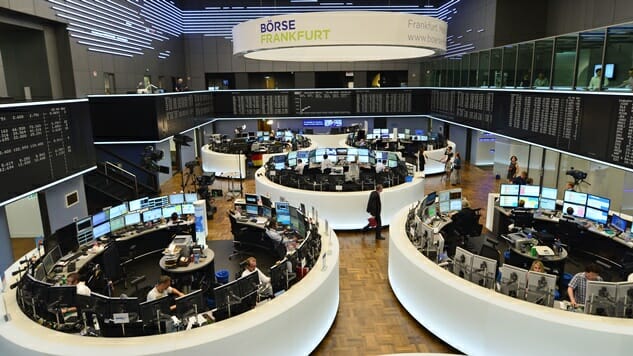 President Trump's surprise announcement of his plan to implement trade tariffs on steel and aluminum imports on Thursday has drawn the ire of multiple foreign markets. According to Bloomberg, European and Canadian officials heavily criticized the decision, citing its potential to have a "huge impact" on their nation's industry. The move, seen as a response to steel overcapacity in the Chinese market, also places key American allies in its crosshairs. To this point, the impending tariffs lacks nuance, stoking fear in the global industries and causing the German DAX index to drop drastically on Friday.
Chancellor Angela Merkel's spokesperson, Steffen Seibert, confirmed the German government's opposition to Trump's decision, stating, "such tariffs will severely impact our steel and aluminum industry."
The president's announcement came as a response to perceived losses on trade by the White House, with Trump taking to Twitter Friday morning to defend the move.
When a country (USA) is losing many billions of dollars on trade with virtually every country it does business with, trade wars are good, and easy to win. Example, when we are down $100 billion with a certain country and they get cute, don't trade anymore-we win big. It's easy!

— Donald J. Trump (@realDonaldTrump) March 2, 2018
Canada was singled out as one of the possible largest losers of the president's plan by Moody's Investors Service, adding to already existing trade issues as Trump continues to decry and threaten to exit NAFTA.
The larger concern is that these trade restrictions could inspire affected nations to institute "tit-for-tat" retaliations that could throw global trade into chaos. The European Union has already stated that it plans to implement such retaliation along with a complaint to the World Trade Organization.
Some in the European steel industry believe the U.S. plan could greatly affect the WTO itself. "This whole issue can blow up the WTO," said European Steel Association director general Axel Eggert.
Trump also views his decision as a move to reinvigorate the American steel industry, which has become increasingly less viable in recent history, and utilized a statute in the Trade Expansion Act of 1962 that allows the government to explore tariffs if imports impact national security.
We must protect our country and our workers. Our steel industry is in bad shape. IF YOU DON'T HAVE STEEL, YOU DON'T HAVE A COUNTRY!

— Donald J. Trump (@realDonaldTrump) March 2, 2018
Eggert, along with Norwegian and Japanese officials, called out Trump for claiming national security risks as the reason for the move. "This is not about national security. This is about propping up a U.S. industry that isn't viable," said Eggert. Trump's reasoning doesn't pass the smell test, as the tariffs would affect American allies. "National Security as an excuse for protectionism is not constructive," said the Norwegian Foreign Ministry.