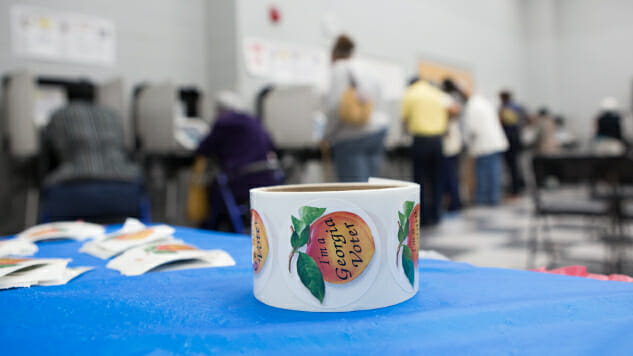 As Georgia Secretary of State and gubernatorial candidate Brian Kemp continues to face nationwide calls, including from former President Jimmy Carter, to resign from his role overseeing his own election, here's how several of the state's would-be voters say they've been kept from casting their ballots in the state's critical midterm elections.
Dr. Raphael G. Warnock, chairman of the New Georgia Project and pastor of the historic Ebenezer Baptist Church in Atlanta, told Sophia Nguyen of The Washington Post about some of the callers he's heard from in this election through the New Georgia Project, a voting rights group.
A young woman learned while training as a canvasser for new voters that her own name was no longer on the Georgia voter rolls, as the new "use it or lose it" rule had purged her name from the system, since she hadn't returned to the polls since casting her first ballot in 2008.
A dentist from Macon received a letter from the secretary of state warning him that he was at risk of being labeled an "inactive voter" for changing addresses, not voting or responding to election-related mail. He'd participated in every Georgia election for the past 40 years, and has lived in the same house for 30.
It took a three-way phone call between one man, a team of election lawyers and the Fulton County Board of Elections in order to move his name off the "pending" list of voters, because the clerk registering him had missed the hyphen in his first name.
Kemp, whose office oversees Georgia elections, has gone all-out to grab the state's gubernatorial seat, one of the most tightly contested in the country. He's currently locked in a tie with his Democratic opponent Stacey Abrams, who is already the first Black woman to become a major party gubernatorial candidate, and if elected, will also make history as the first Black governor in the South since the Reconstruction era, as well as become the first Democrat to hold her seat since 2003.
In addition to the usual tricks like gerrymandering and closing polling places, this election has seen Kemp's office use Republican-backed "exact match" laws, which can keep applicants from voting for details as minor as an entry error or a dropped hyphen, as well as a purge of the state's voter rolls.
Georgia's population is approximately 32 percent Black, yet nearly 70 percent of the estimated 53,000 voter registrations on hold with Kemp's office in October came from Black applicants. In addition, one investigation alleges that Kemp's office purged over 340,000 voters by falsely claiming they had moved. Journalist Greg Palast, who filed the investigation, has joined a lawsuit against Kemp over his voter suppression efforts.
Back on an anecdotal level, in 2012, Olivia Pearson was subject to multiple felony charges, as well as a three-year investigation by the Georgia State Election Board, after showing a first-time voter how to use the voting machine. The first Black woman to be elected to the Douglas City Commission in rural Georgia, where she has served for 18 years, Pearson was acquitted of those charges in March, but her case helps illuminate how Kemp's efforts in this forthcoming election are just one particularly egregious piece of the voter suppression puzzle. Kemp has made the news-making move to dismiss repeated calls to resign ahead of the elections in which he'll be on the ballot, but if he manages to steal this election, he's be just one in a long line of Republicans who have won their seats by unfair means.