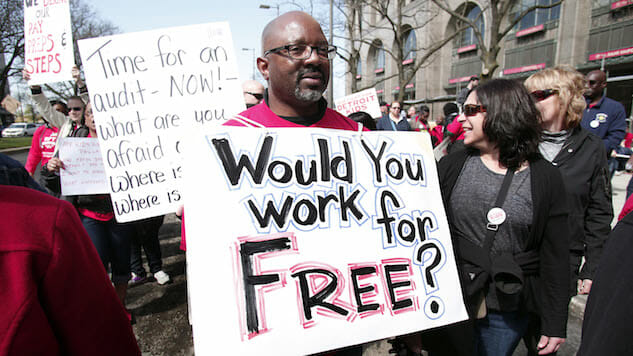 All 680 West Virginia public schools will remain closed Thursday, after striking teachers and union leaders reached a tentative pay deal with their state's governor Jim Justice on Tuesday.
West Virginia teachers have been on a week-long strike over pay and benefits. They reached an agreement with Gov. Justice for a five-percent pay raise for all teachers and educators for the first year, and a three-percent raise for all state personnel. The bill is now going through the state's legislature.
However, one of the main goals of this teachers' strike was to reform the Public Employees Insurance Agency (PEIA), which lead to health insurance premiums that employees said were far too high, and this newly reached agreement did not include a fix to PEIA.
Gov. Justice said the health insurance issue would be addressed by a task force after the passage of their initial agreement, which led many educators to come to the conclusion that this initial deal was not good enough, since they say health insurance is a far more dire situation.
Justice said in a letter to all state employees about the new task force:
I have issued an Executive Order today creating a special Task Force, that will include Educators and nothing but West Virginians. That Task Force is being formed right now and will be appointed by the end of the week to address and explore all avenues that will lead to a permanent fix for PEIA. It is important that everyone understand that identifying all of the issues in our healthcare program and finding a solution takes time. A cure won't come in 30 minutes, but I can promise you this Task Force will begin its work immediately. While I have placed a moratorium on PEIA for 16 months, finding a solution to this problem needs to be accomplished in a much, much shorter period of time.
Justice later specifically addressed where the potential funds from PEIA could come from:
There are several possibilities that will be looked at for the revenue we need to solve the PEIA issues once and for all. The possibilities of additional severance taxes on oil and gas, gaming revenue from sports betting, tax dollars being generated from our roads projects, continuing growth in our economy and the possibility of putting the insurance out for competitive bids are just a few; everything is going to be looked at.
Approximately 20,000 teachers and 13,000 school service employees joined the week-long strike in the state's Capitol. According to NBC News, the average salary for a West Virginia teacher is $45,000, making it the 48th-lowest teacher's salary in the nation.
WATCH: Thousands of teachers packed the West Virginia State Capitol on Monday in a statewide strike to demand higher wages. pic.twitter.com/xTKlHhsJiy

— NBC News (@NBCNews) February 27, 2018
The Huffington Post reported that the West Virginia state legislature has not given teachers a universal pay raise since 2014, despite the rising cost of healthcare. Organizers of the strike have said that they are paid so poorly that some have taken second jobs just to make ends meet.