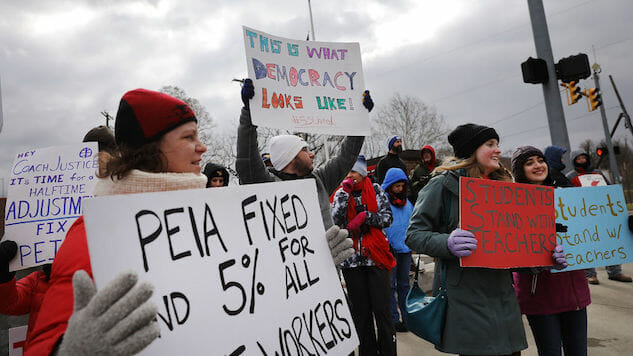 Roughly 19,000 West Virginia public school teachers are striking for a second day Wednesday, despite an apparent victory Tuesday evening.
Last February, West Virginia teachers started a national movement when roughly 35,000 educators and staffers didn't show up for work, opting instead to protest for higher wages and better healthcare options. Before the strikes, West Virginia's teachers were some of the lowest-paid in the country (48th out of the 50 states), and had seen years without a salary increase while healthcare premiums ate away at their wages.
That nine-day holdout came to a close when Governor Jim Justice gave the teachers a five-percent pay increase and a hold on increasing healthcare premiums. Their bold victory prompted more than 100,000 teachers to walk out nationwide, as educators in Arizona, Kentucky, Oklahoma, California and Colorado realized the effectiveness of taking to the streets in the face of stagnant wages, harsh budget cuts and dilapidated infrastructure.
Yesterday, however, West Virginian schoolteachers had another, more complex reason for giving their students the day off.
The walkouts occurred in protest over what many recognized to be retaliatory legislation for the educators' strong display of solidarity. How do you punish public school teachers for sticking up for themselves? Make a big push for the public funding of private schools. Republican State Senate Leader Mitch Carmichael was championing a bill that would have established seven charter schools, and 1,000 education savings accounts to allow taxpayer dollars to fund private school tuition. Democratic senator Mike Woelfel called Carmichael's bill "legislation by ambush."
The disputed legislation would have given the protesting teachers another five-percent salary raise on top of the one they received after last year's efforts. But educators saw through the bait, and realized that another raise was less important than standing strong against the privatization of schools.
The resurgent walkouts were again successful. The bill was indefinitely tabled after red-clad educators surrounded the House of Delegates in Charleston, W. Va., Tuesday night, and chants of "kill that bill!" echoed through the building.
Today, schools in 54 out of 55 West Virginian counties were closed again, with school staff back on the streets. Why? "Teachers have no trust," Jay O'Neal, a West Virginia teacher and walkout leader, told the New York Times. "We want to make sure they don't do something shady tomorrow morning." Leaders of at least three unions covering teachers and school workers cite trust issues with lawmakers in the decision to again conscientiously strike.
As teachers remain vigilant, keeping state officials on their toes, they can be expected to continue their collective bargaining. The state's promise from last year of a dedicated funding source for public employees' health insurance remains unfulfilled, and teacher pay is still far below that of neighboring states. The teachers have a lot more they know they deserve, and a lot more organizing they know they have to do to get there.
Class is canceled, the kids are all at home, and the pressure is on. West Virginia's public school teachers will get to decide what happens next.