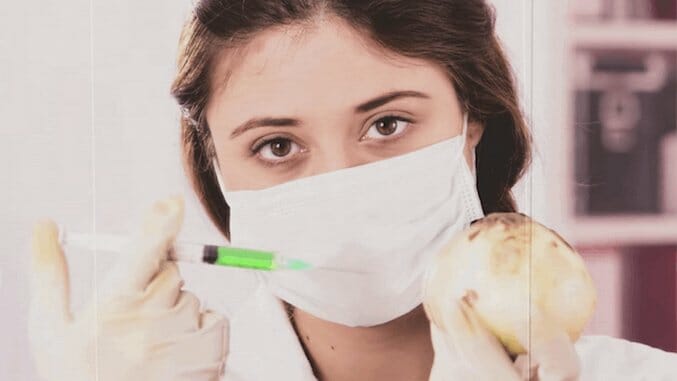 In 2015, a group of bloggers wrote an open letter to celebrity moms Gwyneth Paltrow, Sarah Michelle Gellar and Ginnifer Goodwin—criticizing their stance on the anti-GMO Safe and Accurate Food Labeling Act. The letter explained what GMOs actually are, how they are safe to eat, and how they require fewer pesticides. "When GMOs are stigmatized," they wrote, "farmers and consumers aren't able to benefit from much-needed advancements like plants with increased nutrients, or plants that can adapt to changing environmental stresses."
The letter caught the attention of several people, including Natalie Newell, who discovered it while feeding her then-infant son Zeke late at night. "I was so impressed to see this group of intelligent, relatable and reasonable moms standing up for science and against the fear-based culture that seems to have infected the world of parenting," she said. Shortly after that, she contacted one of the letter's writers, Jenny Splitter, about possibly making a short documentary about science-based parenting. Splitter then contacted a few other science-based mothers she knew, and thus Science Moms was born.
Science Moms is an upcoming documentary that profiles five mothers—Splitter, Kavin Senapathy, Alison Bernstein, Anastasia Bodnar and Layla Katiraee—who advocate for science-based decision making when it comes to children's nutrition and health. "Through interviews with 'science moms' who are on the front lines of this struggle," the film's website states, "we'll dissect the bogus claims of these celebrities one by one and explain in simple language what the science really shows about GMOs, vaccines, homeopathy and any of these topics that are often in the headlines, yet even more often are misunderstood."
Shockingly, the reason why anti-GMO and anti-vaccine propaganda is so effective among parents is because it preys upon every parent's fear: screwing things up for their children. "We want to do anything we can to keep our babies safe," said Bodnar, "so it's easy for marketers to twist that protective instinct and get us to buy into the latest fad."
Neuroscientist Bernstein knows that feeling all too well. "When my oldest was born in 2008," she said, "I was scared of everything. What should I feed her? Were her plastic bottles and the plastic parts of my breast pump poisoning her? Were the additives and colors in her snacks going to ruin her future? This sounds like hyperbole in hindsight, but I was genuinely scared and worried. The first red flag to me that something wasn't right was when the groups, like EWG, that I followed religiously started coming out against GMOs. As someone with a Ph.D. in Molecular Genetics and Genomics, I just knew this wasn't right so I started digging into their other claims." What Bernstein found was a lot of unjustified claims, which led her to start her Mommy Ph.D. Facebook page to educate other parents.
Not all the Science Moms are scientists—Senapathy and Splitter are both freelance writers—but all five interviewees want to make sure parents are basing their decisions for their children on science, not fads. Unfortunately, not everyone is convinced, and all five Science Moms have received their fair share of troll attacks. "I've been called everything from a shill to a 'fake mom,'" said Senapathy. "People have gone as far to suggest that my kids aren't really mine and that they're props in some sort of vast conspiracy. I've received occasional death threats."
"Most of the pushback I've received surrounding GMOs and vaccines has had the same basis," said Katiraee, "that these are being developed by faceless corporations who are concerned about their bottom line, have a history of doing harm, and are lobbying government to loosen regulations so that they can get away with even more harm. And I understand that concern. But these are thoroughly tested. Public sector scientists and health officials are involved in reviewing the data, not just in the U.S. but in nations around the world."
During the making of the film, Newell discovered two things she never realized before: the need for a film like this to exist, and the power of community. "There are so many moms and dads who want to find a community of like-minded people who share evidence-based views about parenting," she said. "I also learned the importance of relationships in making sure that important messages get out there—that one of the best ways for good ideas to reach as many people as possible is to work with people within your 'tribe' as well as people from other groups."
"I hope people see that we're moms who want people to know what the science said about food, vaccines, and other parenting issues," said Splitter. "We don't want to force people to eat GMOs or anything like that, we just want people to consider the evidence, even if it's new evidence you haven't considered before."
Science Moms will make its on-screen debut at this October's CSICon in Las Vegas, but Newell hopes to upload it online shortly before then. "I hope that this film will reach people who are on the fence about some of the issues that we cover," she said, "that it might kick-start some critical thinking and conversations about issues like GMOs, vaccines, and alternative medicine. Additionally, I hope that it will inspire people to continue to stand up for science because that seems to be more important now than ever before."
---
Trav Mamone is a queer trans blogger who writes about the intersections of social justice and secular humanism at Bi Any Means. They also host the Bi Any Means Podcast and co-host the Biskeptical Podcast.