How A Quick Decision From Jermaine Jones Led to A Goal for the USA
Photos Courtesy of Getty Images and Fox Sports
Soccer
Features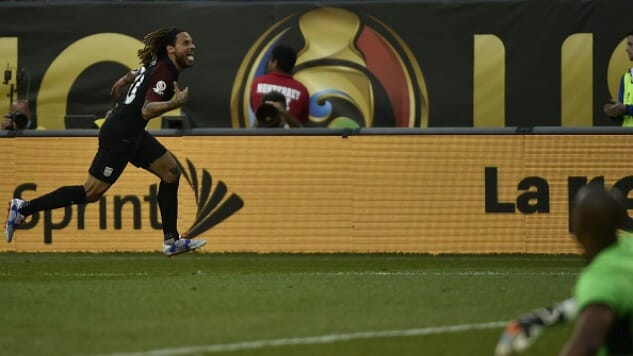 On Tuesday night, the US Men's National Team got its Copa America Centenario back on track with a comprehensive 4-0 victory over Costa Rica. While all four goals were compelling, the USA's second (struck by Jermaine Jones in the 37th minute) merits additional review. In a matter of seconds, the USMNT went from defending in their own half to celebrating a goal in the other, and it's all largely thanks to the exceptional decision making of three individuals (most notably Jermaine Jones). Let's take a look at how it all went down.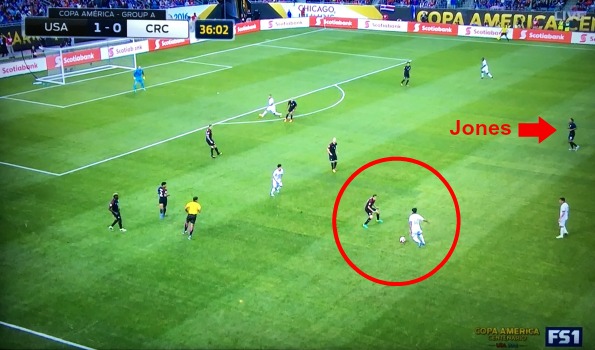 The US has just halted a Costa Rica counter and Alejandro Bedoya is now doing some solid 1v1 defending on Ticos attacker Bryan Ruiz, who attempts a few stopovers to no avail. Jones (forming part of the USA's midfield three alongside Bedoya and Michael Bradley) shifts into his standard defensive position.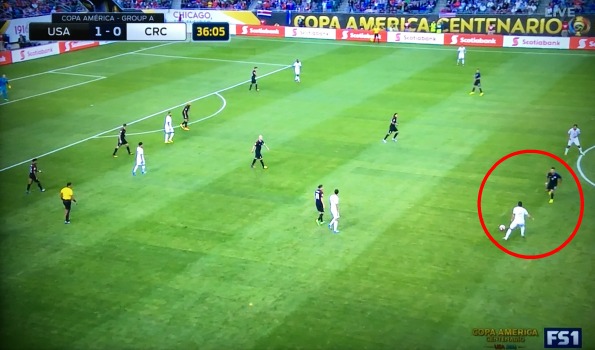 With no obvious options ahead of him, Ruiz drops the ball back to defender Johnny Acosta (who is quickly put under pressure by US forward Clint Dempsey).
Acosta is forced to again pass the ball backwards, this time to defender Francisco Calvo. The Costa Rica centerback attempts a one-touch pass to teammate Celso Borges. Jones (ever hunting for opportunities in midfield) immediately recognizes the pass and steps forward to limit the options available to Borges.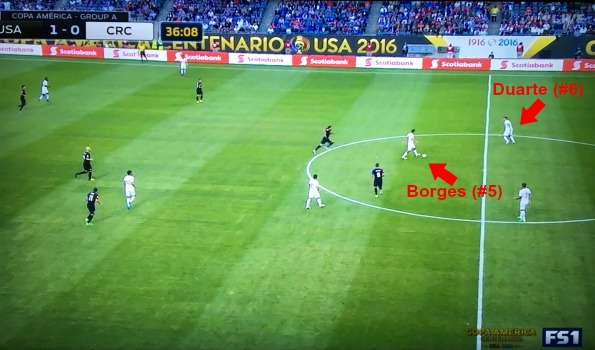 Borges receives the ball with a casual touch, unaware that Jones has rapidly begun to close the gap between them.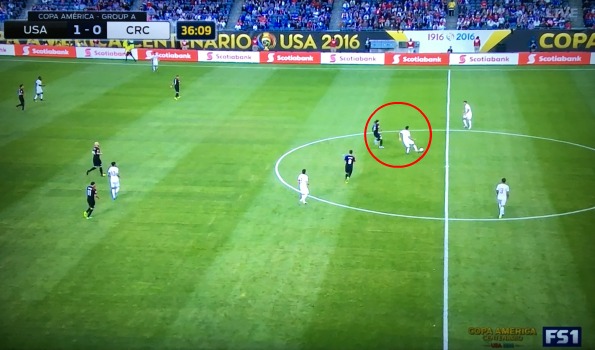 Borges eventually senses the onrushing American midfielder, and quickly attempts to get rid of the ball before getting stripped and/or crushed by Jones. In his haste to do so, however, the Costa Rican makes a costly mistake.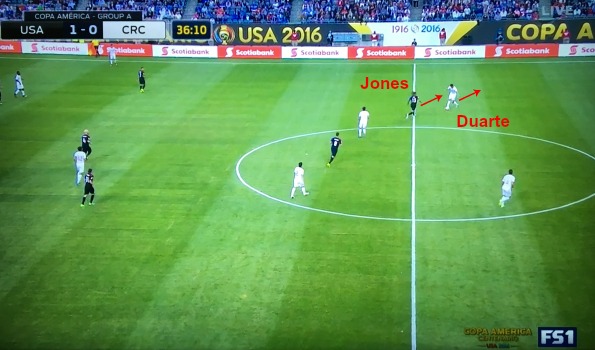 Borges drops the ball back to defender Oscar Duarte, but fails to notice that his teammate was already backpedaling away from the pass. Jones, for his part, doesn't break stride and continues his relentless chase.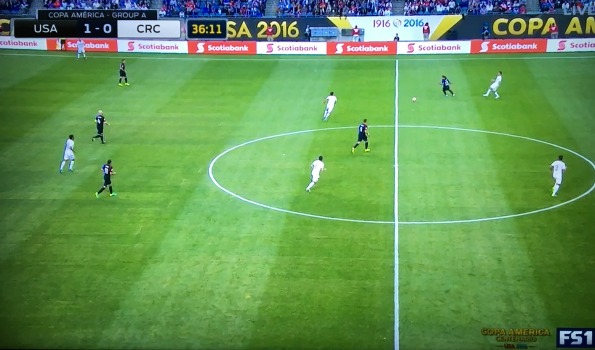 This pursuit pressures Duarte into playing the ball while still moving backwards. As a result, he can only manage an awkward tap on the ball, which Jones partially blocks with his leg.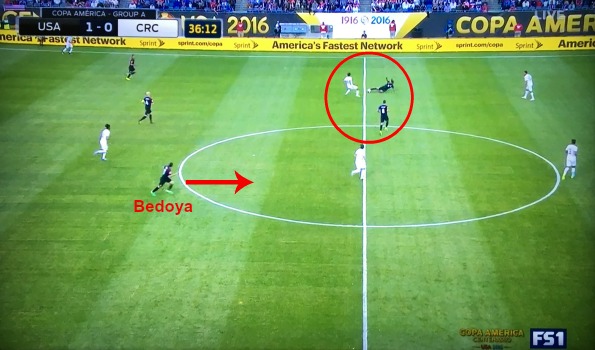 In a single image, we can see the quick-thinking of three different US players. Jones immediately rounds on the deflected pass, and slide tackles the ball to Dempsey (who had recognized the developing play and shifted into a support position). Not to be outdone, Bedoya recognizes the developing counter attack and bursts forward.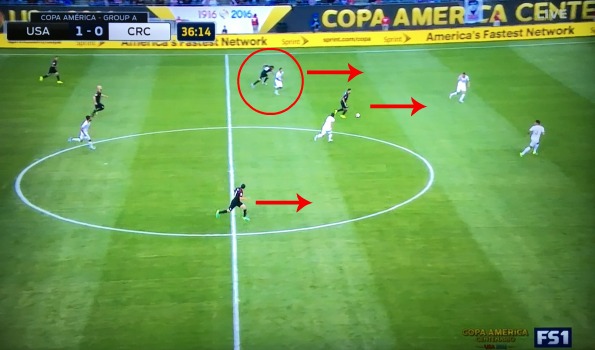 As Dempsey drives at the transitioning Costa Rica defense, both Bedoya and Jones (now back on his feet) charge ahead.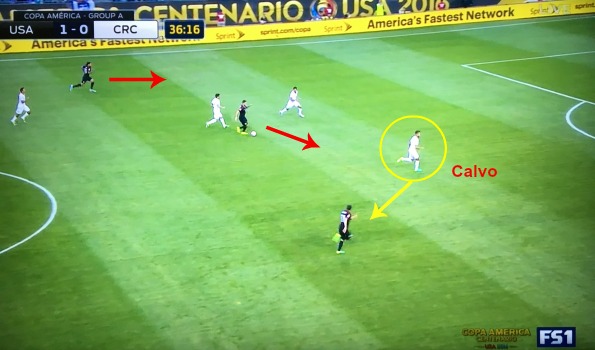 If Bedoya had failed to make his run (or even hesitated for a few seconds), Calvo would likely have been able to step to Dempsey and slow the counter attack. Since he didn't, the American now represents an obvious threat for the Ticos, and therefore can't be left alone. Note that Calvo has to take his focus off of Dempsey in order to track Bedoya's movements.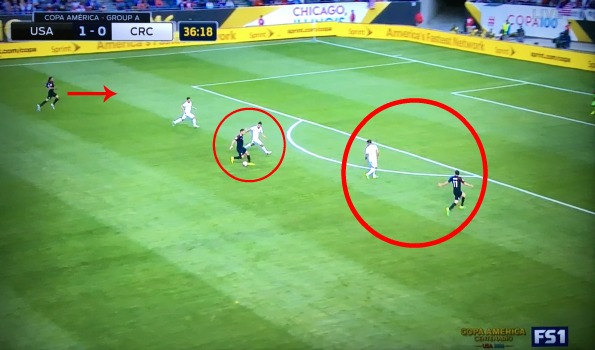 Dempsey elects not to pass to Bedoya, and instead cuts back inside. Meanwhile, Jones arrives on the scene, but remains careful not to overrun the play and leave his teammate without a proper outlet.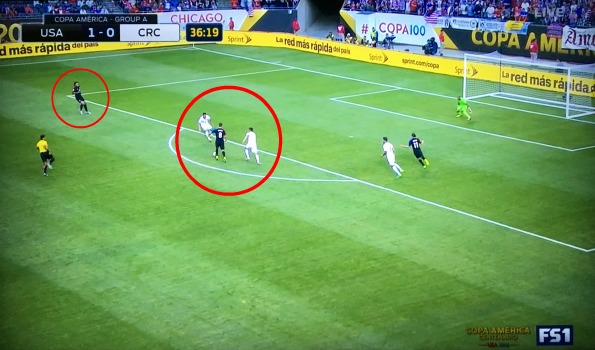 As Dempsey cuts across the top of the box (away from one defender and into another), Jones halts his run and drops into a support position. Note that Bedoya has briefly strayed offside.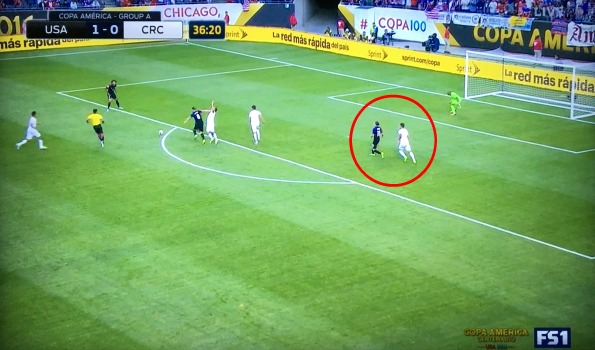 As Dempsey takes a slightly-too-heavy touch, Bedoya cleverly hops back onside (likely in case a shot comes through and offers an easy rebound).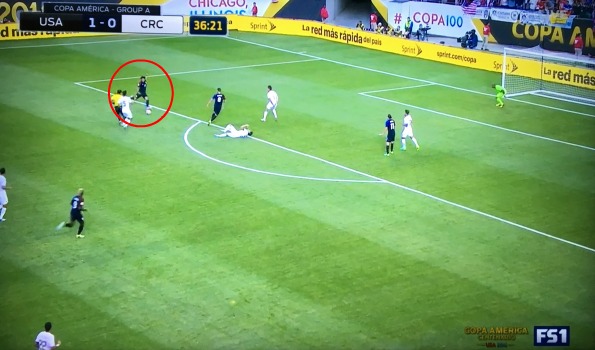 There won't be a rebound, of course, as Jermaine Jones reacts immediately and drives a curling shot low into the back of the net.
In the span of only a few moments, three US players made a series of intelligent decisions under extreme pressure and were very much rewarded for their efforts. Jones in particular deserves considerable praise: he single-handedly acted as both a first and second defender, blocked a pass, recovered a loose ball, made a 40-yard support run, and scored with an incredibly well-taken finish. Not bad for roughly 15 seconds of work.