Manchester City Have Been Charged With Breaking Anti-Doping Rules
Photo by Alex Livesey/Getty
Soccer
News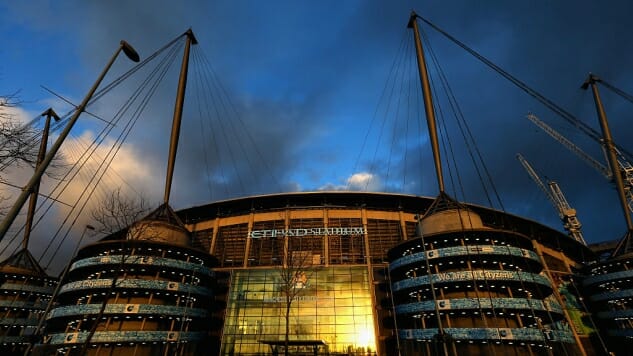 Earlier today the Football Association charged Manchester City with breaking anti-doping rules.
The charges stem from City's failure to provide adequate "club whereabouts" information on players on at least three separate occasions. Under the FA's rules, players must be available for surprise doping tests at all times. These tests are administered by a mobile team of lab technicians employed by the FA, who can move quickly to meet with players wherever they may be. In order to carry out this function, clubs need to keep the FA informed on where their players are at any given time and making sure their first team and development squad members don't go off radar for long stretches of time.
The FA alleges that City failed to meet this requirement on three occasions. Specifically, the club failed to file timely updates on changes to its training schedule, and thus not provided up-to-date info on where some of their players were.
Manchester City have until January 19th to enter a plea. An independent commission will then convene to hear the case and issue a ruling. The club would be handed a fine should they be found guilty.
The write-up at The Guardian goes into greater detail if you'd like to get into the legal nitty-gritty. But here's a few important takeaways:
– So far, there is nothing to suggest that any Manchester City players engaged in doping.
– So far, there is nothing to suggest that the club acted deliberately or in bad faith. This appears to be a case of bad bookkeeping, and it's largely the fact that this happened three times that made it enough of a problem that formal charges were necessary.
– The charges stem from violations of FA rules. So far, there's nothing that would necessarily warrant involvement from either WADA or UK anti-doping authorities.
More on this as it develops.