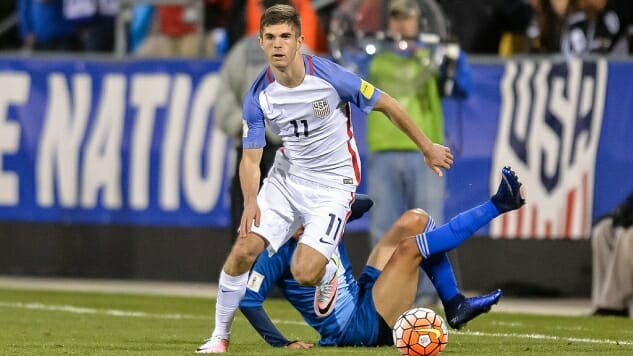 When Abby Wambach retired, Gatorade released a commercial featuring the departing USWNT star in something of a tear-jerker. The ad spot depicts Wamback sitting in front of her locker, staring at the accumulated personal effects of a lengthy career. Wambach intones in a voiceover: "Forget me. Forget my number, forget my name, forget I ever existed." There's a montage with her cleaning out the locker and young girls training, all the while she says in voiceover that the team can't move on if it clings to the past and that her and her generation has to make way for the new breed of stars breaking into the team. "The day that I'm forgotten is the day we will succeed," Wambach concludes. And yeah, it's just an ad for a sports drink, but it speaks to an ethic that the Womens' National Team tries (not always successfully) to live up to: winning means looking forward, not backward.
Hold on to that for a few moments.
So the United States Mens' National Team kicks off later tonight against Honduras in what is likely a must-win game in World Cup Qualifying. With zero points after two matches and things looking grim, tonight's clash in San Jose is probably the most important Qualifying match since the Snowclasico four years ago this week.
When not casting furtive glances at the clock and the scoreboard, many USMNT fans (and media folks who cover the team) will have their gazes fixed on Borussia Dortmund midfielder Christian Pulisic. The 18-year-old is the latest in a long line of Next Big Thing prospects that have impressed early in their club and international careers, and his performances in both the Bundesliga and the Champions League have definitely turn heads. If the Americans manage to get a win out of tonight's game, there's a good chance we'll have Pulisic to thank.
I'm not really one to jump on the hype train for young players, and despite being a Dortmund fan Pulisic has been something of a slow burn for me. That said, I've been thoroughly impressed with him so far, and I have to admit that I'm really looking forward to seeing what he can do over the next few years. Including— hopefully— the World Cup next year.
Anyone with two eyes and a lick of sense can see this kid's got a lot of promise. Recently-returned head coach Bruce Arena seemed to get it too, at first. Speaking to ESPN's Jeff Carlisle, Arena talked about the squad heading into tonight's game and one of the National Team's hottest young stars.
"I think he continues to make progress as a player and a person. I think his last couple of months with his club team in Germany have been good. He has very little experience at the international level, and he's going to need to get a taste of it to continue to grow as a player. But he has all the tools to become a very good player. I look forward to seeing how he reacts in these next two games."
Arena was then asked how Pulisic is coming along compared to retired USMNT legend Landon Donovan. And here, he hedged. Arena said that while Pulisic is making some solid progress, the young man "has a long way to go before he gets to stand next to Landon."
Hoo boy.
So for one, it's a little weird to cast aspersions on the talent and potential future success of a teenager. (Not least if you happen to be that teenager's coach.) But even if you were inclined to do that, Christian Pulisic may not be the best teenager can do it with. I loved Landon Donovan (in international play; in MLS he was frequently my the bane of my existence whenever my team played the Galaxy), but Pulisic is already pretty well ahead of where he was at the same age. There's no guarantee that Pulisic will continue to rise in ability level or that it will translate to on-pitch success, of course, but the kid's already done a lot for an 18-year-old American. To put Donovan and Pulisic in the same conversation and say that Pulisic just doesn't measure up at his young age is, in several respects, intellectually dishonest.
And more to the point, it's a little puzzling to see Arena call Pulisic out like this publicly. For better worse, Arena is captain of a ship that's sailing in turbulent, uncertain waters. The USMNT needs new ideas, new approaches, and new blood if it's going to secure a trip to Russia next year. That Arena saw fit to neg Pulisic to the USMNT press gaggle is either some low-rent mind game or there's something going on with the young man that us plebes aren't privy too.
Or, and this is a very concerning possibility to consider, Arena simply doesn't think that highly of the younger players in the squad. That he seems to be banking on the likes Clint Dempsey to save the team from ruin, that his first choice to replace Seattle Sounders hotshot Jordan Morris with Chris Wondolowski, that he seems to think that DaMarcus Beasley (who, to be clear, was my favorite American player for much of the 2000s) still has some gas in the tank, suggests the possibility that Arena isn't preparing for tonight's match against Honduras. That Arena, instead, thinks he's preparing for a Qualifier for the 2002 World Cup. That he thinks he still has basically the same team that made it to the Quarterfinals in Japan/South Korea, and that this fictional core of battle-hardened vets can turn things around for him.
But it's not 2002 anymore, Bruce. Landon Donovan's done. So is Brian McBride. So is Claudio Reyna. So is Tony Meola. DaMarcus Beasley is still around, apparently, but what exactly do you expect him to do for you other than inspire the kids in the dressing room? The squad has changed a lot. CONCACAF has changed a lot. And I'm really starting to wonder whether you get that.
Abby Wambach told her fans to forget her and her team not to cling to the past. That success meant getting the ball to the next generation. By undermining Pulisic's confidence in public, Arena is signalling that maybe he doesn't need the next generation to get this done. That clinging to the past is the real path to success. Or maybe even that the National Team's success is a second-order concern next to giving the old-timers their proper due. I'm going to go out on a limb and say that if the MNT fail to qualify for Russia next year, we all won't be sitting around talking about how great Landon Donovan was.