It's a good time to be a Major League Soccer franchise. The 2015 playoffs have featured stocked teams managed by some of the league's best minds. In a broader perspective, attendance figures are up, interest in the league is high, and cities across the country are lining up to be the home of the next franchise.
However, as the great Carl Sagan once remarked, "You have to know the past to understand the present." To comprehend how we've come to such a promising present, it is perhaps useful to examine the turbulent past. With that in mind, here are the ten worst teams MLS history, listed in chronological order.
1. 1999 Metrostars (32 games played, 15 points)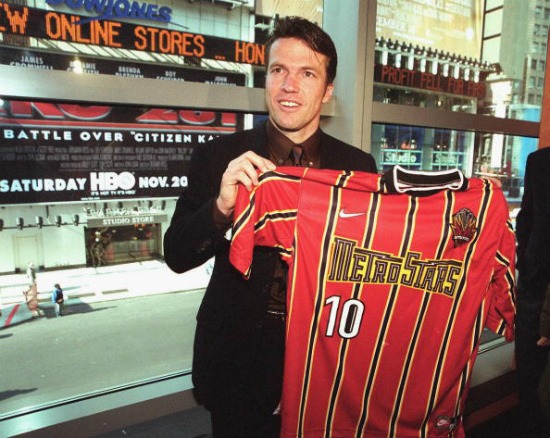 This is the team that prompted one young fan to remark, "When the MetroStars first started, when MLS was new, I was the biggest fan. I was proud to have heroes… But it's all gone. I don't even want to play soccer anymore, much less watch it." The Metrostars (who had dropped the New York/New Jersey moniker by this point) began the season by trading away Giovanni Savarese (then the club record holder for goals scored), Raul Diaz Arce, Tony Meola, Alexi Lalas and Diego Sonora (who would go on to win the MLS Cup with DC United that season).
The Metrostars made up for these losses by firing coach famed Bora Milutinovic and signing 38-year-old Lothar Matthäus. The German international, who was photographed sunning himself on Monaco's beaches when he was supposed to be rehabbing in Munich, is still considered to be one of the worst signings in MLS history. The club itself would finish the 1999 season dead last in the table, with an impressive 25 defeats and a goal difference of -32.
2. 2001 Tampa Bay Mutiny (27 games, 14 points)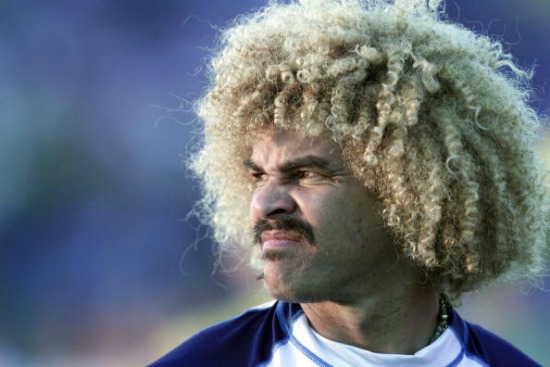 There's bad (managing only four wins and two draws in an entire season). There's really bad (conceding a staggering 68 goals en route to a -36 goal difference). And then there's the type of bad that results in the worst slump in franchise history (no wins in two months) and ultimately concludes in the franchise folding. To be fair, it wasn't a single season that spelled the death knell of the Mutiny, but a win percentage of 14.8% in the 2001 league campaign certainly didn't help. If Carlos Valderrama and his exuberant locks can't pull a squad out of the doldrums of MLS, it's safe to say that nothing else can.
3. 2003 Dallas Burn (30 games, 23 points)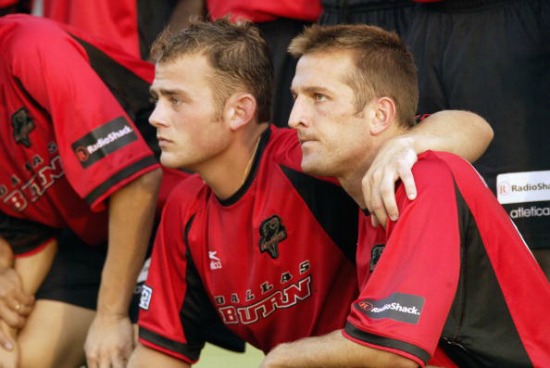 For the first seven years of its existence, the Dallas Burn called the legendary, 92,000-seat Cotton Bowl home. However, for the 2003 season, the club opted for a suburban high school football stadium that featured artificial turf and a maximum capacity of 13,000. Actually, the limited seating didn't impact things too much, as the 2003 Dallas Burn side averaged just 7,906 fans (an attendance figure that remains the lowest in club history). That poor figure shouldn't be too surprising given that the 2003 season remains the worst in club history, and marks the only time Dallas has ever finished with the poorest record in the league.
The team was so bad that it managed to miss the playoffs at a time when eight of the league's ten teams qualified for the postseason. Other lowlights included the firing of head coach Mike Jeffries and the fact that the Burn managed to go an entire season without earning points in consecutive games. The only other team to pull off that feat? The afore-mentioned 2001 Tampa Bay Mutiny.
4. 2005 Chivas USA (32 games, 18 points)
It's probably unfair to include an expansion team on this list… but then again, it's Chivas USA. Any time you manage three different coaches (Thomas Rongen, Javier "Zully" Ledesma and Hans Westerhof) in a year, it's probably not a sign of stability or consistency. Other indicators that things might not be going swimmingly include a grand total of four wins, a -36 goal difference (31 for and 67 against), and a last place finish in the league.
The campaign got off to a stellar start, with Chivas notching six points in its first 13 games, and ended in similarly sterling fashion. As stated by Eric Bobadilla, "2005 will forever be a black mark in chivas history as no team will be able to match the futility that team endured." To further cement the team's place on this list, when searching for depressing images of this squad, I was able to find WAY too many photos.
5. 2009 New York Red Bulls (30 games, 21 points)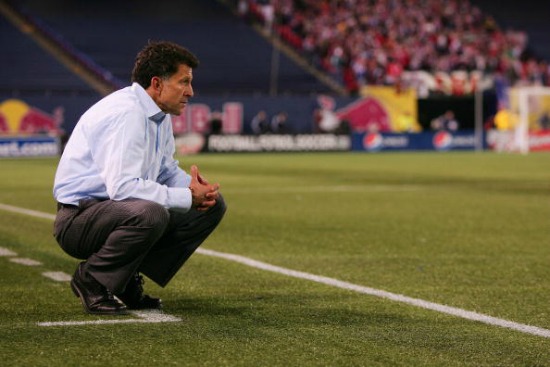 The Red Bulls made the MLS Cup Final in 2008 and, with the offseason re-signing of Designated Player Juan Pablo Angel, seemed poised for another successful season. Instead, the club finished with the worst record in MLS, a goal difference of -20, five total wins, and the firing of head coach Juan Carlos Osorio (now installed as the manager of the Mexico national team). The Red Bulls failed to win a single game on the road and finished with a record of 0-19-3 when conceding first. Former Barcelona and Real Madrid midfielder Albert Celades was signed in March to help right the ship, only to retire from professional soccer at the end of the season. But hey, at least they had Bouna "Bouna Time!" Coundoul in goal for nine games.
6. 2010 DC United (30 games, 22 points)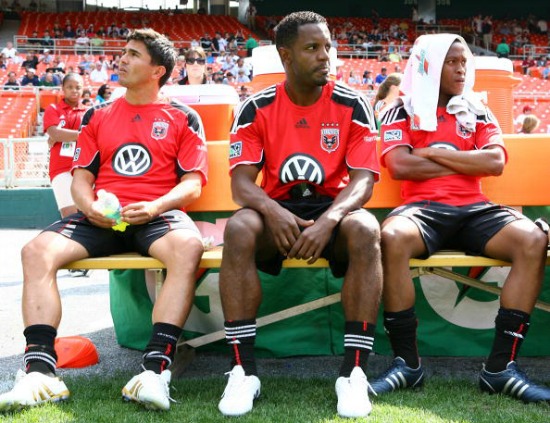 DC managed to break a number of records during the 2010 campaign, but not in the way they would have hoped. The team got off to a stellar start, registering a record of two wins and eight losses by week ten. By week 19 (when head coach Curt Onalfo was fired), that record had changed to three wins, three draws and 13 losses. Although things improved drastically under interim coach Ben Olsen, the 2010 season remains a rough one for fans of the team. From a statistical standpoint, it was United's worst season to that point (more on that later). DC lost 20 of 30 games, and failed to score in 17 matches (breaking the previous record of 15). United also managed the fewest goals (21) of any MLS franchise, and saw a head coach (Onalfo) fired in the regular season for the first time in club history. Somehow, it wasn't even the low point for DC.
7. 2012 Toronto FC (34 games, 23 points)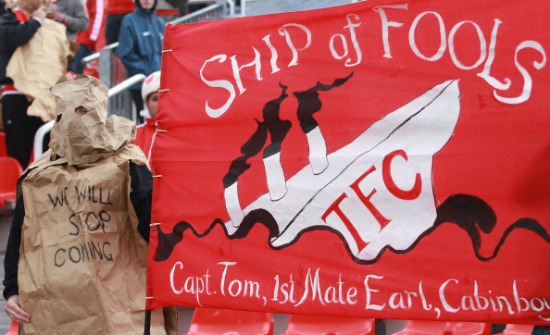 Today's Toronto FC may be a playoff-making, designated player-signing contender, but the TFC team of 2012 set a club record for futility. That's saying a lot given the poor results in the five seasons leading up to 2012. Toronto started the campaign with a nine game losing streak, the longest such streak in MLS history. To add insult to injury, the ninth loss came at the hands of former club captain Dwayne De Rosario (then scoring goals for DC United). Head coach Aron Winter (a Jurgen Klisnmann recommendation) was fired in June, and fans were wearing paper bags on their heads before the end of the season. Toronto registered just five wins in the season, conceded a whopping 62 goals, and earned the lowest points total (23) in club history.
8. 2013 DC United (34 games, 16 points)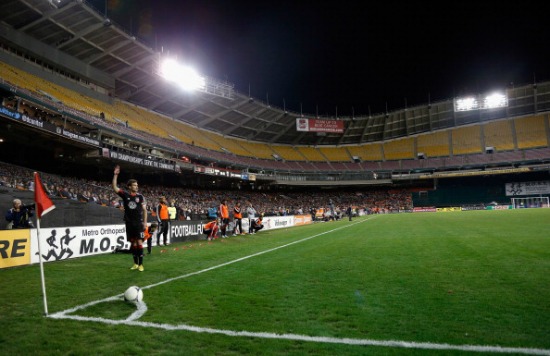 It's saying something that the 2013 DC United squad won the US Open Cup and still merits inclusion on this list. In what was perhaps an omen of things to come, United began the season without veteran Dwayne De Rosario, who earned a two-game suspension for a head butt in the team's preseason finale. DC registered a 13-match winless streak (10 losses) and quickly plummeted to the bottom of the standings. As noted by the MLS website, "United, which didn't feature a player who scored more than three goals, finished the year without a road win in MLS play and won more Open Cup matches than MLS games." To clarify, that's four wins in five games (US Open Cup) versus three wins in 34 games (MLS).
Those three wins tied the MLS record for fewest in a season. Not done there, United also earned the fewest points per game of any team in league history and scored the fewest goals ever in an MLS campaign. As succinctly summed up by goalkeeper Bill Hamid following United's season ending 2-1 loss at home to Houston, "I'm glad we won Open Cup. But that record man, I'm sorry, it [expletive] sucks."
9. 2013 FC Dallas (34 games, 34 points)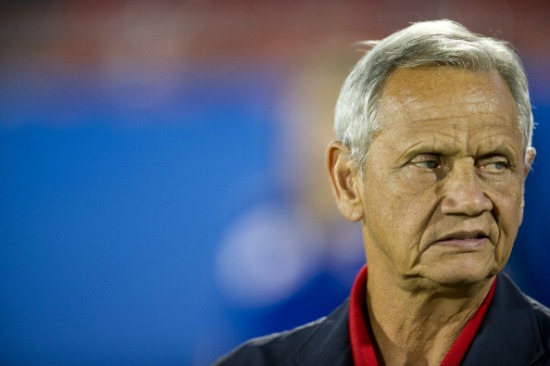 Compared to the futility of 2013's DC United, FC Dallas' 2013 campaign wasn't so disastrous. At least, not on paper. However, it was the drama of the season that made this one memorable. A fast start saw the club competing for the Supporters' Shield in June. 13 winless matches later and FC Dallas was sitting eighth in the Western Conference and things weren't looking as bright.
Frustration behind the scenes boiled over during an October 19th match against Seattle when teammates David Ferreira and Jackson Goncalvez threw a few punches at each other on live television. The altercation continued into the locker room, and head coach Schellas Hyndman was forced to substitute Jackson in an effort to restore order. Although Ferreira would later claim that the dust-up was immediately forgotten, it certainly wasn't from the front office's perspective. The season ended with Dallas missing the playoffs, Hyndman handing in his resignation, Ferreira (the 2010 MLS MVP) not being offered a new contract, and Jackson traded to Toronto FC.
10. 2014 Chivas USA (34 games, 33 points)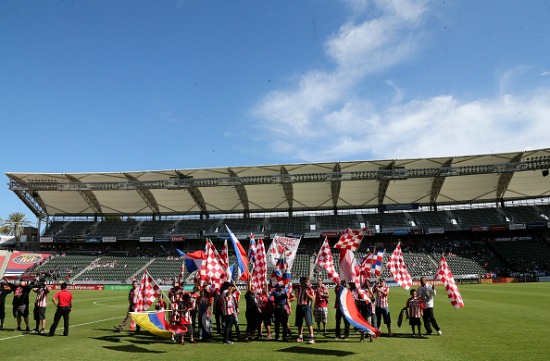 2014 marked the first time since 2009 that Chivas didn't finish at the bottom of the Western Conference. That's a positive right? Well, the club still finished 16th out of 19 teams, had winless runs of eight and twelve games (respectively), and missed the playoffs for the fifth straight season. More importantly, any time a team finishes a league campaign and then immediately suspends operations, it's automatically their worst season. Other hallmarks of the 2014 season included the lowest average attendance figures (3,467) in MLS history and finishing as runners-up in the SuperClasico (a feat which is decidedly less impressive when you realize there was only one other team competing). In an excellent piece for the LA Times that catalogued the downfall of the franchise, Kevin Baxter noted that, "The team lost its shirt sponsor, struggled to get on local TV, had to buy time on Spanish-language radio to get its games broadcast, and over its final four seasons lost millions of dollars while winning just 30 games."
Prior to the start of the 2014 campaign, MLS leaders attempted to right the ship by buying out the club's owners to the tune of $70 million (a figure that was $60 million more than what it cost the club to join MLS in the first place). However, with little recourse, the league moved to end the franchise, and sold the rights to a second LA franchise to a wealthy ownership group including Magic Johnson and Cardiff City owner Vincent Tan (an eclectic group, to say the least). Speaking on the decision to disband the franchise, club captain Carlos Bocanegra ruefully declared, ""Everybody thought this was a great decision, and it needed to happen. It just really happened a few years too late."