In the run-up to the Seattle Reign's crucial encounter with NWSL league leaders Washington Spirit, midfielder and USWNT star Megan Rapinoe indicated she would repeat the trend she started last weekend and peacefully protest during the national anthem. But she never got the chance to do that.
That's because the Spirit played the national anthem early, while both teams were still in their locker rooms.
Soon after the anthem was played following a lengthy weather delay, and with fans of both teams chanting "let her kneel," Lynch released a statement to the press confirming that he ordered the Star-Spangled Banner to be played early so that Rapinoe wouldn't have the opportunity to protest. In his six paragraph statement insisting he wasn't trying to make the evening about him, Lynch made it all about himself by accusing Rapinoe of being "disrespectful" and "insulting our military and our fans."
Washington Spirit prevents Megan Rapinoe taking a knee during national anthem by playing anthem ahead of schedule. pic.twitter.com/Oc54ljhFe1

— Grant Wahl (@GrantWahl) September 8, 2016
There are a number of problems with Lynch's statement. There's his misunderstanding of the national anthem's history. There's also his characterization of Rapinoe's exercising of her First Amendment rights as a direct insult toward the military. To say nothing of his referring to opposition to institutional racism and police brutality as a "personal issue," rather than a societal one.
But more than anything else, he put his own organization and the entire league in a difficult spot. For one thing, the Spirit now face potential sanctions from the league for breaking pre-match protocol. And given the Reign's public statement of support earlier in the day, Lynch has effectively put every other team on the spot for how they're going to deal with anthem protests and drawn a line in the sand, aping George W. Bush's with-us-or-against-us speech 15 years ago.
It also likely made for an uncomfortable working environment for some employees, as evidenced by their social media team member's apparent I Quit message.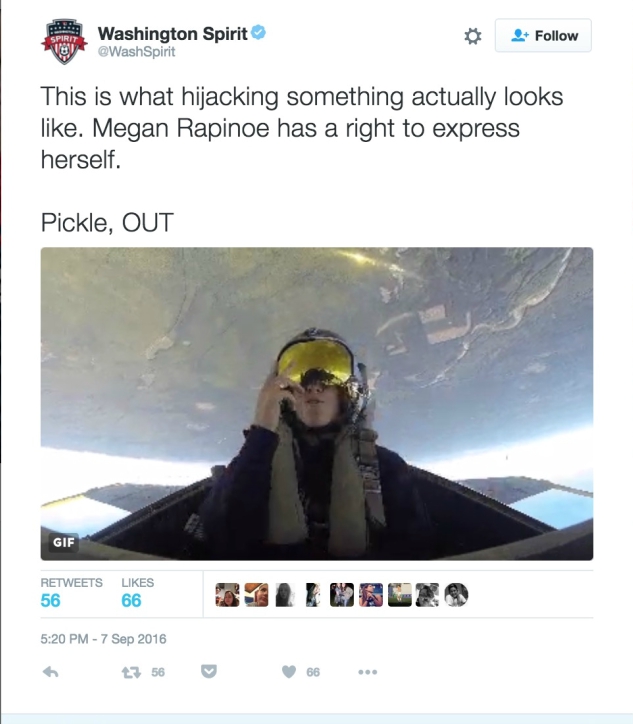 Speaking of which, it's unclear who in the organization knew what was going to happen last night, but it appears that the players, at least, were not informed.
Just spoke w a player on the Washington Spirit. They had no idea the nat'l anthem would be played early. "Caught totally off guard by that."

— Julie Foudy (@JulieFoudy) September 8, 2016
For her part, Rapinoe didn't mince words when asked about the move after the game.
"It's f*cking unbelievable. Saddened by it. It was incredibly distasteful, four days before one of the worst tragedies in our country, to say I tried to hijack this event."
She also noted that the Spirit are conspicuous in the league for not hosting LGBT Pride events or otherwise including LGBT-inclusive language in their usual PR messaging, a curious omission in a league that prides itself on LGBT outreach and boasts so many openly gay players (including Rapinoe herself). In the midst of her reaction to the anthem shenanigans, she had some choice words for Lynch and his organization about their (lack of) LGBT outreach.
Rapinoe on Spirit's perceived lack of solidarity with gay community, whether that had anything to do with tonight pic.twitter.com/yNAGwAsA7W

— Caitlin Buckley (@caitlinbuckley2) September 8, 2016
As with the protest incident last weekend, the bad takes came thick and fast.
If you consider Solo's decision not end stint this season, Lloyd's late return to #Dash & Rapinoe upsetting owners, #NWSL appears doomed.

— Jose de Jesus Ortiz (@OrtizKicks) September 8, 2016
If you consider Solo's decision not end stint this season, Lloyd's late return to #Dash & Rapinoe upsetting owners, #NWSL appears doomed.

— Jose de Jesus Ortiz (@OrtizKicks) September 8, 2016
Just another media stunt. Do something more constructive ..like helping the inept social systems for our veterans & youth #Rapinoe#USWNT

— MAX ORTIZ (@maximus_ortiz) September 8, 2016
@Deadspin rapinoe is the ugliest dude in soccer #Rapinoe#uswomenssocce

— Danny Boy (@dannyboy1212) September 8, 2016
Meanwhile, NWSL commissioner Jeff Plush said he and the league office would have to digest the night's events before they decide how (or whether) to respond to Lynch and the Spirit. He also noted that Lynch hadn't notified the league of their plans before the game, and that he took some exception to Lynch's use of the word 'hijack.' "It's not a word I would have chosen," said Plush.
It's unclear what Bill Lynch hoped to accomplish last night, but it's very likely he failed. If he was trying to shut Rapinoe up, it didn't work. If he was trying to get the fans and his own employees on side, the "let her kneel" chants quickly relieved him of that delusion. If he was trying to solve a PR problem for the league, he made it worse instead. If he wanted the public to stop talking about this issue, it clearly didn't work. And if he wanted to do something to show respect to the armed forces, he probably shouldn't look at the #VeteransForKaepernick hashtag on Twitter. (Don't be surprised if #VeteransForRapinoe gathers steam as well.)
There will almost certainly be more as the fallout from last night continues to spread. In the meantime, Lynch may want to look up The Streisand Effect.