Throwback Thursday: Liverpool vs Leeds United (August 10th, 1974)
Photo via Evening Standard/Hulton Archive
Soccer
Features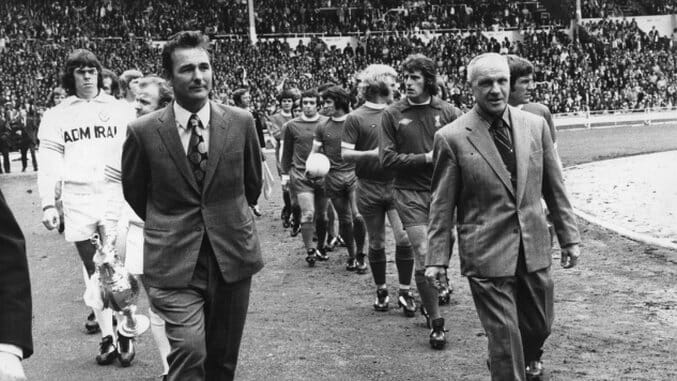 No one gets that worked up about the Charity Shield. This isn't a controversial take. It's fun, people do watch it, and it's a nice prelude to the season. But we all know the Charity Shield (or rather the Community Shield, as they call it now) is basically a glorified preseason friendly. It's the part of the performance when the orchestra tunes their instruments. It's a primer. It lets us all take a moment to be glad for the new season. "Thank God the football's back." We can enjoy that fact before the anxieties of club football take over in earnest the following weekend.
Which is, I think, what makes the Charity Shield matches where stuff happens so memorable. We don't expect it to be A Thing. And when it is, it's something we talk about for years afterward.
This week, we look back at the 1974 Charity Shield. Yeah. You know what I'm talking about.
So let's just get the result out of the way, because it's the least interesting thing about the game. It finished 1-1, with an early goal from Liverpool striker Phil Boersma canceled out by a late header from Leeds central defender Trevor Cherry. Both sides finished five frames of penalties level at 5-5, but Liverpool won the day in the first round of sudden death Leeds goalkeeper David Harvey sent his shot over the crossbar while Ian Callaghan found the target. Bob Paisley won his first piece of silverware with Liverpool and Bill Shankly got a nice send-off by leading the team out of the tunnel. Lovely day for Liverpool fans.
And that's all fine and good. But it's not why we remember the game.
We remember the game because Leeds were very obviously out for blood.
Look, if you've read this you've probably of either read The Damned United or watched the film adaptation. If you haven't, you really should.
Most of us know the story. Brian Clough had just taken over at Leeds, despite being a long-time critic of both the team and his predecessor, Don Revie. He had taken over as manager of a squad who he had branded as dirty cheaters. He said they didn't deserve to even be in the First Division, let alone reign as champions.
Yet there he was, trying to train and motivate this team and keep their winning ways going under his iconoclastic leadership. It went about as well as you'd expect.
The revolt started at this very game, as Leeds players seemed to care less about the result and more about sending opposition players to the hospital. English football has, and always will have, its rough and tumble nature. There will always be late tackles and surreptitious elbows. But Leeds players were straight-up cold-clocking their opposite numbers. Usually, but not always, when the referee was looking away. The game had to be paused several times due to fights on the pitch. It was a mess.
The, er, highlight of the afternoon came right on the hour mark. Leeds captain Billy Bremner got into a tense, physical confrontation with Kevin Keegan. The referee had enough and sent both men off. Bremner and Keegan both ripped their shirts off in protest as they stormed down the tunnel. Even by the usual standards of English football, this was beyond the pale.
So. Liverpool won on penalties. Both Bremner and Keegan were suspended for 11 games and fined. And Brian Clough was fired just over a month later.
It was, to say the least, a lot of excitement for a game that doesn't really matter.
The 94th edition of the match kicks off on Sunday, when Premier League champions Leicester City— still kinda weird to say it— clash with FA Cup winners Manchester United. There probably won't be any fights, but you never know. Kickoff is at 11am EST on Fox Sports 1.