You never paid much attention to soccer before, but you LOVED the World Cup. Now it's over, you want to keep being a soccer fan, you just don't know where to start.
First thing: don't panic. That confused feeling is normal. The World Cup was self-contained and easy to follow—it was all on ABC/ESPN, so you knew when to watch, who to watch, how to watch. The rest of the soccer world is, well, it's happening everywhere and all at once, and there's no shame in not knowing where to start.
We get it. And we're here to help.
Below you'll find 20 ways to keep being a soccer fan after the World Cup, compiled by multiple Paste Soccer contributors. Read on, and welcome to soccer fandom beyond the big show …
1. Get into the Champions League
What if we told you of an alternate universe where Neymar, Leo Messi and Luis Suarez all played on the same team; where Cristiano Ronaldo actually lived up to the hype; and where the quality of soccer was arguably of a higher standard than anything you saw this summer? What if we told you this was not some fantastical, whimsical dream, but an actual reality? Welcome, dear reader, to the world of club soccer and its flagship competition, the UEFA Champions League—a world where clubs represent cities but operate like miniature empires vying for supremacy in a battle where any soldier can be bought for the right price, where compatriots face each other as fierce rivals, and national foes embrace as teammates. What if we told you it was structured just like the World Cup, that it happened every year, and that you could watch it all on Fox Sports? You'd look into it, wouldn't you? —BT
2. Go and watch your local team, live
The best way to see soccer is live, in person, in a soccer stadium. Chances are you have a team somewhere nearby. Could be MLS, could be NWSL, could be NASL, could be USLPRO. Could even be some other acronym. You don't have to make a lifelong commitment, not yet anyway. Just get out there, grab a beer and a hot dog, and feast your eyes on live professional soccer. You'll see the game in a whole different light because you'll see more than the narrow focus the camera allows you on TV, and I guarantee you'll be impressed. —DG
3. Pick a team, but not too quickly
If you're picking a team from a non-local league (La Liga, the Premier League, Ligue 1, etc.) you need to dig a little. Read up and learn about the character of a team. Talk to your friends that follow world soccer. Get a sense of their passion for the sport and their team. Go to the bar and watch some matches with them. Enthusiasm is contagious! I can turn any non-aligned person into someone that's at least Liverpool-curious and I know people that can do the same with Arsenal, Chelsea, Man United, and probably even Scunthorpe. —MR
4. Get the TV channels you need …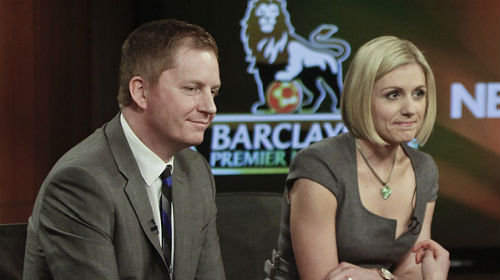 Here's a very simple breakdown, by network:
NBC Sports Network — English Premier League, Major League Soccer
Fox Sports — UEFA Champions League
ESPN — Major League Soccer (shared with NBCSN)
beIN SPORTS — Spanish La Liga, Italian Serie A, French Ligue 1
GolTV — German Bundesliga
(Note: In 2015, Fox Sports will acquire NBCSN's MLS rights and GolTV's Bundesliga rights.) —DG
5. Sample some European soccer online
Nobody would ever encourage illegal streaming ever, but … you can, if you like, get a taste of watching high level European soccer on your computer before adding any channels to your inflated cable bill. Think of it as try before you buy. But you didn't hear it here. —ET
(Note: If you do go this route, never never never download anything from these sites. And definitely don't pay them any money. Ever. —DG)
6. Read a few soccer books
Yes, books. There are so many great soccer related books out there – both fiction and non-fiction – and they are a great way to learn about the game, and inspire you to keep watching and keep playing. A few that I recommend are Fever Pitch by Nick Hornby, How Soccer Explains the World by Franklin Foer, and Pele's Why Soccer Matters. There's also Grant Wahl's The Beckham Experiment and, my personal favorite, Arsenal: The Making of a Modern Superclub, by Alex Flynn and Kevin Whitcher.
All these and more will teach you what the game means to the world and how it has evolved over the last 100 years, as well as provide a depth and richness to the game that you can't get just by watching a match. And so when you do tune into a Premier League match this fall, or an MLS match, or any match whatsoever, you will have a base of knowledge that will make the experience more enjoyable. —MB
(Note: Start with our list of 10 soccer books that are about more than just soccer. —DG)
7. Befriend your Latino coworker, neighbor, and/or "friend"
It may sound trite, but the relationship between soccer and the Hispanic community in the US is blood thick. After the World Cup final, how many Argentina jokes did your Priest make during mass? After my gradeschool son's team loses, the kids often cry. But I have actually seen a grown man reduced to tears after his son conceded three goals. So, take the leap and get a little closer with a typically friendly and open group of folks. We'll be more than happy to keep you up to date on the soccer world by the water cooler even if you don't live and die with every game. Many of us do. -ET
8. Join the American Outlaws



Last year, the American Outlaws brought the U.S. a true home field advantage in its World Cup qualifiers, turning red-white-and-blue-clad fans out in force to tailgate, chant, and be impassioned. During this World Cup, the USMNT's premiere supporters group became the face of fandom through ESPN promos and brought the "I believe" chant to the masses. And over the course of the month-long tournament, its ranks doubled to over 30,000 members.
Recently back from Brazil, the Lincoln, Nebraska-based founders are looking to grow larger, and are currently working on getting fans to upcoming friendlies in Ireland and the Czech Republic, to next year's Women's World Cup and Gold Cup in Canada, and for the 2016 Copa America, CONCACAF and CONMEBOL's answer to Euro 2016, in which the U.S. will host all the South American teams and the top teams from our region. It's likely your town has a chapter hosting watch parties—over 100 exist, in many major cities and some not-so-major. And if there's no chapter where you are, you can start one, provided you have 25 people ready to watch games and a bar willing to host you and put the game on its TVs with the sound on. You can start on the route to adding to your repertoire of chants (and face paint and drums, if you really get carried away) at theamericanoutlaws.com. —PW
9. Or join a local supporters group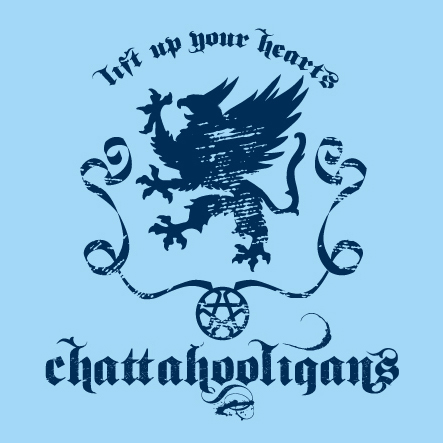 If the World Cup made you fall in love with supporter culture but you're not ready to commit to the next great American Outlaws exodus, you'll find the same camaraderie and raucous spirit with the diehards of your local MLS, NWSL, USL PRO or NASL side. From the packed stands and deafening chants of Sporting KC's Cauldron or Portland's Timbers Army to the smaller-but-mighty bands like Chattanooga FC's "Chattahooligans," you'll meet interesting people and have a great time. Helping out with the supporters' group is also a great way to hone/sharpen your interests, be it event planning, building and designing tifo displays or preparing a grand tailgate feast for your fellow fans. And most of these groups are all-volunteer, so any little bit you can contribute will make an impact. —LE
10. Either way, get thee to the pub
Those watch parties you loved so much during the World Cup? Yeah, they happen every weekend at every soccer pub in every city. Even if you don't have a team to follow, spy a big match on the word football calendar (Barcelona vs Real Madrid, Liverpool vs Manchester United, Portland Timbers vs. Seattle Sounders etc … ) and head on down to the soccer pub in your town. Order a Guinness (completely socially acceptable to drink in the morning when the football's on, by the way) and take in the atmosphere. It won't be 25,000 people at Soldier Field, but there will be singing, shouting and great soccer-related conversation. Lots of people will tell you that club soccer is infinitely more interesting than international soccer and, while you might not believe that right now, after a few Saturday mornings at your local soccer bar, you will. —MB
11. Gear up for the Women's World Cup in 2015
Mia Hamm. Kristine Lilly. Brandi Chastain. Abby Wambach. If these names don't come to mind already when you think of U.S. Soccer, they damn well should. The U.S. Women's National Soccer Team has won two Women's World Cups, six CONCACAF Gold Cups, four Olympic golds and the hearts and minds of fans across the country through dominance on the pitch, larger-than-life sporting personalities and indomitable spirit.
You can watch many of the WNT's stars in the NWSL league in the States and in other women's leagues throughout the world during the regular season, but they shine brightest when they play as a team, specifically during the FIFA Women's World Cup, which takes place next summer in Canada. CANADA. That is so close to you, new American soccer fans! Plan a summer road trip and take in some matches; support your national team and some of the greatest athletes to ever rep The Yanks. —LE
12. Support the USMNT in 2018 by getting in on the ground floor now
The USMNT started preparing for Russia 2018 five minutes after the final whistle against Belgium. Next up is the Gold Cup in 2015, followed by the Olympics in 2016 and then the whole process starts again with qualification for Russia, another Gold Cup and possibly a Confederations Cup appearance. Starting to follow the squad now will make the 2018 World Cup a far richer viewing experience, as you will get to know the players, their tendencies, their personalities.
You will know their struggles outside of soccer, where they grew up and what club team they play for. You will have opinions — strong opinions — as to who should start, who should make the roster and who should stay home. The USMNT is more than just the World Cup. These guys travel the world together multiple times per year, playing on mudpits in Cuba, in front of 100,000 in Mexico City, and in snowstorms in Colorado. Get to know these guys before the next cycle starts, you will be glad you did. —MB
13. Join a regular pickup game …
One of the best and obvious ways to learn more about soccer is by actually playing the game. Chances are pretty good that no matter where you live, there are informal pickup games happening every week. The beauty of most pickup games is that there are no age requirements or talent requirements—only a love for the game and desire to have fun matter. And while usually there aren't spectators at pickup matches, you can imagine a crowd watching as you attempt a Cruyff turn or rabona. And if your ball skills are rusty, you can always work on your acting skills. —WH
14. Or join a competitive league
If you want to know what it feels like to play when points are on the line, where missed tackles are a disaster and breaking the opposition offside trap is a triumph, then sign up for a team in an amateur soccer league. If you're lucky enough have a well organized league in your area, I guarantee there'll be a team willing to accept you, no matter your talent level, provided you pay your player fees on time and show up for games. Everybody takes it far too seriously, but that's all part of the fun. I still play every single Sunday and, depending on the final score, it's either the best or the worst possible start to my week. —DG
15. Play Football Manager …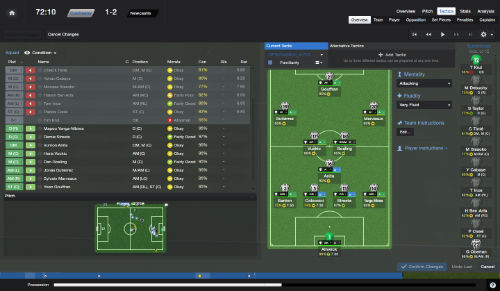 What I'm about to tell you could adversely affect your relationships, your free time and your sense of priorities, but I'll tell you anyway: Football Manager rules. It's a game (available in desktop and mobile versions) where you take over the management of a club team and see it through one or multiple seasons — possibly on the route to being hired by more prestigious clubs. You can start with a major EPL or La Liga club and be given a huge transfer budget to work with, or you can start with a more modest club in one of the lower divisions and work toward getting promoted to the bigger leagues. The game not only helps you understand the intricacies of the transfer market and what it takes to put a team together, but it allows you to create an alternate reality in which you make the moves you feel your favorite club should make, and either revel in your own brilliance or be hoist with your own petard. Because player morale and team performance can be affected by moves you make, you have to be careful how you jettison those players you consider to be deadwood. And also, you can't buy every player you want — not even if you play as Chelsea. —PW
16. Or play FIFA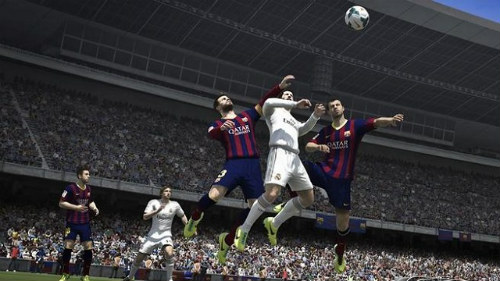 From the dark days of Pong, graphics and controllers have come a long way in the gaming world. This is especially true for the EA Sports FIFA franchise, which combines recognizable players, pretty realistic gameplay and intuitive controls. I prefer to play FIFA on my iPad, but they even have a solid version for the 7 inch Kindle Fire my son has. And, of course, you can get it for Wii U, XBox One, and Play Station. I'm warning you though … once you start a season mode, you may not see any loved ones again for a long time. —ET
17. Volunteer with or donate to a soccer organization that makes a difference
For all the drama and spectacle around football at the highest level, the beautiful game can also be a powerful force for good in the world. Football Beyond Borders uses the sport as a means to address poverty and inequality around the world. Grassroots Soccer works to expand HIV/AIDS education and prevention in Africa. New York Times Bestselling Author John Green auctioned off his support during the World Cup in order to raise money for sarcoma research. (The fundraiser is over, but you can still donate directly.)
Street Soccer USA mission is social change through soccer, which means making a measurable difference to the lives of people who are homeless, in recovery programs or otherwise disadvantaged. And the YMCA could always use more volunteer soccer coaches. If you have a local club you support, there's a good chance they have a charity foundation or community service initiative- check their website and see what opportunities are out there. Just a few ways you can indulge your newfound love of football while working to make the world a better place. —JPG
18. Listen to soccer podcasts
I co-host a podcast, The Total Soccer Show, so maybe I'm biased. But listening to a soccer podcast is a great way (and maybe the most efficient way) to absorb information through the holes in the side of your head while walking your dog, commuting to work or sitting in an office cube. It's also the very best (maybe the only) way to hear the big soccer topics debated on a regular basis. Fellow Paste contributor Jason Davis hosts The Best Soccer Show and Soccer Morning as part of NASNTV, and other popular shows include Men in Blazers from Grantland, Football Weekly from The Guardian. There are many many more out there, of varying content and quality. Search iTunes for "soccer" and you'll find thousands of hours of football audio just waiting to enter your earholes. —DG
19. Watch some classic soccer on YouTube
Diego Maradona, Pele, Johan Cruyff, Garrincha, Franz Beckenbauer, Zinedine Zidane … you probably heard these names, and more, during the World Cup. And if you plan to immerse yourself in soccer, you may as well start by watching highlights of some of the greatest players of all time. Just do a quick YouTube search for one of the greats, then kiss goodbye to the rest of your afternoon as the dribbles of El Diego, the finishing of Pele and the inventiveness of Cruyff put you in a glorious trance. Sample a few of Zidane's moves above to whet your appetite. —DG
20. Subscribe to soccer magazines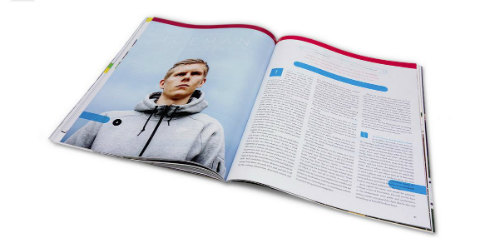 There are plenty of great soccer websites out there. Too many to list. But the magazine culture around soccer is so strong that even the internet can't kill it. Classic titles like World Soccer and FourFourTwo are worth the subscription price (or at least worth perusing while visiting your local library or bookstore). Even better, in 2011 the internet (via Kickstarter) birthed a new, and beautifully designed, soccer magazine named Howler, which is the equal of its more established colleagues but offers an American perspective. —DG
Contributors: Matt Becker, Lindsay Eanet, James Patrick Gordon, Will Hinton, Mark Rabinowitz, Bahhaj Taherzadeh, Elliott Turner, Phil West