Talking Style with It Was Romance's Lane Moore
All photographs courtesy of Lane Moore, by Ariana Anhalt
Style
Features
lane moore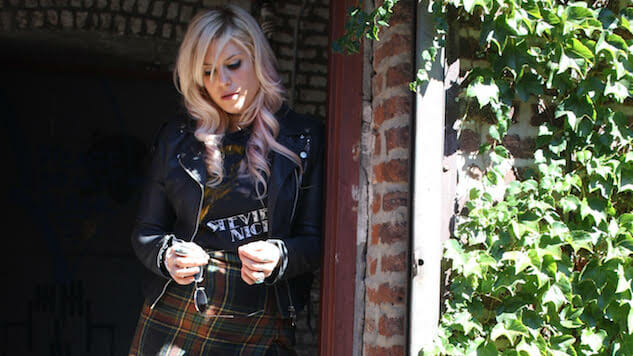 With charisma and charm for days, Brooklyn-based singer, Lane Moore, is most likely to turn up at a swap meet or thrift shop when piecing together a new look. Her band, It Was Romance, most recently turned heads with a shot for shot tribute to Fiona Apple's music video "Criminal." With a knack for blending iconic pieces across multiple decades—think 90s grunge with a 70s sensibility and add a dash of blue eyeliner with falsies to boot—Moore's eclectic vibe pairs nicely with her effusive songstress crooning.
Hearkening back to a Dig Me Out era Sleater Kinney, Moore's expansive sound covers love and all its mishaps with a catchy, blast loud and sing proud thoughtfulness. Blending garage rock with soul and experimental undertones, It Was Romance, formed in 2009 by Moore, walks multiple genres with a deft grace to mirror Moore's bubbly wit and eye-catching presence. Currently working on a second album, the follow-up to their self-titled 2015 release, Moore has been keeping busy while cutting tracks and designing future stage outfits. Read on to hear more about how Moore has patched together a style and sound enthusiastically all her own.
Paste: Tell us a little bit about your style and how it influences you and your performance on stage.
Lane Moore: I recently described it as, "If Stevie Nicks and Jem created a baby with a warlock sperm donor." I love witchy things like lace and velvet and soft pinks and whites and creams, but I also love bold patterns and mixing stripes and dots, and metallics and golds and glitter. Ever since I started performing, I've taken a bold color of eyeshadow and applied it across my eyes like a mask before I went on stage. Sometimes I'll also add huge eyelashes on the top lashes, or bottom, or both. My stage outfits can vary anywhere from costumes I made myself, to whatever I felt like wearing that day, but once I put on that make-up, bam, I'm "It Was Romance." It's like a superhero thing for me. I give everything I have on stage, so the more powerful and loud my style is, the more fearless I am.
Paste: In your opinion what makes the ultimate stage outfit?
Moore: One I made. I've always had a love of fashion and playing with pattern clashing and bold prints and colors. I got very lucky and was able to become friends with Steve Markson and we design the outfits together and he makes them, so most of my stage outfits are actually original designs I created. He's an incredible designer, so he'll come up with a sketch and I'll say, "Let's have it come up a little here, and open the neckline here, and do a sleeve like this photo in the 1970s" and add all these little touches to just make it something I could never find anywhere else. And he does an incredible job. I'm grateful for him every day because designing my own clothes has always been a goal.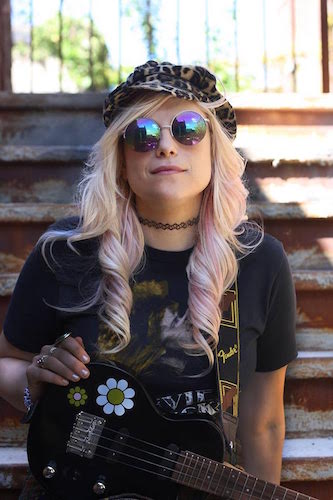 Paste: How would you say your on-stage style differs from your off-stage style?
Moore: Not that much, but it's definitely heightened because I don't leave my house that often, so when I do, I'm definitely the definition of extra. I want to transport people and make them feel like they're experiencing something unique and special, not only through my music, but through my costumes and hair and make-up, it's all a part of the experience and the performance art aspect of it. I really look up to people like Karen O and David Bowie for the way they used fashion and make-up to add a whole other element to their music so it's like a full-on event. I also dance a lot on stage and have a lot energy, so I love having things that move with me, and shoes I can easily dance and stomp on guitar pedals in. Dancing and singing and playing instruments at the same time isn't easy, so adding heels to that is no, thanks.
Paste: Has there been an evolution to your look since you first started performing?
Moore: Absolutely, but it's also stayed rooted in the same sense of theatrics and a very active imagination. When I was a teenager, I would dress mono-chromatically so like blue pants, blue shirt, blue rings, blue earrings, blue bra, blue glitter on my face, everything blue. Then after high school I pretty much always played in this mini-skirt that had shorts under it, and whatever top I wanted, usually velvet, and a flower crown I'd made. I also wore a pair of black bird wings I made out of feathers and some tape that actually looked pretty great. Now that I can make whatever costumes I want and I'm not limited to craft supplies, it's definitely opened things up even more. I love wearing corsets and capes and lace as much as I love futuristic designs and interesting cut-outs and '90s leopard hats and delia*s ringer tees.
Paste: Are there any specific artists who have influenced your style?
Moore: I find inspiration everywhere. I'm a big Tumblr person. I love looking at photos of 1920s-1970s style. I love Stevie Nicks, Carrie Brownstein, Selena had amaaaazing style and was perfect in general, I love Karen O's costumes, I love Miranda July's costumes in The Future. St. Vincent has some awesome costumes as well.
Paste: What inspired you to recreate shot for shot Fiona Apple's iconic 90's music video "Criminal"?
Moore: Fiona Apple has been a lifelong inspiration of mine and I always felt like she understood me more than anyone I'd ever met, and in some ways, I still do. Hooking Up With Girls (https://www.youtube.com/watch?v=t3rLCM9LFfE) is about being frustrated with hook-up culture and how much you're supposed to love it versus how much you actually do. My first music video was an homage to John Waters' "Cry Baby" where I play both Johnny Depp and Traci Lords from the movie, because movies and pop culture are such huge influences to me, particularly from the '90s. When I directed my first music video, '90s music videos were what I grew up on so I watched a ton of them to get an idea of what kind of look I wanted them to have, and for this music video, I loved the idea of doing an homage to a '90s music video. And since there's a same-sex element to this song, I loved the idea of queering one of the most iconic and pretty largely heterosexual music videos of the '90s, exactly twenty years after that video came out. And the incredible challenge of trying to recreate the same costumes and that same house and the same poses and lighting and weird bathtub with oranges on a comparatively $0 budget, was thrilling for me and I thoroughly enjoyed rising to the challenge.
Paste: Do you have any favorite places to shop or find one-of-a-kind pieces?
Moore: Whenever I'm on tour the first thing I do is look up vintage and thrift stores because I love unique clothes, but I also love having the story behind it of how I got it. It just makes them all like little treasures to me. I've also started a very nerdy document on my computer of all my favorite thrift stores in the world, so I can know where to go when I go back to that city next time. I also spend hours on Etsy and EBay. I was desperate to find an original Hole t-shirt from the '90s that wasn't like $1000, because they are super rare, but I found one recently and I treasure it. If I'm just home in NYC, I find most of my clothes on the street or at swap meets, honestly. I love being able to say, "I found this all on a trash can!"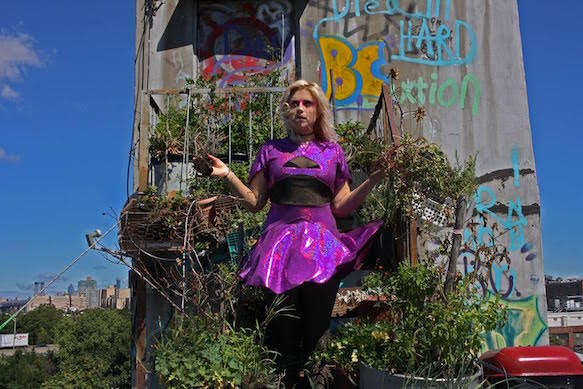 Paste: If you could live and dress in one specific era, which would you choose?
Moore: Well, the live part is tough because a lot of times when you go back in time it's like, "Oh, cool, women have fewer rights and segregation is still a thing. I don't think this was totally worth the ability to wear bell bottoms." But in terms of dressing in one specific era, lately it's definitely really '70s, but I also love '60s clothes and I deeply wish they made more 1920s delicate lace pieces for women with 2017 boobs.
Paste: Any favorite beauty hacks?
Moore: Not caring is really helpful. I don't care if my skirts are too short or if my tights have holes in them or if my bra is showing or anything like that, I think that makes it all better. Just having that kind of acceptance and encouragement of things not being perfect can be really freeing.
Paste: If you had to sum up your personal style in three words, what would they be?
Moore: Fearless. Playful. Purposeful.