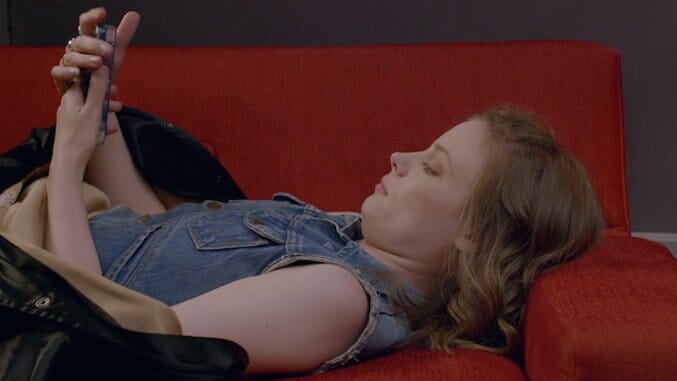 As real as they come, Netflix's latest series, Love, is a show about the possibility of romance and how uncomfortable this prospect can be. In Mickey, a flawed anti-hero who is tough on the outside with a quick-witted, wild child veneer, her character's vulnerable interior is filled with addiction struggles and inner turmoil. This story's strength lies in its unabashedly honest portrayal of female sexuality, thought and even, dress. Mickey's style is eclectic, familiar and a very tangible composite of what it means to live and dress as an early-thirties person in 2016.
With a myriad of influences from grunge to sport, menswear as womenswear and button-downs aplenty, the dresscode is everyday streetstyle for all the characters, mirroring how important the emphasis on the individual has become. Even while wearing jeans and a hoodie, a sweatshirt embossed with a kitten photo or layering a found varsity jacket over a minidress, the clothes are as unique as the individuals who wear them. Hoping to evoke a sense of self while on the search for love or even just for some small daily success has become the uniform du jour. Just as Mickey's foibles are not only relatable and sincere—her character displays a vast range from likeable to troubled to downright selfish—her style is equally as colorful as her character's depth.
Check out a few of our favorite Mickey style moments from Love as well as a glimpse of what Gus and Bertie's characters bring to the table in the wardrobe department.
1. Stackable Rings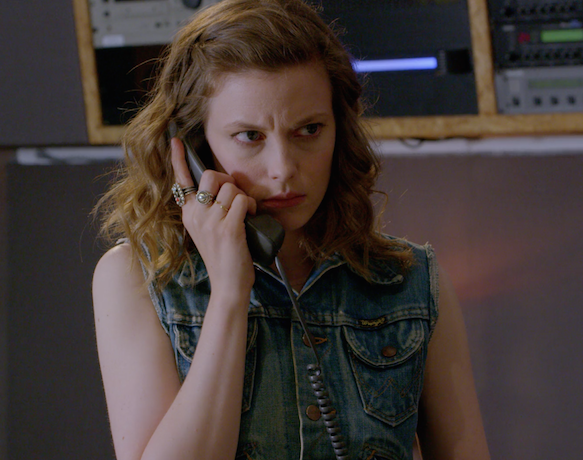 While Mickey may always be fiddling with her fingers, at least those nervous hands are drenched in stackable rings. Whether bejeweled in turquoise gemstones or just a few statement bands, Mickey's perfectly manicured nails and rings are an enviable detail in her day-to-day wardrobe.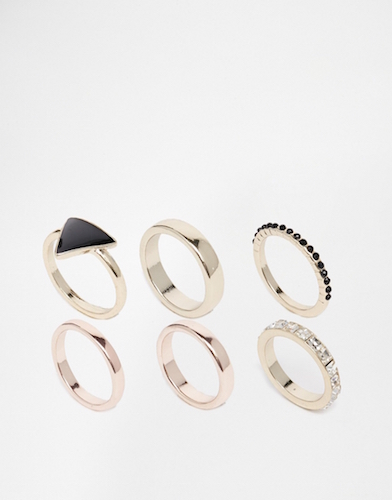 Lipsy Jet Multi Stack Rings via ASOS, $24
2. Functional Flannel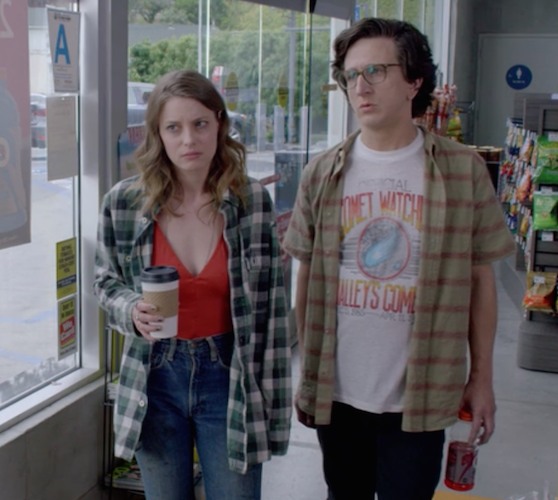 While Los Angeles may not be the first place that comes to mind when talking flannel, this patterned fabric plays a large role in both Gus and Mickey's closet. Whether tossed over a leotard and jeans after an Ambien-induced, rough night or thrown over a t-shirt for a Sunday run to the gas station, these two rock flannel like it is the nineties, bringing back visions of early Real World episodes and past grunge addictions.
Hunter L/S Flannel via Azalea, $154
3. Track Jackets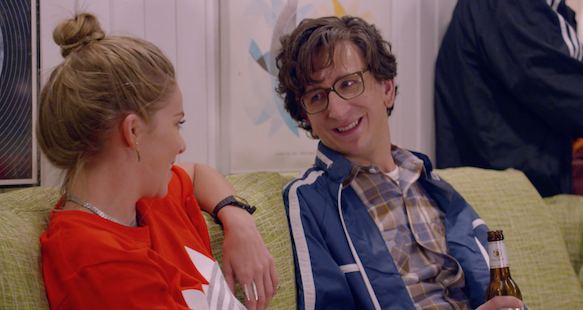 Even with stained jeans, flannel layers and worn thin band t-shirts, track jackets make a statement of their own. While not neutral enough to be deemed athleisurewear, Gus and Mickey pull from the classics. Whether Nike, Adidas or old varsity pieces, these sporty embellishments are always the perfect topper to any evening or daytime look.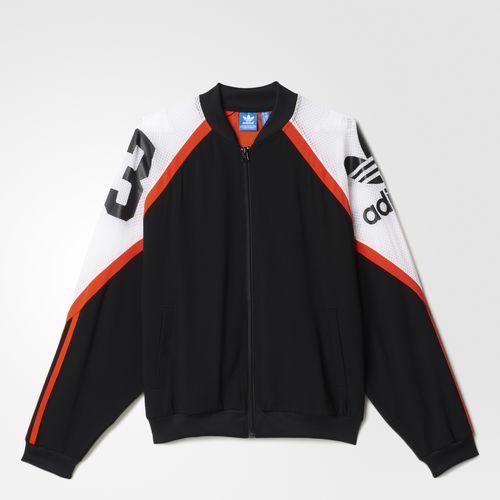 Basketball Track Jacket via Adidas, PolyvoreNA_-AJ8867&cm_mmca1=US&cm_mmca2=NA&utm_medium=cse&utm_source=Polyvore">$80
4. Embellished Shorts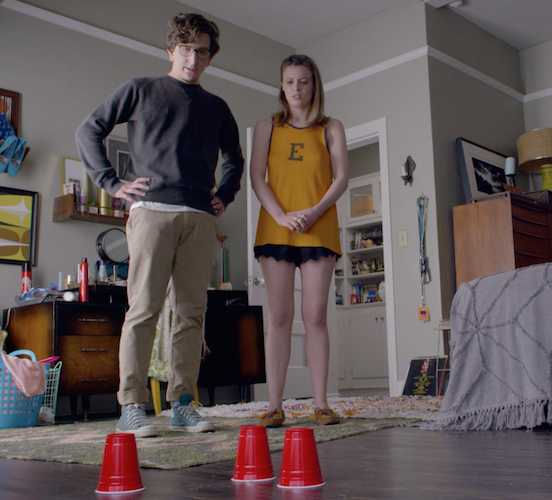 If anyone is going to kick it in lace shorts with a mustard top sans bra on a first date, well, then, that would be Mickey. Call it fearless, brave or a touch out of the head, Mickey wears what she wants. Open to the possibility of love, Mickey's casual, chilling duds, had comfortable and carefree written all over them. And besides, using this first date as an opportunity to have Gus take care of the pesky bugs Mickey has trapped under solo cups in her bedroom is pure genius in our book.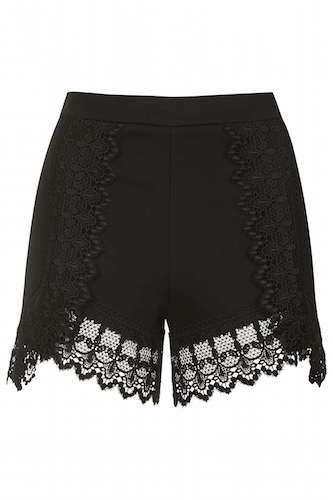 High-Waisted Lace Trim Shorts via Topshop, $32
5. Polished Button Ups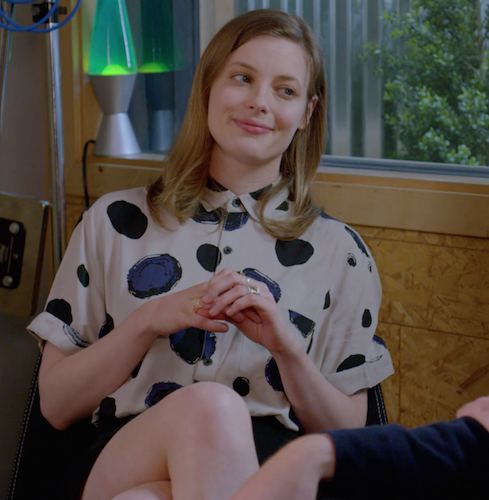 When at work, trying to balance the tricky line of approachable yet standoffish, in the hopes of quelling a boss's advances, dressing appropriately yet polished and still equivocally "you" can be difficult. Take a page out of Mickey's book with the silky button up and miniskirt. Paired with low-heeled ankle booties, this look is just funky enough for a radio station but classy all the same. The detailed clasps on the boots give a little street edge to the style and who can't help but love an oversized polka dot print?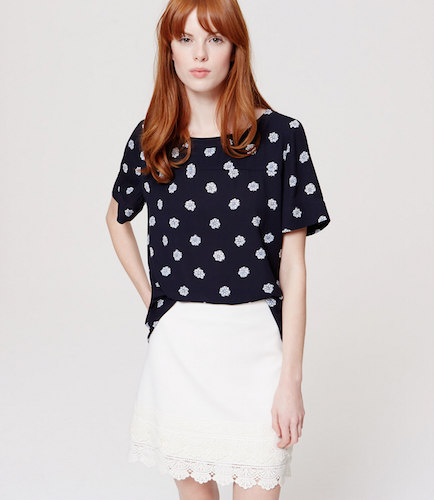 Blossom Drapey Hi-Lo Top via Loft, $54.50
6. Sturdy Workmen's Overalls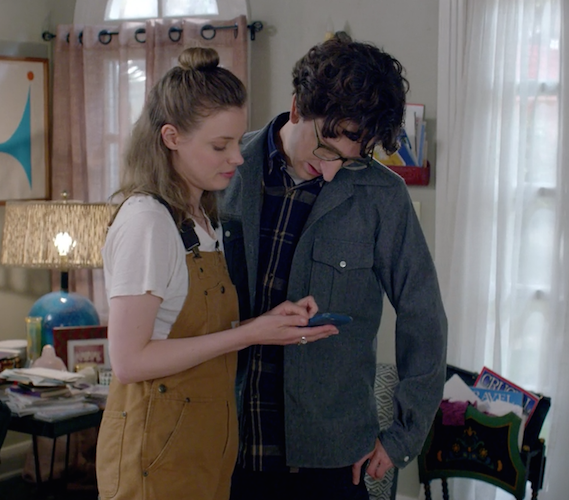 There is something to be said for an early thirties wardrobe. A few choice pieces still remain from your twenties, along with a handful of items bought and never worn, until now. With their lasting quality and utilitarian nature, a pair of Carhartts or canvas overalls is just the piece you may have bought during that last DIY binge but somehow has lasted the test of time in your closet. Paired with a topknot, this menswear/womenswear staple is the perfect uniform for a night in while you dry out.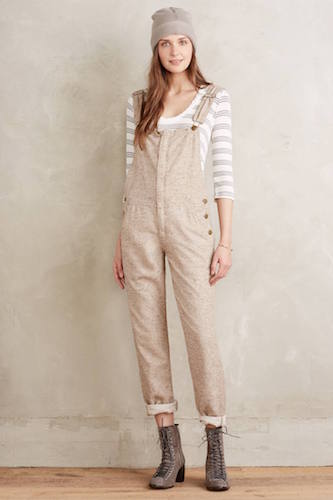 Current/Elliott Foreman Overalls via Anthropologie, $338
7. Bows, Bows, Bows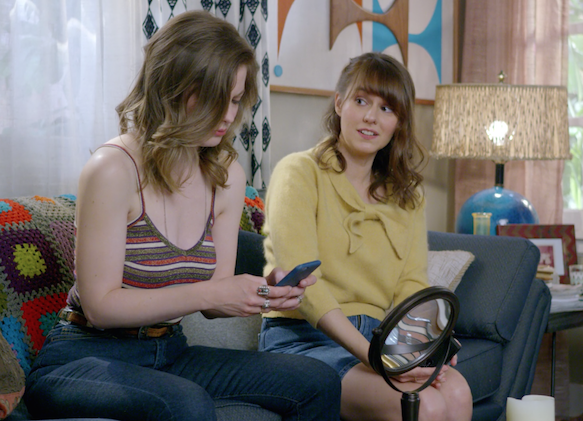 Let it be known that every wild woman needs a home base and with her rugged Aussie charm, Bertie is one such friend to Mickey. While her style is an odd mashup of teenybopper staples: jeans, kitten sweaters and side ponytails, her earnest and trusting demeanor paired with the inevitable tale of growing up in Australia where she spent a year of college basically without a top on and drinking beer to the point of being anointed her own song, Bertie is the ultimate combination of sugar and spice. With no surprise, the mustard bow top she wore to Shaun's, Mickey's friend's, housewarming was just the right bit of approachable sweet charm to contrast her devious hunt for a one-night stand. While her and Mickey have their ups and downs, it is safe to say, Mickey is lucky to have Bertie and Bertie is lucky to have a place to rent.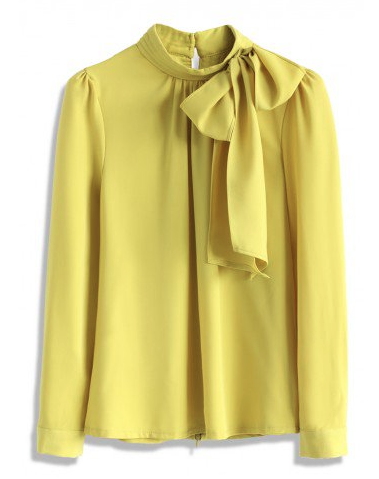 Kiss Me Bow Top via Chic Wish, $42.42
8. Understated Button Downs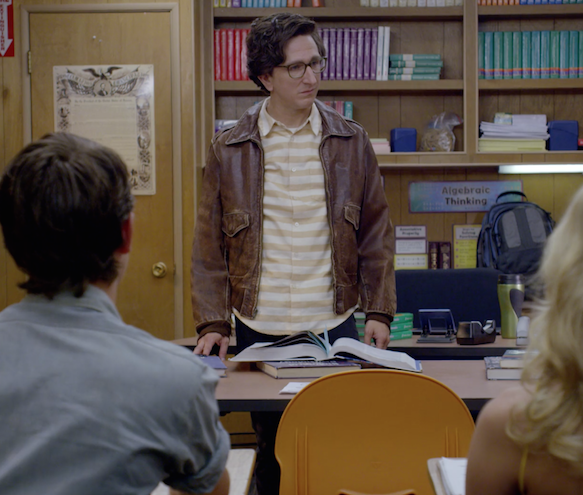 Gus is the epitome of a good guy who might just be a little too good. With his kind heart and quiet attitude, it is no surprise a haphazardly ironed button down is his go-to for work and play. Paired with a hoodie and straight leg jeans, the guy-next-door look is achieved without a flinch. Be sure to wear beige and neutral hues to accomplish the complete effect.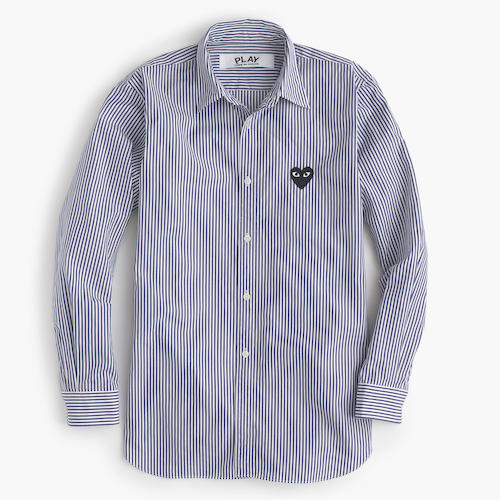 Play Comme de Garcons Stripe Button-Down Shirt via J.Crew, $300
9. Denim Rules All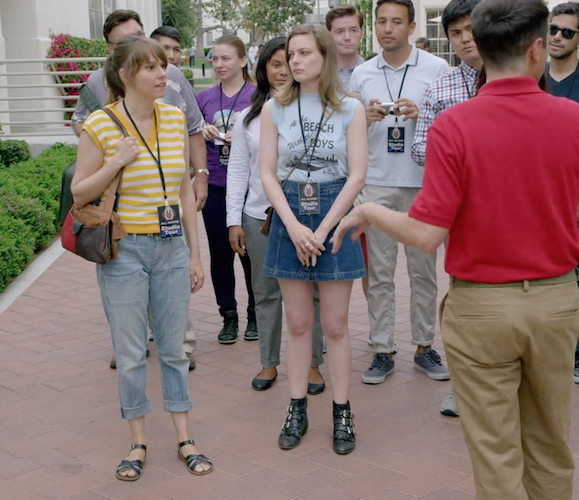 If there is one item of clothing this generation knows better than the rest, it is the power of denim. While jeans have and will always be in style, it would seem hipster millenials have embraced denim in all its incarnations. Button-down skirts, boyfriend jeans, vests and jackets pepper this first season of Love and comes as no surprise since comfort, even if the jeans have grass and marker stains all over them, is equally as high on the priority list as finding love.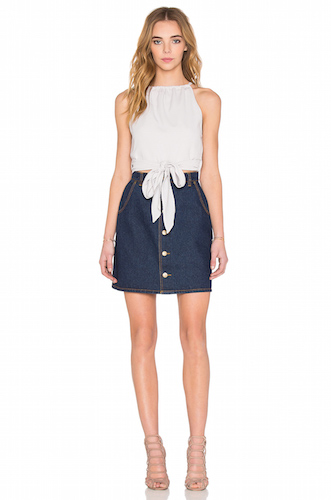 The Fifth Label Downtown Skirt via Revolve, $71
10. Comfy Sweaters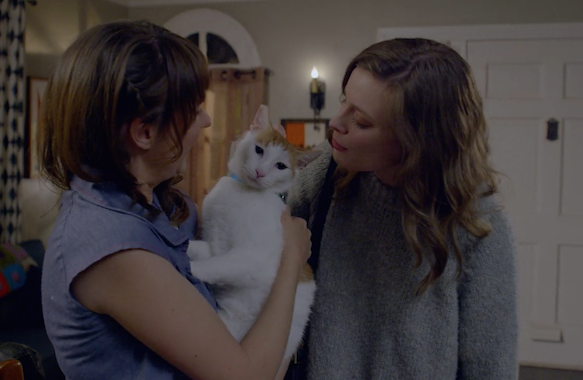 Oversized knits have become a staple in most closets purely for their ease and comfy vibe. Whether off-duty, at work or headed to a bar, a larger than life sweater is sometimes the perfect shield and carefree outfit topper. When Mickey pairs these plush sweaters over jeans or throws one atop a pleather miniskirt, she has larger problems on her mind than what to wear. Finding love in Los Angeles is hard enough; everyday dressing should not have to be.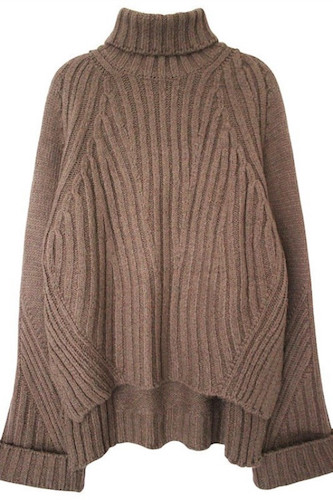 High Low Oversized Turtleneck Sweater via Genuine People, $97