Apple Patents Technology to Stop Concert Filming and Photos
Images via David Paul Morris/Getty, United States Patent and Trademark Office
Tech
News
While the convenience of smartphone technology is a modern reflex at this point, it has its faults. The past few years have seen various artists banning the use of smartphones at their concerts, from indie greats like Neutral Milk Hotel and Savages to major mainstream acts like Mumford and Sons and Alicia Keys.
Apple may be attempting to cure the disease that is phones at concerts via a freshly minted new patent.
The patent, as pointed out by Patently Apple, is for a smartphone camera that detects infrared signals. The corresponding image shows an infrared device sending signals from a stage to a concert-goer's phone and disabling the device's recording capabilities.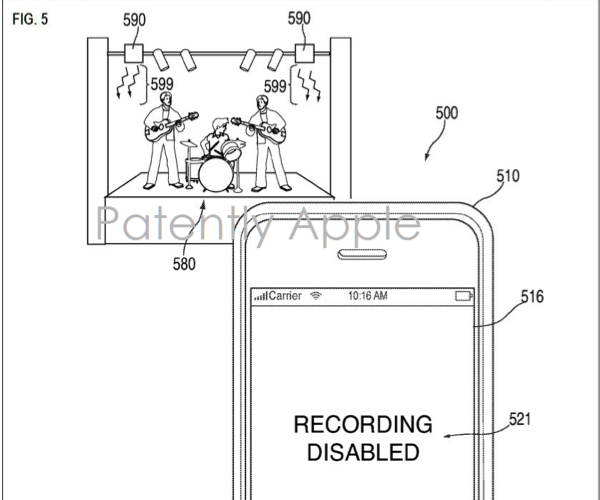 This technology could also be used to stop recording in movie theaters, as well as other "sensitive photo locations."
However, another use shows the camera transmitting infrared data into helpful information about what an object is, like a display at a museum.
The patent was filed back in 2011 and was officially approved by the United States Patent and Trademark Office on Tuesday.
Apple has not yet commented on the technology.