Yes, You Can Get On-Demand Alcohol Delivered to Your Home. But Which App Is the Best?
Tech
Features
apps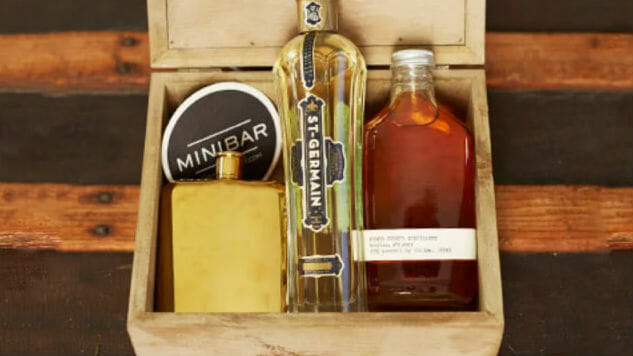 Imagine you're having friends over for dinner and after returning from your trip to the grocery store, you realize you forgot one important (if not the most) element to the meal: the alcohol. It might not seem like a big deal, but, in the moment, the idea of having to backtrack to the store for a pack of beer or a bottle of wine would probably be very annoying. What's even more annoying? When there's a closer store that has what you need, but double or triple the price you could get it elsewhere.
So, what do you do? You guessed it—there's an app for that.
Alcohol delivery apps are the newest technology-based food or drink delivery platform to flourish in the market. But, as it always is with apps, the market is saturated with tons of different options—so which one do you choose?
Though all of these apps are not available in my market (Seattle) I tested and interviewed a few to get the inside scoop on what makes one app different from the others, and to determine which one I would actually use when I'm feeling lazy.
First things first: Is it legal to buy alcohol online? One thing that is true across the board for alcohol delivery apps is that a valid ID is required. So no, you cannot be under-age and think "Heck yeah I'm going to beat this system and order online."
You have to add your credit card information to place an order and you have to present your ID when the delivery person arrives. When they do, they scan it to confirm that it is real and record it so it's reported to the store and state. If you present a fake ID or cannot produce your ID when the delivery person arrives, you will not receive your alcohol and some apps will charge you a re-stocking fee. It's unclear though, whether you are reported to your local authorities or not.
Now, let's move on.
Minibar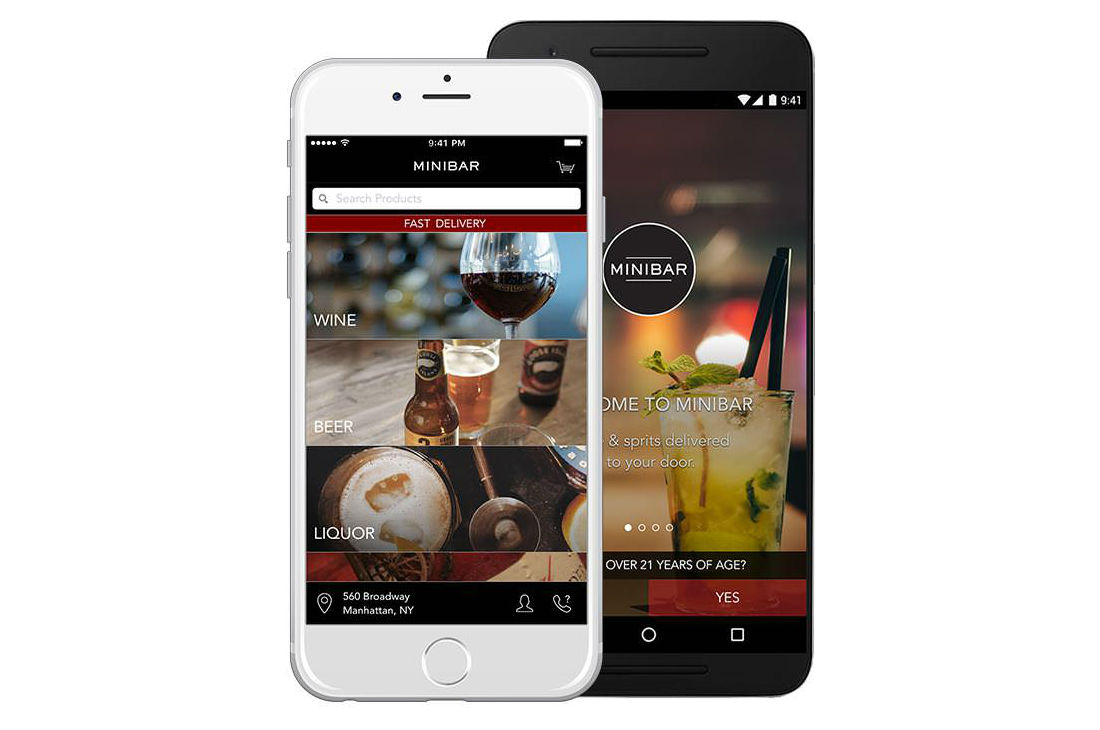 Co-founders Lara Crystal and Lindsey Andrews are Wharton Business School graduates with previous credits that include Rent the Runway, Fresh Direct, Soap.com and Wag.com. With their combined e-commerce experiences, Crystal and Andrews set out to create a better way for consumers to shop online for wine, beer and liquor.
Currently, Minibar operates in 30 cities across the United States. Their model includes a partnership with a local store (that already offers delivery) in each market to fulfill orders.
The app itself is easy to use with a sleek, simple interface. The black and white backgrounds with vibrant photos of cocktails and drinks make the app eye-catching and easy to navigate. In addition to serving beer, liquor, and wine, Minibar also offers mixers, snacks and offers recipe ideas and suggestions. However, the prices are high and the app appears to be catering more toward big-spenders or people purchasing alcohol for an event or party.
I actually experienced Minibar first-hand when the company was first launched in New York City. Minibar was on-site at a company party serving cocktails, beer and wine to my co-workers and myself.
In the app, you are presented with an option to "Book a Bartender" for a set amount of hours and price, which is a pretty cool feature. Though you still have to supply the wine, spirits and beer if you're planning an event, Minibar actually makes it easy for you to find a bartender (or wait staff) in your area, so the app can do more than just deliver a case of beer or bottle of wine.
Drizly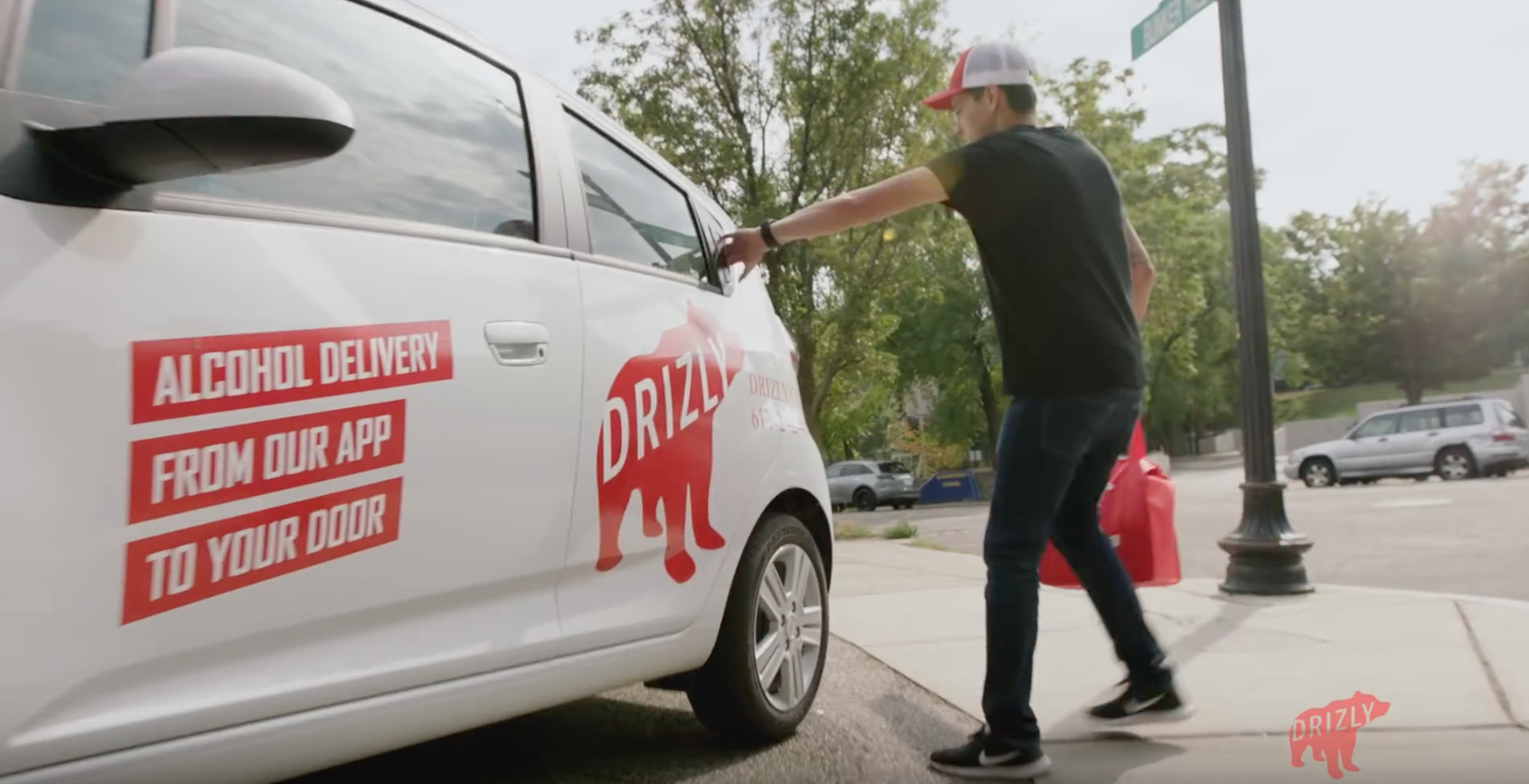 The Drizly app takes a different spin on alcohol delivery. The app has a more cluttered appearance. At first open, the scrolling bar at the top feels like a scrolling ad that gets in the way. Moreover, there are navigating buttons at the top and bottom, which all do the same thing, so it feels very redundant and busy. Though it's nice to have the option to search and shop by a specific type of alcohol, the layout only adds to the on-screen clutter and does not have that sleek, easy navigation that the Minibar app provides.
Similar to most apps, Drizly does not make any of the deliveries. Rather, it partners with a local retailer who makes the delivery and processes the payment. Drizly is simply there as a middleman—or as they prefer to call themselves, a "tech intermediary"—to connect retailers and consumers.
By partnering with local retailers, Drizly can scale faster. But, you can only order from stores that are listed in the app because they only work with licensed retailers, so mostly large companies or grocery stores.
Right now, Drizly is going to be the app that you'll most likely have access to and if you're in a time crunch or just really don't want to go to the store to get alcohol, Drizly is convenient and will connect you with a local retailer that can make a delivery. But, there really isn't any reason for you to just order from the store directly, since they already offer the delivery service and Drizly is really just there to have you place the order through their app.
Thirstie
Don't even waste your time with this app, there are so many glitches, errors and you will honestly just become so frustrated that you'll give up, decide you need a drink to calm your nerves, only to remember that's what you were trying to do with this poorly designed app.
On first attempt at using the Thirstie app I was initially confused by the old-school looking interface that actually features photos of beer bottles with have a vignette around them. Next to every image is a box that says "Check Availability" so after a few struggles to get the app to register my address; I'm in, only to be more disappointed.
At first look, everything seems expensive and there's no real indication of where the alcohol is coming from. Is this their inventory? A local store? Someone's house? I have no idea. After talking to the company, I discovered that they, like Minibar and Drizly, are just partnering with local retailers and having them fulfill all the orders. Knowing that there are multiple other apps that do the exact same thing with a way better interface and app, don't waste your time downloading Thirstie.
Saucey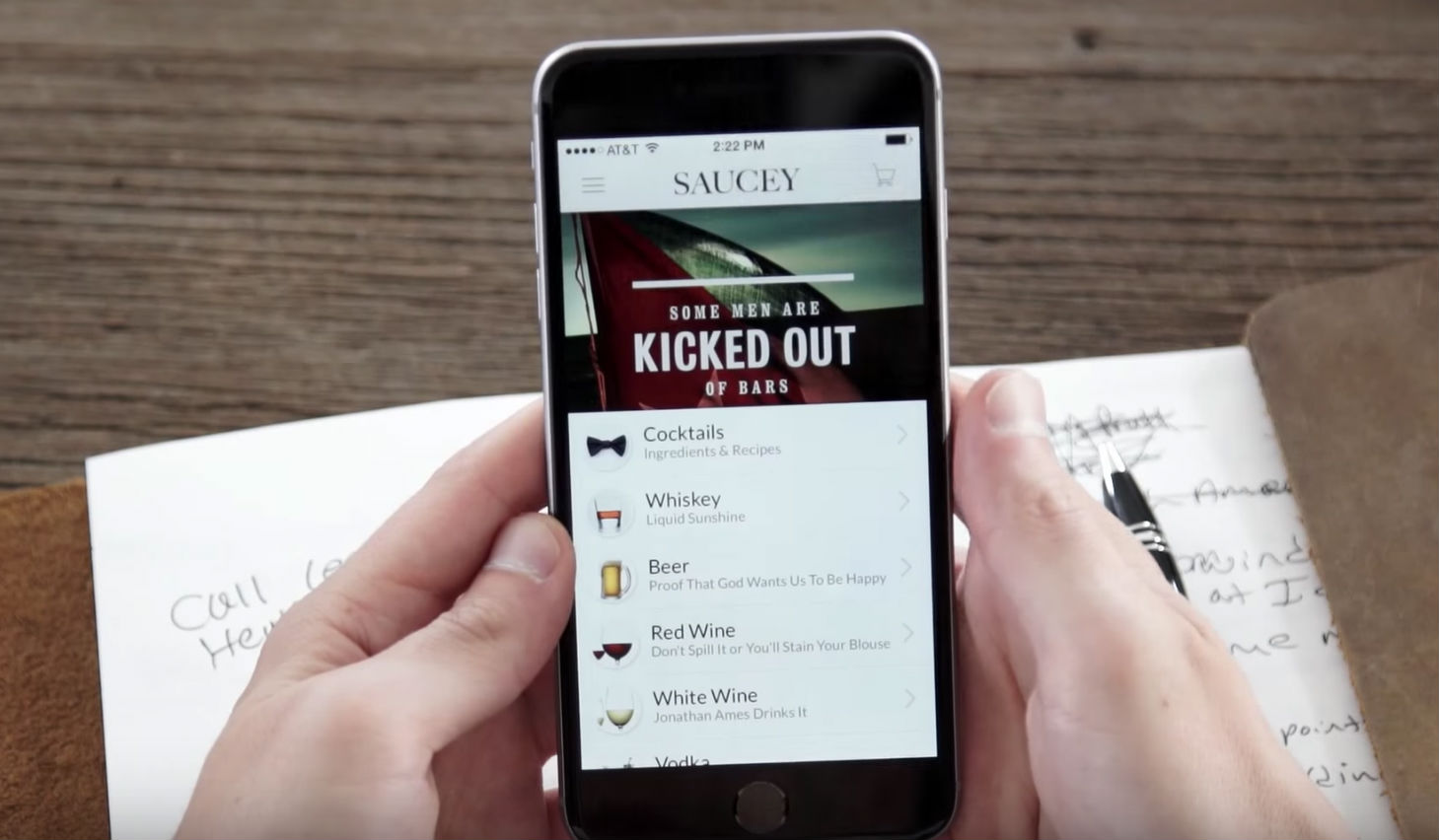 From the very beginning, Saucey co-Founder and CEO, Chris Vaughn, wanted to build an app that actually solved an issue. After recognizing that most people order alcohol on a case-by-case basis and that, on average, the alcohol gets consumed within an hour of purchase, Vaughn founded Saucey in early 2014.
Though Saucey also partners with local retailers there is a key difference in how their partnership works. For Minibar and Drizly, the companies go to a store and say that they are going to send them customers, but that the store has to handle the deliveries, customer support and processing. Saucey, on the other hand, hires independent contractors who have some professional courier experience and fulfill orders-similar to how Postmates or Instacart operate.
While there are positives and negatives to both models, what impressed me about Saucey is that they are not giving the burden of orders to the local store—which is already dealing with the orders they receive on their own. Consider that for a moment—when a store receives orders from an app, an employee has to manage those orders, pack them and deliver them. That might mean a store now has to add an additional worker solely to handle all those orders, which, in some cases, can be really tough on a business. Plus, if there are any customer service issues, the store will also have to deal with those and you can't message the app for help. If you do, you're told to contact the retailer.
"The fundamental difference is that they [Drizly and Minibar] bring the liquor store to your house," says Vaughn. "We bring the brand or a premium experience to your house."
The Saucey app itself is well designed, easy to navigate and showcases savings on select products. Though I find the top scrolling bar to be distracting, I enjoy the overall layout, which makes it easy to shop for a particular type of alcohol or search for a specific brand.
While each app offers something slightly different, at the end of the day, they're all providing a more convenient way for you to get alcohol delivered to you so you don't have to leave your home. If you're planning a fancy event and don't mind shelling out more money, Minibar is going to give you that experience. But if you're looking for an on-demand, alcohol delivery app that is convenient (and doesn't make life harder for your local retailers) my vote is for Saucey.
Plus, in the words of Vaughn, "you don't want to get drizly, you want to get saucey."