Meet Finch, The App That Promotes Self-Care With Cute Virtual Pets
Image via Finch
Tech
Features
Finch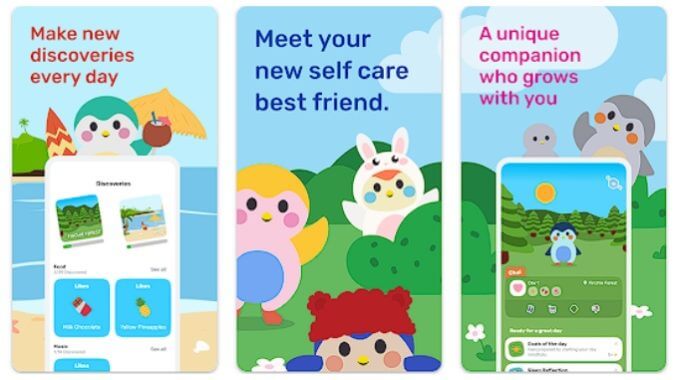 It's a new year, which means grand plans of transformation and rebirth are just starting to hatch. Personally, I want to drink more water and stop procrastinating so much in 2023, but to each their own. While some folks might be ready to head to the gym or start running immediately in 2023, others (like me) need a bit of encouragement and coaching to meet their goals.
Using technology like a fitness tracker or Fitbit can help if you have an exercise plan. But what if you just need a word of encouragement, a chance to vent or something to take care of? What if you're just struggling to get dressed up past the usual sweatpants and t-shirt?
A little over two years ago, Thomas Aquinas Nugraha Budi and Stephanie Yuan quit their day jobs to develop Finch, an app that helps people prioritize their mental health with the help of a digital friend. Both Budi and Yuan have struggled with depression and anxiety in the past and wanted to create something to help improve their own mindsets, while normalizing mental health care more broadly.
Yuan said the duo landed on the idea of a "self-care pet" which grew into Finch. The company had a soft launch in the Spring of 2021 with a small batch of testers and held a friends and family round of fundraising at the end of the same year.
"We both struggled with anxiety and depression and found self-care challenging to stick with, so we were hoping to make self-care fun and accessible after seeing many others share similar struggles," Yuan told Paste recently. She said she took inspiration from game designer Jane McGonigal
The idea, Yuan said, is that users take care of their pets by taking care of themselves. Goals range from washing your face and brushing your teeth to yoga sessions and niceties like buying coffee for a stranger.
According to Budi, users who tend to thrive using Finch have remarked how it has helped them create a routine of wellness checks. When you start up the app, users are asked to reflect on how they feel and then it's onto your pet's home.
As users check off goals, reflect and take time for well-being exercises, the Finch virtual pet will gain the strength they need to adventure out of the house for the day. The more interactive the user, the more the virtual pet will grow. In addition to their height and weight, users can see their pet's lifelong affection and energy scores. As the caretaking process progresses, Finch prompts users with new questions and reveals a personality of its own, disclosing things like its favorite foods and items within its world.
Budi said the company has read dozens of positive testimonials from users of Finch, telling them how it helped manage anxiety, depression and a host of other ailments.
"Finch helps me to get out of bed and actually accomplish the things my depression doesn't allow," one user wrote. "I have a bird named towelie so getting little reminders from my Finch named towelie makes me feel like he's encouraging me."
Another user, who has struggled to find the right medications and therapists for years wrote that at first they were skeptical that an app could help, but in the end, they were 'pleasantly surprised.'
"It's helped keep me accountable and to be able to see my moods over the days has been really beneficial," they wrote. "Rather than me seeing one bad moment as a negative day, I'm able to see that one negative moment in a sea of positives can still be a positive day."
Once your Finch pet reaches adulthood, users get access to the Travel Agency, allowing them to venture beyond the forest. According to Finch, the platform currently has around 80,000 users and offers a Discord support group with updates and announcements. While the app is free to download, a Plus subscription will run you around $40 per year.
"To take care of yourself, you don't actually need a lot—you just need consistency and motivation," Budi said. "It's not like people don't know what to do for their well-being; life just gets in the way, and it's very hard to motivate yourself to actually do things that are good for you. Motivation is as important as what you do, and that underlies everything we do at Finch."
Dana Forsythe is a freelance writer covering tech, comic books and culture. He lives in Massachusetts, enjoys photographing street art, collecting comics and can be followed via Twitter (@danafour).