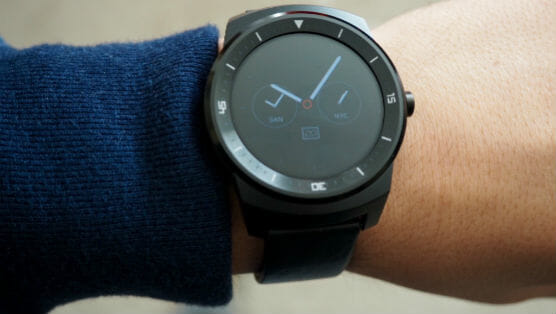 Google's effort to promote tiny wearable computers, like a watch, required a new and specific version of its mobile operating system currently found on its mobile phones. This brought about the release of Android Wear software last year to power these new types devices and LG was one of the first companies out of the gate promoting an Android Wear smartwatch last year. However, the first G Watch wasn't necessarily a hot item. Whether it's because it was so early to the game or it just missed the mark, LG's first watch was just lacking all around.
The first G watch was as plain and uninspired as humanly possible, but secondly, it was still figuring out the market for a new breed of smartwatches. Besides completely botching the name, LG's second version, the G Watch R does improve on the overall smartwatch experience—this time with a round design that is much more interesting.
Even if it is better than the first iteration, should the $299 G Watch R be your first smartwatch purchase? Android Wear watches still only works with Android phones and there's now a lot more choice among devices targeting Android users which means the Watch R will have provide both brains and beauty to come out on top.
Hardware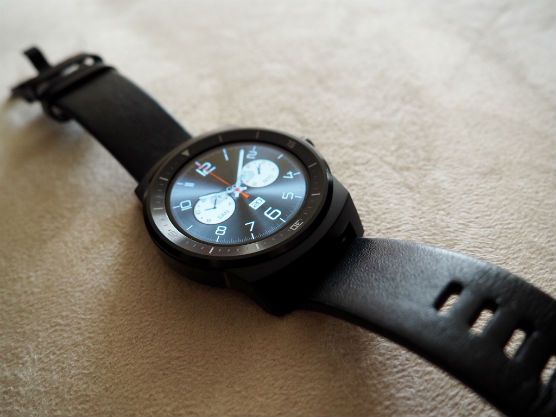 LG's first watch didn't have much going for it, but it was minimal in overall size which is typically a good thing for a wearable. The new Watch R isn't small, however, and the first impression the device makes on your wrist might cause a bit of hesitation. While there's nothing inherently keeping women away from the Watch R, it was clearly designed with a man's bigger wrist in mind. It's decidedly masculine in style as well, beyond just the size itself.
It's bulky, for sure, but it isn't ridiculous or unacceptable. I'm 5'11, average weight, and the watch isn't out of place on my wrist. I probably wouldn't have chosen an analog version of this same watch, but in this case that's more of my personal preference. As far as design is concerned, the Watch R isn't raising any bars in the fashion area, but it at least tries to add some flair over the first version.
Around the round screen are tick marks with 15, 30, and 45 indicating each quarter mark. On a touchscreen and completely customizable watch, the design seems unnecessary at best. It's almost like LG is trying to mask that it's a smartwatch to passersby on first glance. It really does look like it could be a $30-$150 analog or digital watch from some department store, which is sort of a strange thing to go for when you think about how expensive the device is.
While in a void, the Watch R is quite nice; it doesn't come near the stunning good looks of Motorola's Moto 360 or Asus's ZenWatch. Both of those put the competition to shame in terms of design. What's more, both of those could also be a lot more easily worn by women as well, giving it a much wider range of appeal.
Motorola's 360 is round like the R, but it's sleek with no protruding parts for the wrist straps. Asus's watch is also sleek, but it's thinner and makes a nice fashion statement with its brown wrist strap. Both watches are also cheaper which make the few differentiating points of the G Watch R like larger battery and barometer still not enough to be competitive.
The Watch R might have a nice looking black wrist strap out of the box, but it unfortunately isn't all that comfortable either. The strap, which claims genuine leather on the backside, is stiff and hard to manage. Luckily the strap is a standard 22mm size, but I still had trouble removing the strap to trade it out. It's a point which shouldn't deter you if you like everything else about the Watch R, but otherwise it's another ding against it that should make you consider the alternatives.
Software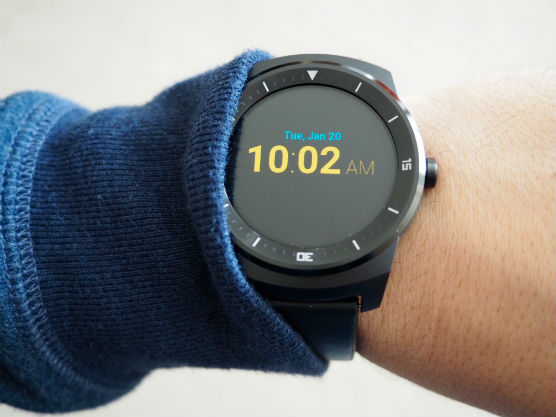 The software is mostly out of LG's control on the watch, that's part of relying on Google's Android Wear. The benefit is that it's a constant experience for all Android smartwatch users, but it also means there's nothing unique to this specific watch compared to other manufacturers.
The one minor area that does vary is the preconfigured and shipping watch faces. LG has always done pretty good with watch faces, but now that watch faces can be customized and hidden through the Android Wear app, it too has become a non-defining feature.
Android Wear itself has gotten better over the recent months with things like theater mode for dark situations. But besides third party face watches, I'd say most of the enhancements have been small refinements rather than a reworking of Android Wear.
With the addition of Google Fit, health data collection is more organized than it has been in the past, but all mobile health data, Apple Health included, is still young and in need of developers supporting the feature to really take shape.
Verdict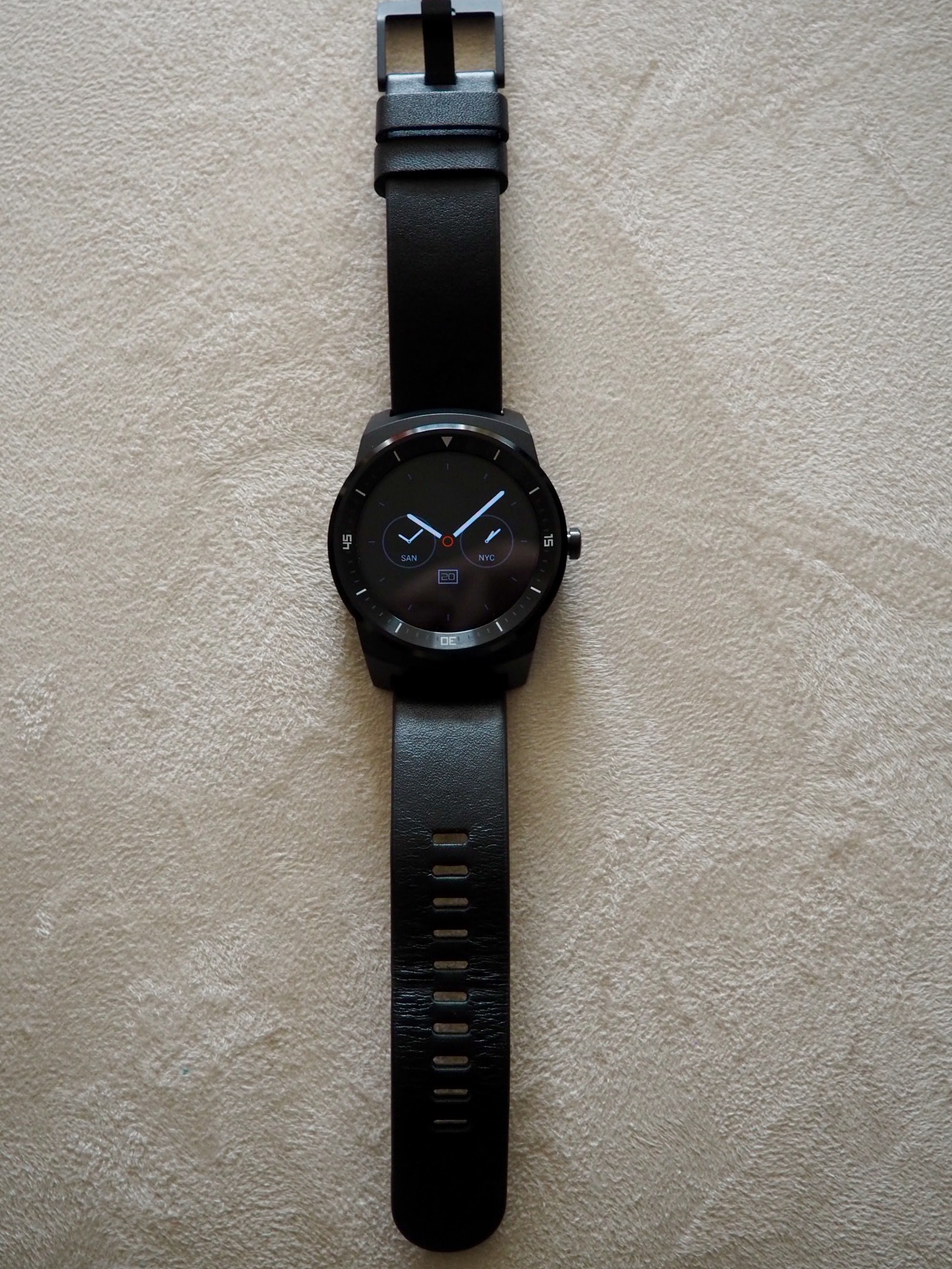 There's a definite line in the sand that if you have an Android phone, you can get an Android Wear watch and if you have an iPhone you can get Apple's upcoming Apple Watch. So the Watch R doesn't have to compete against Apple's expensive and nice looking watch, but it still has to connivence its own user base that they should be paying $299 to get this watch.
The Watch R is definitely a respectable choice, but it probably won't convince someone uninterested in smart watches to get one and people already interested in the technology will likely choose a competitor. The watch just doesn't provide enough few answers for the question of why someone would pick it versus the growing crop of other smart watches—a sad reality for an otherwise fine product.