Grabr is the Peer-To-Peer International Delivery App That's Taking on the Shipping and Travel Industries
Tech
Features
Grabr
If you've ever traveled the world, you know two struggles firsthand: the first is trying to fit all the souvenirs and goodies you found in your suitcase when you head home. The second struggle is when you return home and realize Amazon can't ship you that item you saw at a street market in Thailand, nor can you find a certain type of candy at your local supermarket.
And if you haven't done much traveling, it's probably because of how expensive it is to do so. Between flights, a hotel, rental cars and everyday needs, spending adds up when you embark on an adventure, which is why many of us decide to stay home.
Enter Grabr: the peer-to-peer delivery app looking to help shoppers anywhere buy anything, while also making traveling more affordable.
There's got to be an app for that already… right?
That's what Grabr co-founders Daria Rebenok and Artem Fedyaev assumed to be true when they found themselves living in San Francisco craving the fresh gazpacho and Spanish wine they loved to dine with while living abroad in Barcelona. They figured that since they were living in the tech capital of the United States, there had to be an app that would deliver items internationally.
Wrong.
Since the Internet couldn't help her get what she was looking for, Rebenok decided she was willing to pay someone to bring it to her. Living in San Francisco means there are dozens of flights coming into the city from Barcelona on a daily basis, so Rebenok figured she could ask someone traveling to bring it to her.
She figured there would be an app that could connect her with someone traveling from Barcelona to San Francisco that she could pay to bring the food over in his or her suitcase.
Wrong, again.
"We thought, 'this is a good idea' and we were shocked that it didn't exist already," says Rebenok. "We mentioned the idea to an investor and they thought it was a valuable idea."
What initially started as a side project (as most start-ups are) the idea for Grabr eventually turned into a company that Rebenok now leads as its CEO. And for the first "grab" they posted when their app was live? Gazpacho and Spanish wine.
"We got the wine pretty quickly, but the gazpacho took a few months. But we got it!" exclaims Rebenok.
Where Amazon Prime fails, Grabr prevails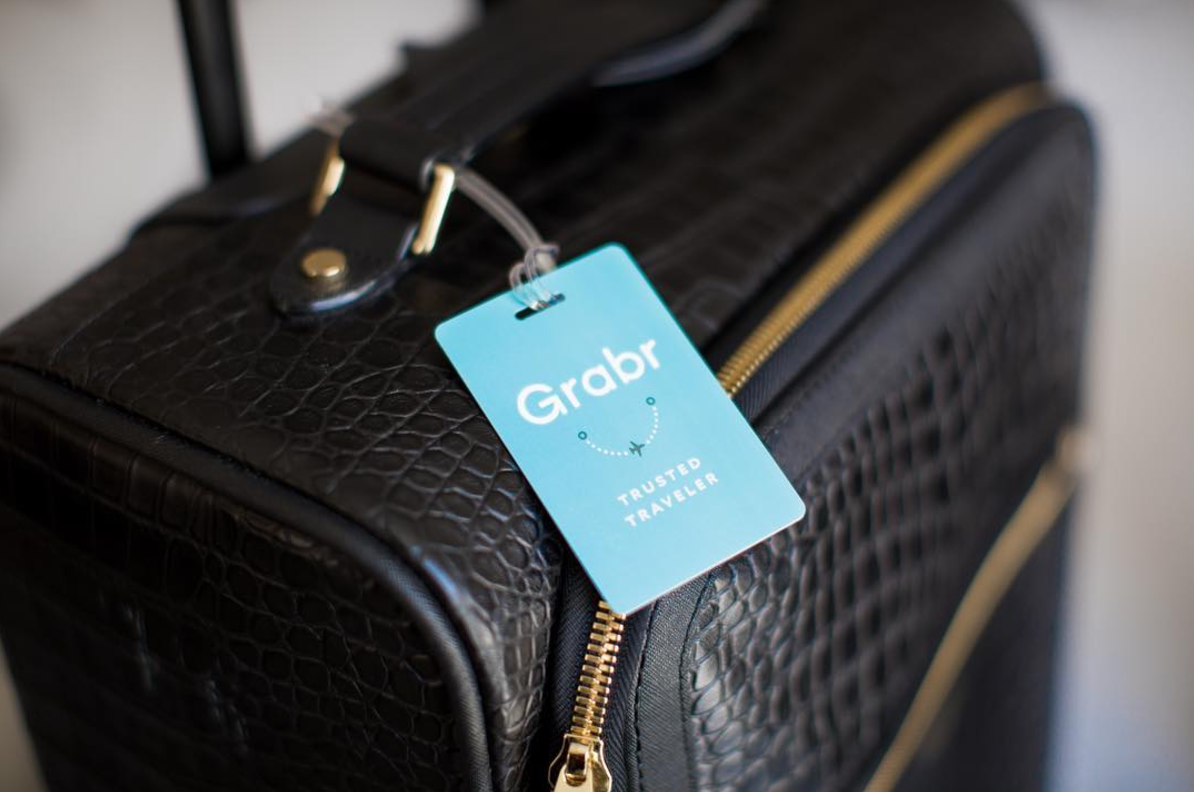 Grabr released its beta in January 2016 and currently has an estimated 70,000 users, with about 30% "Travelers" and 70% "Shoppers." The imbalance between the two is intentional, as the app is still new and wants to focus on creating a demand to inspire people to sign up as Travelers and travel to make money.
At its core, the company intends to help people around the world get items they otherwise cannot get. Here, in the U.S. market, we have so many options and websites that can get us whatever we want. But as Rebenok points out, other countries don't have that kind of access.
For example, Amazon doesn't ship to Brazil and Argentina, so many consumers end up spending a lot of money on customs to have a traditional shipper send things like baby formula, beauty products, clothes or gadgets. It can take a really long time to be received, especially if held up in customs. That's why some companies don't even bother shipping to certain countries—and when you're the person in said country trying to order something, it's incredibly frustrating.
That kind of frustration wouldn't be acceptable for American consumers who expect Amazon-like customer service from every company. But even Amazon can't get us everything we want, so Grabr can appeal to people who are used to seamless shipping.
"If we want something unique like fresh macaroons directly from Paris, we can't use Amazon Prime to get that," says Rebenok. "Grabr is a simple and easy way for people to get items they otherwise can't get."
It sounds illegal, but, technically, it's not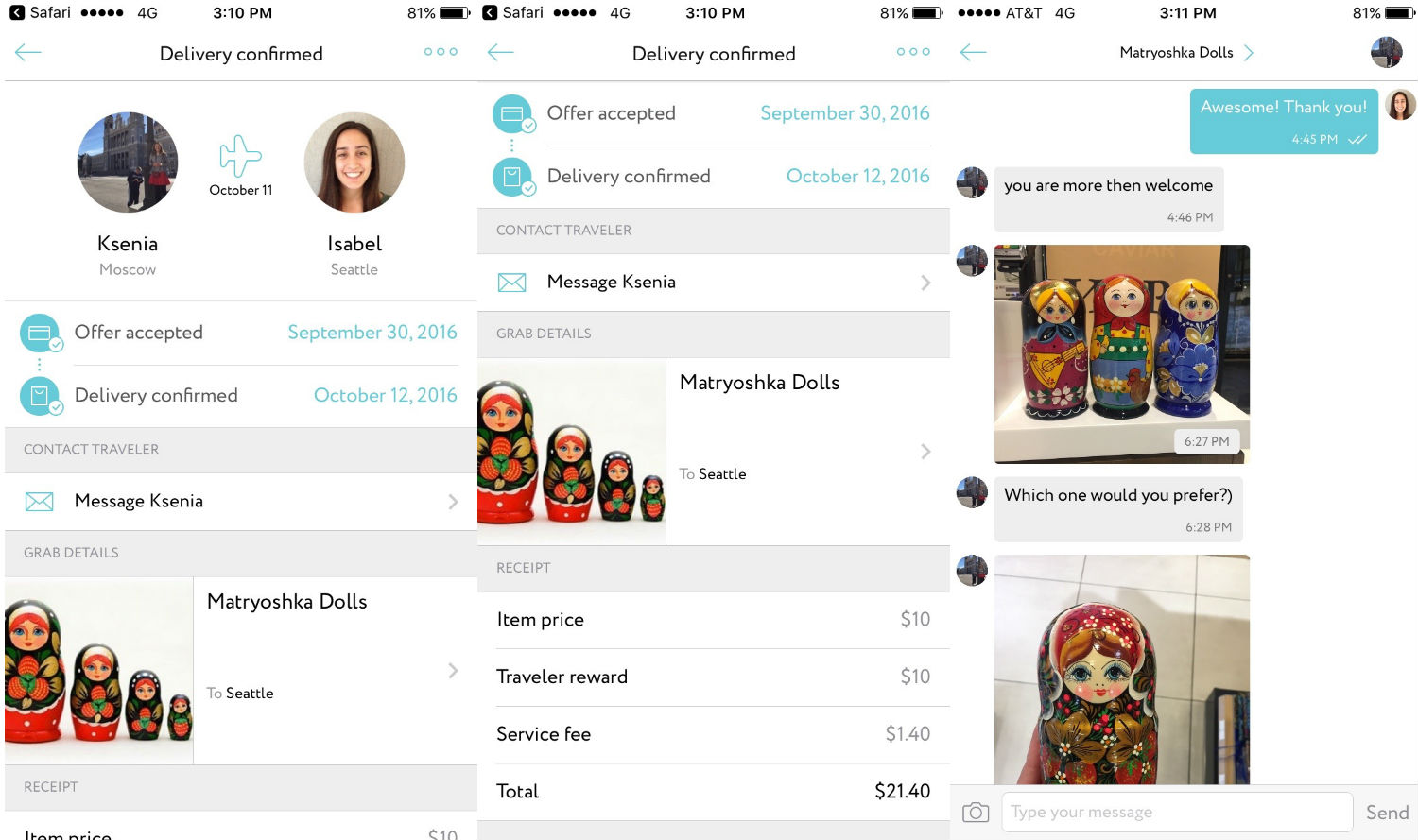 First things first: no, you can't use this app to smuggle drugs or other illegal substances. The app has a semi-automatic system that will flag certain keywords and remove any postings that violates the law.
It's not uncommon for people to be wary of a new app. Not all people are accepting of tech apps and some are particularly skeptical about the legality of having a stranger deliver something in exchange for money. With Grabr, the setup sounds suspicious, but the truth is the app is pretty similar to ones we use on a daily basis, just with a different outcome.
As a Shopper you set up an account on Grabr and simply make a post for the item you're looking for. If you want something specific, like a particular item from a store you know about, you can include all those details, including a link to the store and an address of where it's located. You list the amount you're willing to pay for the item (hopefully the actual cost of the item) and a "reward" amount that you're willing to pay someone to bring it to you. This is essentially what a "delivery fee" is in Postmates or a tip to a Lyft driver. It's basically a way cheaper amount someone would pay in shipping, duties and taxes if they were to place the order online.
As a Traveler you sign up to do exactly that: travel, pick up the items requested by a Shopper, and earn rewards for doing so. In the same fashion you might sign up to deliver food through Postmates, as a Traveler, you sign up to deliver items you collect while you're traveling around the world.
In app, you're able to see the items being requested from Shoppers. You can filter the requests by location and accept what you're willing to grab, or you have the option to place a "bid" if you're willing to pick up an item, but want a greater reward. Think of it as eBay meets Postmates, in the sense that you're bidding out other Travelers to get paid to deliver an item. If you're ambitious enough, you can plan to travel to one place, pack your suitcase with all the items you've elected to pick up and get paid a fair amount for making the transaction when you cross the border.
When you elect to pick up a reward, the Shopper will agree to the amount, but you won't receive any money until they receive the item. That means you have to pay for the item out of pocket. The Shopper's money is essentially held in escrow until you hold up your end of the deal and hand off their item.
Once the grab is complete, you'll get the money for the product, plus the reward. It's illegal to take an item to another country and re-sell it, but since the Traveler paid for the item with their money, and the exchange of money happens in Grabr's app, there's no reselling occurring. Thus, the rules technically aren't being broken. It's a loophole, but it works (for now.)
Customs do come into play and though Grabr has plans to help make this easier for Travelers, right now, you (as a Traveler) have to make sure you know how much you're allowed to bring over to any given country. This can be a bit time consuming if you're not immediately aware of how customs works because every country's customs varies on the amount of goods being brought. In the U.S. it's around $500 depending on where you're coming from. If a Traveler goes over the limit, they'll have to pay a custom tax, which they either eat or see if the Shopper is willing to pay. Though this hasn't been an issue yet, Grabr says they will protect the Traveler.
The benefits are endless for both the Traveler and the Shopper. As the Shopper, you're able to pay less for something that you either can't get in your home country, or would have to pay a lot (in some countries, an exuberant amount) of customs and taxes, making it somewhat impossible to afford.
As a Traveler, you, well, get to travel and earn money. Sure, you might have to go out of your way to deliver items and travel with some extra load, but if you're making enough to pay for your flight or a night in a hotel, it ends up being worthwhile. Moreover, Travelers who have successfully completed grabs say the in-person deliveries are what they enjoy most about the experience.
"I delivered a birthday set for Disney's Frozen products to a little girl in Peru who couldn't get anything like that there," says Jamie, a Traveler for Grabr. "Her father wanted to throw her a Frozen themed birthday party but he couldn't find the birthday set in Peru and anything he did find was incredibly expensive. I delivered the doll to her and she started crying because she couldn't believe she was holding an Elsa doll."
Jamie says it's the person-to-person aspect that makes Grabr different than any other courier service, explaining that most Travelers are people who are going on a trip, delivering something to someone else out of the kindness of their heart. Plus, Jamie was able to pay for a plane ticket and two night stays in a hotel in Peru.
"You might have to spend a lot of time on Grabr figuring out custom fees and planning out deliveries," notes Jamie. "But when you walk away from it with $1,200, you walk away feeling pretty good."
Does it actually work?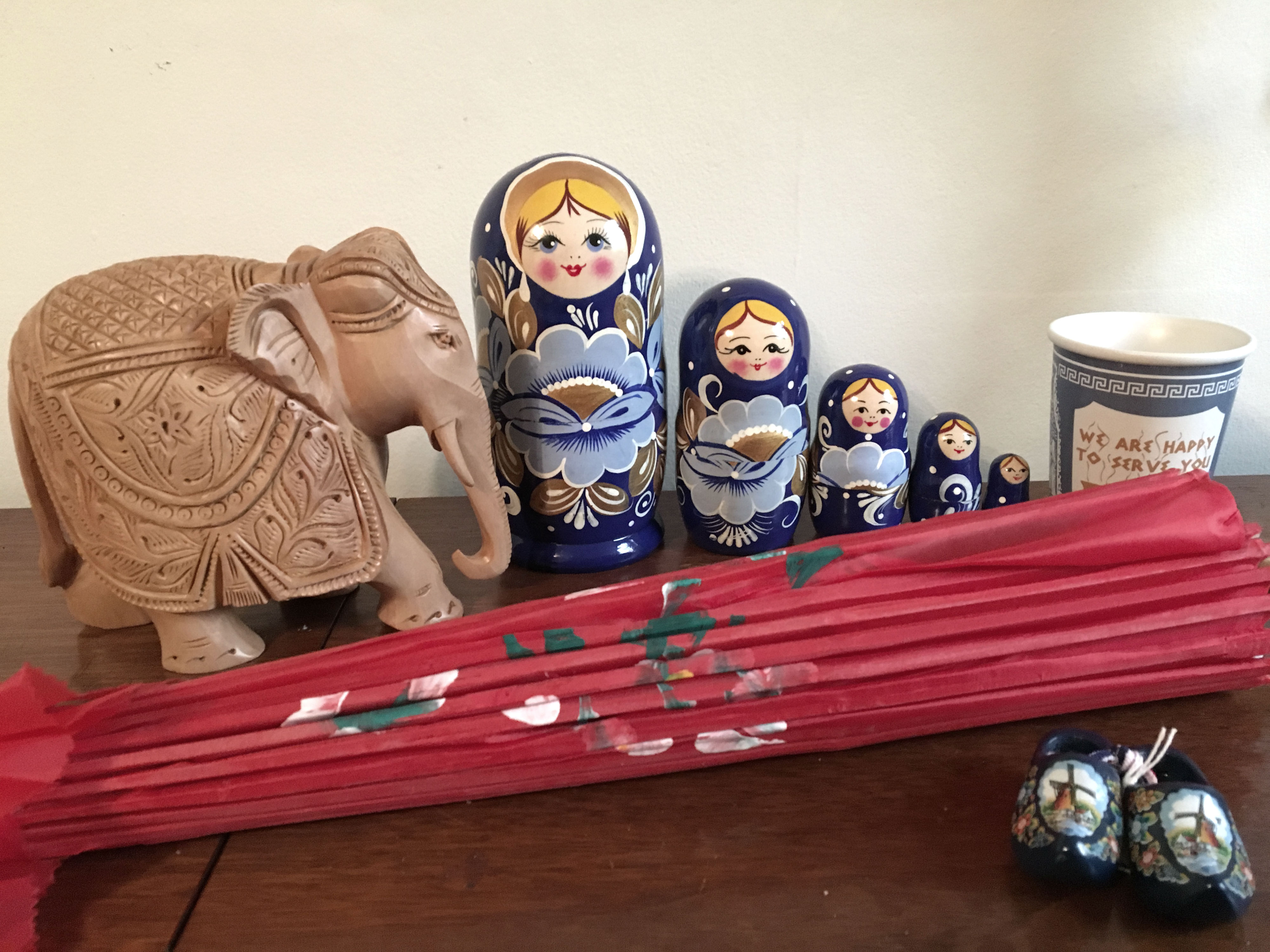 The truth is, it does! I tested out whether or not I could ask the app for random gifts from different countries and have them delivered to my door in Seattle. I decided to focus on iconic gifts from around the world, asking for the following grabs:
1. Japanese parasol
2. Traditional Indian elephant figurine carved from sandalwood
3. Everything bagel with an old-fashioned New York City coffee cup
4. French baguette
5. Set of Matryoshka dolls from Russia
For the purpose of the demo, the Grabr team was able to receive some of the grabs on my behalf. In example, a Traveler coming into San Francisco from Japan, India and New York City were able to drop off the items I requested to their office. The only items that didn't make the cut were the bagel and baguette, which Grabr admits delivering fresh items like that is something that's still hard to work around.
I met up with Christina Leigh Morgan, senior manager of brand activation at Grabr, in Seattle to receive the items. Christina hadn't spent much time in Seattle, so I suggested brunch at a local diner and gave her suggestions on places to visit during her stay. Right away, I could see how I would have benefited if the roles were reversed, so the appeal of Grabr is high for those Travelers who love meeting locals and getting their take on what to do in a city.
As for the set of Matryoshka dolls, I was able to chat with a Grabr Traveler in Russia to secure their delivery. I'll admit I was skeptical of this at first, especially because it took a few days for me to hear back from anyone after placing my grabs. I received a notification from Ksenia in Moscow saying she could pick up the set for me.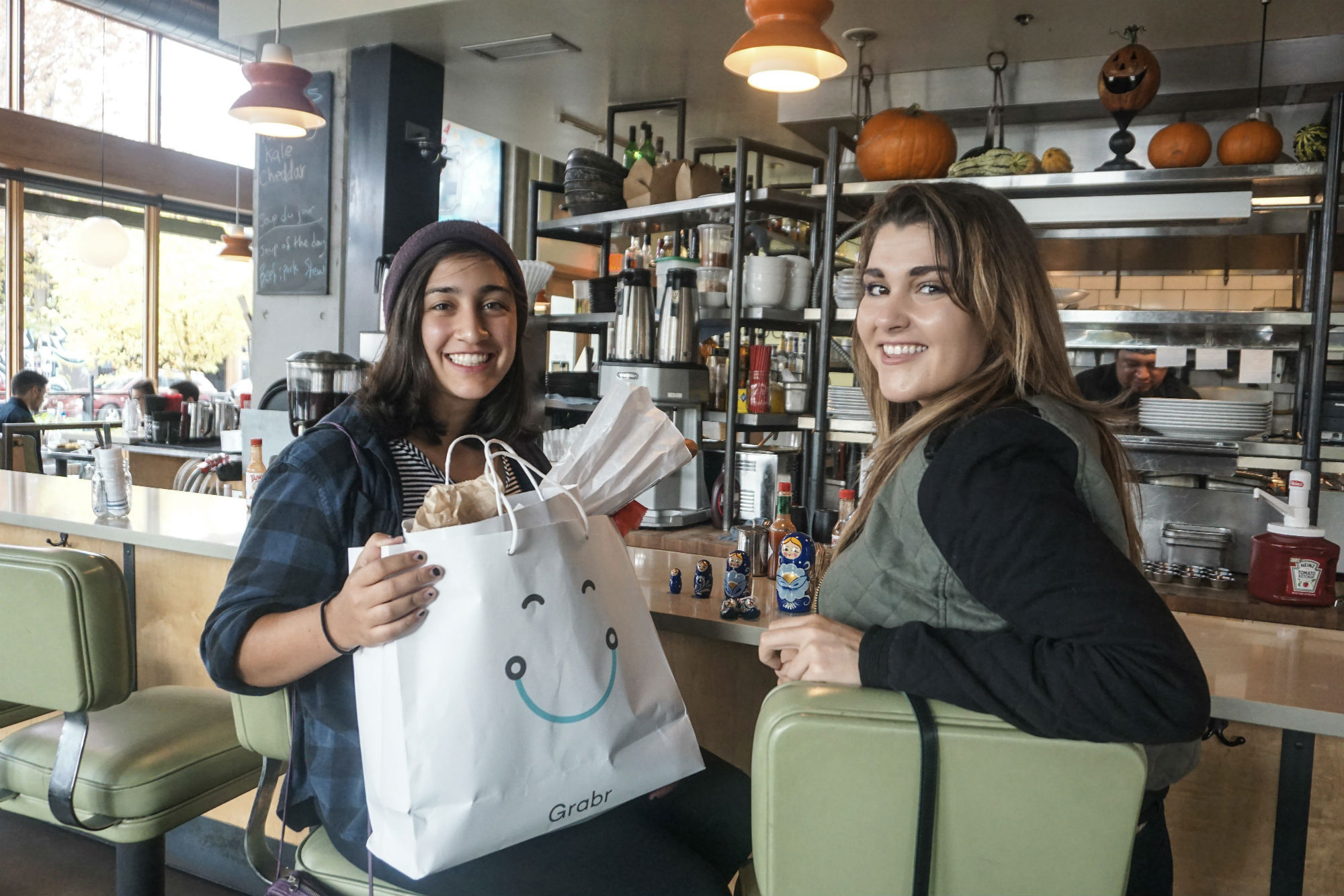 When Ksenia went to find the dolls, she communicated with me through the app. She sent me photos of the dolls that were in my price range and let me pick out the color I liked. I thought it was cool that she was in the store while we were talking, and it was fun that I got to pick the exact one I wanted. When I received the dolls, I saw the whole interaction come full circle. Now, the dolls make a nice accent in my living room and when people ask about it, I have a unique story to tell.
Grabr is different from other start-ups in that it's taking on two huge industries at once: shipping and travel. It's helping consumers get the goods they can't get anywhere else, but it's also helping those who want to travel do so.
You might not be able to live off completing grabs in the app, but for most of us, the idea of covering an expensive plane ticket or accommodations is worth it. Now that we know it exists, why not use it the next time you travel to save yourself a little money or to get a special gift for an upcoming birthday.
And for those consumers who are tired of frustrating experiences with customs and companies who refuse to ship to them, Grabr just might be the perfect solution.