It may seem unfair to pit the Nexus 6P, a decidedly premium phone with top-of-the-line specs, against HTC's latest, the One A9. The latter has been placed by many in the "midrange" category, with internals like Qualcomm's Snapdragon 617 processor and a 1080P screen as opposed to QHD. I placed the phones into separate categories myself until I learned the One A9's initial launch price of $399, which signaled a new approach by the struggling Taiwanese company in similar vein to Chinese agitator OnePlus, was only a limited time offer. It's regular retail price? $499, the same price as the base model Nexus 6P.
That made me wonder how big a disparity there actually is between the two phones, if at all. Obviously, there is a dichotomy of internals and specifications, but that doesn't always determine how the phones will perform in a real world setting. With both the phones in my possession, I decided to stack them against each other, and see just how far $499 will take you.
Bear in mind this is not a full review. There is still much to test with these devices, and we'll have more thorough thoughts in the coming weeks.
Design and Build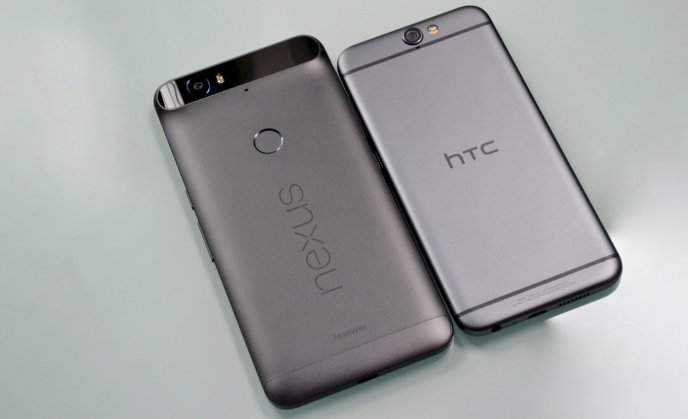 Both phones are stellar in terms of build quality, but the Nexus 6P earns points for a more original design. HTC has been knocked around for its "iPhone clone" in the A9, but the fact is, if you're going to model a device after another, the iPhone is a great choice. It shows on the A9. The phone is a compact slab of aluminum and glass that feels wonderful in the hand. The 6P's metal and glass construction is certainly premium, but HTC's phone takes a decisive win for in-the-hand feel. It's brushed, glossy back is a joy to hold and the gray version HTC sent for our review is decent at masking fingerprints. I cannot imagine ever putting a case on this phone, it would pain me to do so.
This is not to say the Nexus 6P feels bad in the hand. It doesn't. It feels great, like a premium phone should, but what HTC has pulled off is remarkable.
There is also the consideration of size. The One A9 comes in at 5.74-inches tall and 2.79-inches wide with a 5-inch screen. It's easy to use in one hand, for the most part, but still offers enough real estate for gaming and videos to feel immersive. Still, as a media consumption device it pales in comparison to the 6P and it's 5.7-inch panel. The Huawei device is much tougher, however, to use in a single hand with its 6.27-inch height and 3.06-inch width. Both phones are quite thin coming in at 7.3mm, though to the naked eye the A9 appears ever slightly trimmer. There is a considerable weight difference, 35g to be exact, in favor of the A9. The thinness and disparity in size does mean one significant downgrade for the HTC device. It only packs a 2150 mAh battery compared to the generous 3450 mAh capacity on the 6P. In my time with each, there has been a clear uptick in battery life when moving from the A9 to the 6P. Both phones will get you through a work day, but the 6P will also last well into the night, whereas HTC's maxes out around 16 hours with light use.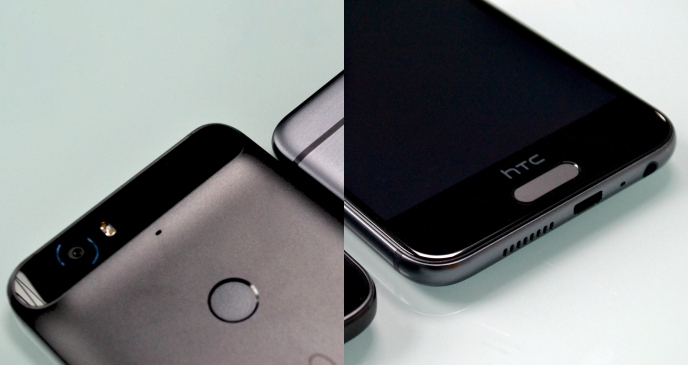 Each device features a fingerprint scanner, but the approaches are quite different. Huawei and Google chose to place the Nexus' scanner, branded Nexus Imprint, on the back of the phone and with a circular shape. HTC put its scanner in a more conventional position on the phone's bottom chin, and it's a rounded rectangle similar to those found on Samsung's products. Though both scanners perform as they should, the 6P's is a clear winner. It's faster and more accurate, and the round shape is more natural. The only downside is its position which, while placed precisely where my index finger normally sits, doesn't allow the user to unlock the phone while its laying flat on a desk or table. By no means a deal breaker, especially when considering how the scanner performs, just a minor inconvenience. The A9's scanner does earn points for also working as a capacitive home button. Given the 6P's mass, I would love to be able to tap the rear fingerprint scanner to return home.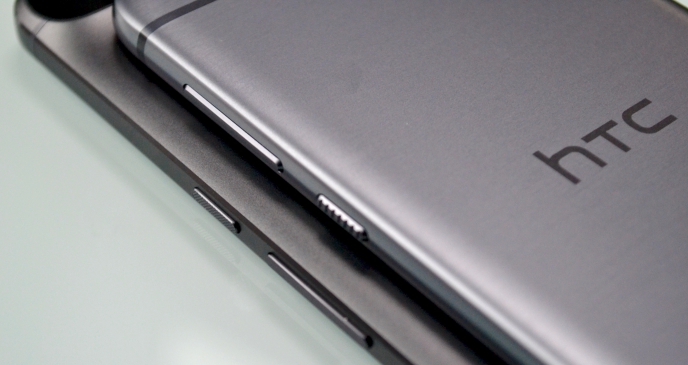 Only two physical buttons grace either phone, a power and volume rocker on the right sides. On each, the power button is textured to differentiate it but the placement is swapped, with it above the volume rocker on the 6P and below on the A9. It's not a huge difference, but I prefer the Nexus 6P in this regard. With the fingerprint scanners, I find myself rarely using either power button, but that's not the case with the volume rocker. Despite the A9's smaller stature, the volume button can still be tough to reach.
Overall, each phone is incredibly well constructed with striking design. Huawei earns credit for a more daring approach but, with each company finding its own small victories within design and build, ultimately the decision comes down to personal preference.
Camera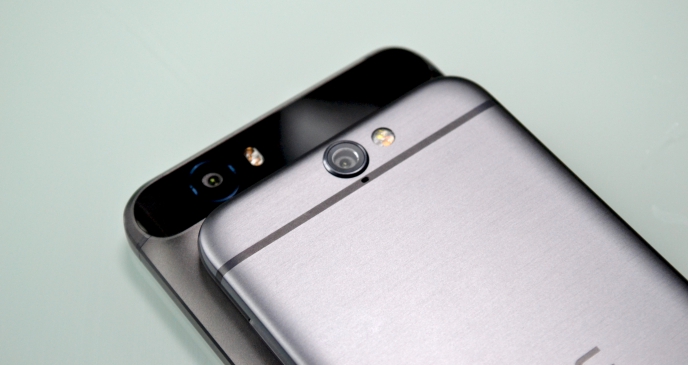 Camera was a sticking point for each device, as it has been for many Android phones in recent years. The biggest hardware difference between the two is the A9 comes with optical image stabilization, whereas the 6P only has EIS. Huawei's phone makes up ground by offering laser autofocus and 4K video. But, if you're like me and don't have a vast knowledge of photography and its myriad intricacies, you simply want to pull out your smartphone and trust that it will take a nice photo. Both the One A9 and Nexus 6P offer that comfort, performing admirably in good light and decent in low light (the Nexus 6P has an edge in the latter). Each camera app also offers a variety of different settings and functions, including HDR mode, the ever fun panorama, slow motion video and more. HTC's app is more robust than Google's, offering time-lapse video and a pro mode. It's also speedier than the competition. Though I've found the camera app on the 6P to not be as criminally slow as some report, it does lag a half-second behind HTC's software when taking a picture. At this point, I would give the Nexus 6P an edge in the camera department, despite the software differences, but there is still much to test, and a more thorough look at how each performs will be available in our full reviews.
Display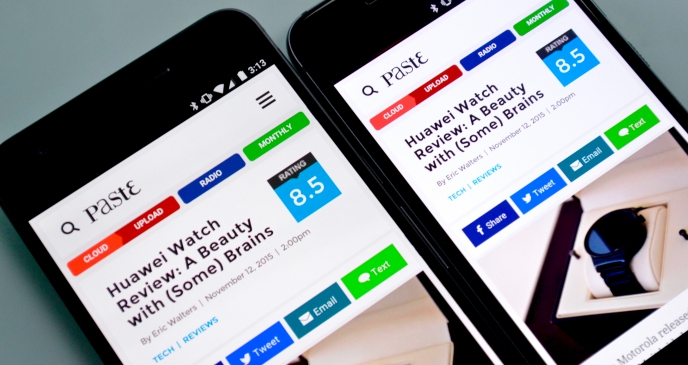 Perhaps the most notable difference in quality between the two phones is the display. The One A9 has a beautiful 5-inch 1080P AMOLED display with 441 ppi that is bright and crisp but, when placed next to the 6P's 5.7-inch QHD AMOLED display with 518 ppi, it can't compete. Everything is more immersive on Huawei's larger, more vivid panel and it's the one category where the 6P feels decidedly more premium than its HTC counterpart. The A9's screen is nothing to sneeze at, however. It is a solid display with my only complaint being that reds and oranges occasionally appear undersaturated. It's simply a tall task for any 1080P display to hold its own against QHD.
Software and Performance
One of the most surprising aspects of the One A9 is that it ships with the latest version of Android, 6.0 Marshmallow, on board. You would expect a Nexus device to run circles around any competition in the software department, but HTC has scaled back it's Sense skin so much in recent years that the main differences in 2015 are purely aesthetic. It's the lightest, most pleasing, skin of Android on the market and more than holds its own against the 6P. That said, nothing is better than pure Android, and Google's version of Marshmallow is the cleanest (and prettiest) you'll find.
Despite significant differences in internals, both phones do a fantastic job moving around the operating system. I fully expected the One A9 to stutter in areas the 6P zipped, but that isn't the case. The One A9 may only have a Snapdragon 617 processor and Adreno 405 GPU, but they (along with 3GB of RAM) perform tremendously. Apps launch quickly and traversing the OS is generally smooth. Unsurprisingly, the Nexus 6P, with its Snapdragon 810, Adreno 430 and 3GB RAM, absolutely screams. There is rarely a stutter and the speed at which the phone performs makes multitasking a real possibility.
On paper, this category should be an easy win for the Nexus 6P, but it's not that simple. The One A9 impresses with its performance and Sense is handsome, well-thought out and does not detract from Android best features. I am a proponent of stock Android, but I've spent a wealth of time with HTC's version as well, so I know that it is up to snuff. Once again, this section mostly comes down to personal preference. The only consideration that would make the 6P a clearer winner are its higher-end internals, which don't make much of a difference in November 2015, but might two years from now.
Verdict
Dropping $499 for a new smartphone is not something most folks do lightly. Though they are more budget conscious compared to the exorbitant prices of the latest iPhone or Galaxy, the HTC One A9 and Nexus 6P are certainly not impulse buys. Given the 6P's top-of-the-line internals, QHD display and incredible build, I expected the gap between it and HTC's newest handheld to be vast. But, it's not. The One A9 is a well-built phone that feels phenomenal in the hand, has the latest version of Android and handles nearly everything you throw at it without a hitch. In the end, the Nexus 6P still comes out on top as the best value for the $499 price tag, thanks to its pure Android experience, larger battery and sharper screen. But, the A9 is no slouch, and has proven itself to be far more than a cheap iPhone clone.
We have loads more to test with these devices, so keep your eye on Paste for the HTC One A9 review at the end of the week, and the Nexus 6P review next week!