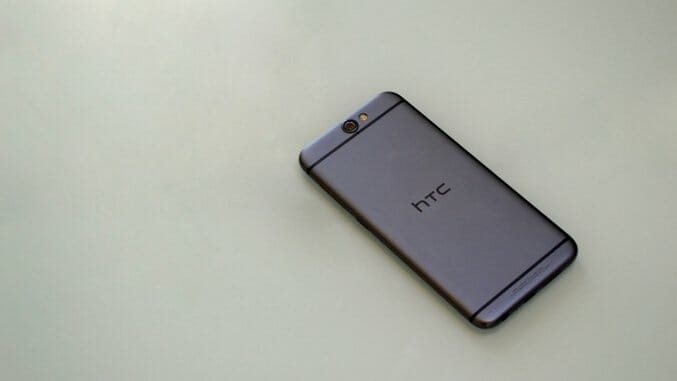 When HTC first introduced the One A9, the reaction was chiefly one-dimensional. The talk around this phone has centered on its resemblance to Apple's iPhone 6 and 6s, which is both fair and not. There is no denying the A9 looks like an iPhone. Save for subtle differences; the rectangular fingerprint scanner and centered back camera, the phone screams Cupertino. From every angle it looks like an iPhone, and when you hand it to someone for the first time their initial comments are exclusively about its similarities to the best smartphone you can buy.
Whether you consider it a clone or not, the story around the One A9 should not hinge entirely on design. Look beyond and you'll find a well-built device running a light skin of Android 6.0 Marshmallow that performs admirably despite its lower internals.
Hardware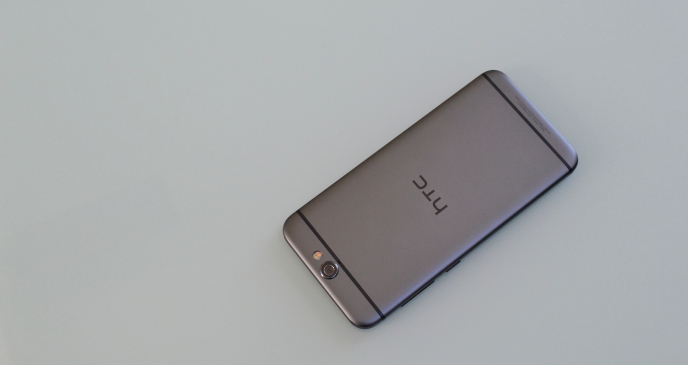 The aforementioned design knocks are obvious, though HTC has defended its choice by reminding us it was a pioneer for metal, unibody design in smartphones. Those claims are not without merit, but the fact remains that many consumers will look at the A9 and, unfairly, label it a rip off. HTC deserves credit for what its done here, the build is spectacular. The aluminum and glass feel fantastic in the hand, though the flat back makes it less comfortable to hold for long periods of time compared to its earlier, rounded brothers in the One series. It's not heavy enough to be uncomfortable, but offers plenty of heft for the phone to feel solid. I wouldn't suggest dropping it purposefully, but the A9 doesn't feel flimsy by any stretch. It's one of the best feeling phones I've ever experienced, and I found myself making excuses just to pick it up.
The star is the brushed aluminum back panel, which is soft, smooth and does a decent job masking fingerprints (at least in the Carbon Grey version I tested). It is, like many metal phones, slippery, and a case would likely be a necessary evil if you were to purchase the device. The phone's overall symmetry is sightly, marred a touch by the new fingerprint scanner that sits on the lower chin. The biggest downgrade is the lack of front-facing Boomsound speakers, replaced by a single, down firing speaker that pales by comparison. It's not very loud, offers thin sound and is easy to cover up while using the phone in landscape. Often, particularly while gaming, I would forget the sound was even on because the speaker was obfuscated by my finger. HTC does offer custom audio software from Dolby, but it only gives improvements to sound when using headphones.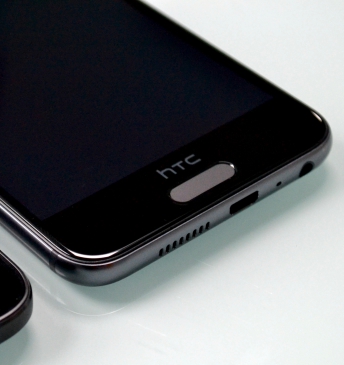 Removal of the speakers was forced, most likely, by the inclusion of the new fingerprint scanner. Like Samsung, HTC opted to make their scanner a long oval, or rounded rectangular shape. At times, this caused issues with recognition because it's not a very large surface area compared to circular models on the Nexus 6P and iPhones. In general, though, the scanner was accurate enough (I would estimate it read my print correctly 80 percent of the time) and decently speedy. It is by no means the quickest scanner on the market, I always saw the lock screen before jumping to my homepage whereas I never see the lock screen on the 6P, but it's good enough to recommend over pattern or pin lock methods.
It also works as a capacitive home button which I found myself using often over the on-screen home button. So often, in fact, it had me wishing HTC included flanking capacitive buttons and removed the on-screen navigation to utilize all five inches of the A9's screen.
The One A9's slender package comes in at 7.3mm, making it on trend for the current smartphone market. It's striking how slight the device is, but the thinness comes at a hefty price. Inside the frame is a petite 2150mAh battery that serves as one of the phone's largest disappointments. On a light day, the A9 has no trouble lasting well into the evening, averaging around 16 hours total. But with heavier use, the phone fails to live up to expectations, offering barely three hours of screen on time and struggling to get through a work day.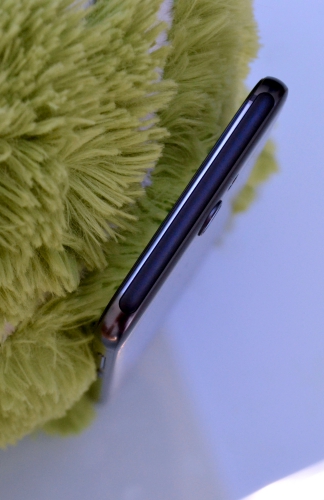 All of this while running Android 6.0 Marshmallow, whose Doze feature helps improve battery life by putting the phone in a sleep state when not in use. I would gladly sacrifice the diminutive size of the A9 if it meant I didn't have to charge in the middle of the day. There are Power Saver and Extreme Power Saver modes that help boost battery life, the latter being especially effective but coming with a tradeoff. Extreme Power Saver locks down your phone save for a few, priority driven functions. The issue is that it allows you to only use HTC's apps for email, messaging, etc. If the company let you customize the apps that can be used in the mode, it would be infinitely more useful. The included power brick does support quick charging, but it's not enough of a boon to overlook the poor battery performance.
An area I fully expected to be compromised by the phone's midrange approach to specs was the screen and, while it is only a 1080P panel in a sea of Quad HD devices, HTC has proven once again it knows how to make a crisp display. Only when stacked directly against Quad HD does the A9 falter. On its own, it's bright and vivid, making gaming, reading, video playback all a joy. Blacks are deep and true, bleeding into the phone's black glass front. My only complaint is that reds and oranges look a touch undersaturated, odd given the AMOLED technology at work here.
Otherwise, it's a screen you're sure to be pleased with, despite not being top-of-the-line. It's 5-inch size is a bit small for my taste, but for those irked by Android's continued push to make phablets mainstream, the A9 offers a nice alternative. It's easy to use in one hand with enough size to make gaming and other entertainment immersive.

Perhaps the most maligned aspect of HTC's One series has been the perpetually underperforming cameras. As someone who used a One M7 as a daily driver for years, I can attest to the lack of quality. Over time, I lost faith in my M7's UltraPixel camera, knowing I couldn't rely on it to take a great photo unless I had time to fiddle with settings. Not being well-versed in photography and its myriad intricacies, I am not a fiddler. I want to be able, as I imagine many smartphone users do, to take out my phone, press the shutter button and feel secure that I got a decent image. HTC has delivered that security with the A9.
The 13MP shooter is not the best Android camera you'll find, falling well below Samsung's latest and the new line of Nexuses. Its adept in proper light, offering a nice amount of detail and good color, both of which hold up well under scrutiny once you enlarge the photos. In lower light, like many cameras its equal, the A9 offers a middling experience that leaves pictures fuzzy. To its credit, HTC offers HDR mode and optical image stabilization, which help in low light, as well as a "pro" setting, which gives the user complete control and allows them to shoot in RAW format. It's a nice feature for those who want it, but does little to bridge the gap between the One A9's camera and those of a higher quality found in Samsung and LG's most recent efforts.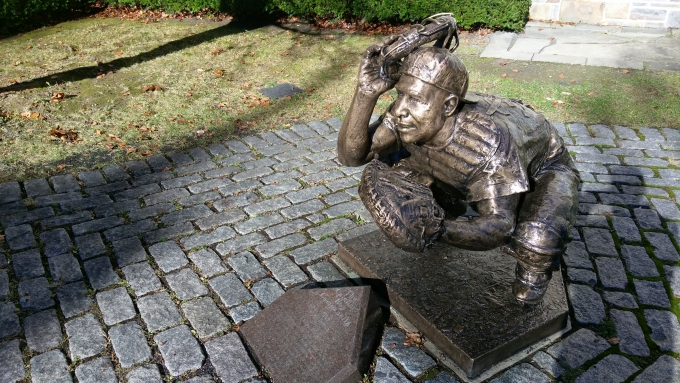 The app itself is easy to use and quick. It launches without effort, and is usually ready to snap an image instantly. The autofocus speed is adequate, but won't blow you away. Same goes for the 1080P video and the 4MP front facing camera, for which HTC has stuck with UltraPixels.
Inside the phone, you'll find a Snapdragon 617 processor, Adreno 405 GPU and either 16GB of storage with 2GB of RAM or 32 with 3 (ours was the latter). The components are not top-of-the-line but they do their job effectively. I expected the A9 to feel sluggish at times, but it rarely does, zipping around its software confidently. Occasionally, with heavier apps or games, there are hitches, but in general apps open quickly, run smoothly and the experience is pleasant. Even when pitted against the Nexus 6P and its Snadragon 810, the A9 held its own. How it will perform two years down the line remains to be seen, but in its current state it handles everything thrown its way.
Software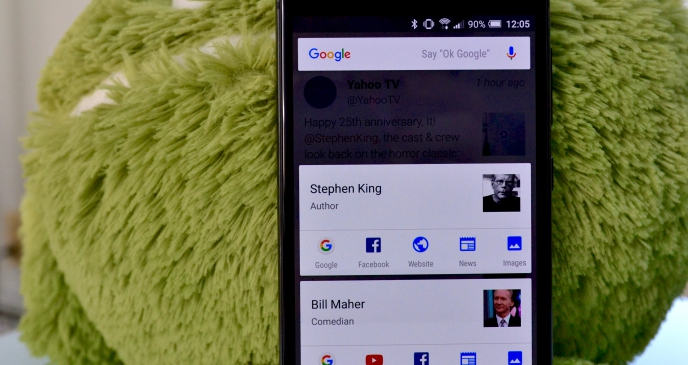 One of the A9's best features is that it ships with Android 6.0 Marshmallow out of the box. On top you'll find HTC's Sense software, which has been one of the best Android skins for years. It's incredibly light, and at this point in Sense's life, offers mostly aesthetic changes rather than large, fundamental differences. Blinkfeed is back, but easily disabled if so desired. Like with the M9, HTC has included a smart widget for users who may not want to customize their homepages, but instead want the apps they use at home, work or out in the world to simply be there. I found the widget works decently, it discovered which apps I use, and where, quickly and did a nice job displaying them when I needed it to. Still, it isn't as useful as having your homepages set up exactly the way you want them.
Besides those few features, which are hangovers from other versions of Sense, there is not much to report about HTC's software on the One A9. It's as though Sense is barely there, which is nice for a stock Android lover, but I'd like to see HTC push forward with some more features of its own.
Given the phone's Marshmallow framework, the A9 features the aforementioned Doze as well as Now on Tap. First announced at Google I/O in May, the feature has the potential to revolutionize how you interact with your phone, but it's not there yet. When it works, it feels like the future. But, more often, it's slow and doesn't pick up enough information from your screen to offer any real use. As the company did with Google Now, I fully expect Now on Top to be aggressively updated and, a year or two from now, it could be the most impressive element Android offers.
Verdict
When I first learned of the HTC One A9, I lamented the design direction and lack of powerful internals. Then I learned the price, $399, and reconsidered. In that light, the phone looked more like a diversification of the Taiwanese company's portfolio, a small, cheaper option that still delivers on build quality. But the $399 price didn't stick around and at $499 the One A9 isn't nearly as intriguing. The device is well-made if uninspired, delivering just about everything an average consumer would need on a daily basis from their smartphone, but a buyer should not have to pay the same price as Huawei's Nexus 6P to get what they're getting here. HTC cut corners, and did so well, but had they been able to trim even more and gotten the phone in the same range as the Moto X Pure, the A9 would be a clear winner.
At its current price point, nothing is clear. Is it a flagship? Mid-range? I can't confidently answer that, but I can say the HTC One A9 offers a great experience, and deserves to be thought of as more than an iPhone clone.
---
Eric Walters is the Assistant Tech Editor for Paste. For more of his thoughts on technology, follow him on Twitter.