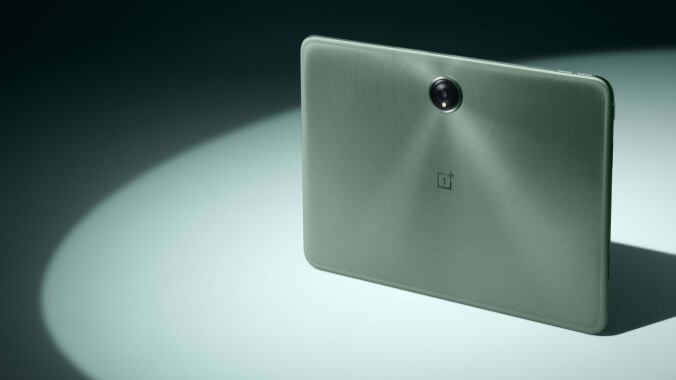 Stepping into uncharted territory typically comes with an amount of caution. That feeling out process can lead to reservation as one finds their footing and develops skills for navigating this new terrain. This is where we find OnePlus, a company known for delivering high-quality Android smartphones at great, sub-Apple and Samsung prices.
OnePlus now ventures into the unknown with its first tablet, the OnePlus Pad, entering a field of Android tablets that rests at somewhat of an inflection point. Samsung remains the most entrenched presence while Google's Pixel Tablet is set to reinvent the Android maker's place in the marketplace. But the OnePlus Pad carves out a solid place for itself on the company's first $479 try.
The OnePlus Pad's 11.6-inch display is vibrant and appears more prominent than its measurements suggest thanks to remarkably small bezels. Its 144Hz refresh rate delivers solid performance and quick input response and its wide color range helps its LCD display compete with the wide adoption of OLED displays.
The internals also help its case, packing in 128GB of storage and 8GB RAM into a tablet that costs less than competitors whose devices include smaller totals. The OnePlus Tab's MediaTek Dimensity 9000 processor holds up in comparison to the Qualcomm Snapdragon chips that are widely used by other developers. The device impressed in my month with it, showing snappy response to the various quick gestures built into its OxygenOS operating system and supplanting itself as my on-the-go media hub.
The rounded edges and 1.22lb aid that mobility factor, making it comfortable to carry and hold when out in the world. This also comes into play when it comes to camera use too. While its 13MP rear camera and 8MP front camera aren't anything to write home about themselves, the center placement of the rear camera and hiding the front camera in the bezel improve their use cases. Auto-follow is also built-in, keeping you centered in the frame during video calls with apps like Zoom, Google Meet and Microsoft Teams as you move.
The OnePlus Pad's battery life is astounding. I never had an issue with battery drain during all day use and standby battery drain is very minimal. OnePlus touts one month of standby battery life and, though I couldn't just let it sit there for a full month to test that claim, the device's battery dipped very little with days between use.
Where the OnePlus' first tablet does falter depends a bit on how you plan on using it. If it is primarily a media device to you, the device does show some strain with graphics-heavy gaming. If the aim is to make it a primary "productivity" tool, it lacks some of the platform flexibility built into offerings from other developers, such as Samsung. OxygenOS presents great multitasking tools and layout customization with floating windows. Still, the lack of compatibility with other devices outside of OnePlus phones that run OxygenOS 13.1 may dissuade users with that specific use in mind.
This is more so because of OnePlus not having a comparably-wide device line, such as a notebook or PC, rather than any fault of the tablet itself. The magnetic keyboard ($149) and OnePlus Stylo ($99) that I used with the tablet were solid additions that made working with it satisfying, but it still felt inflexible not being able to connect to my laptop or other secondary displays. That inflexibility also relates to the tablet's storage space. The lack of a MicroSD card slot means that 128GB is all you get. While that is more than enough for some, that could become a nuisance for those that download large video files or need space for creative projects.
Beyond that, there is a lot to love about OnePlus' debut in the tablet world, and its commitment to cost-effective tech helps it punch higher in the evolving world of Android tablets. The company is onto something that offers appeal beyond those already hip to the quality of OnePlus products. The OnePlus Pad is a great starting point that bodes well for further development. OnePlus isn't just a phone company anymore.