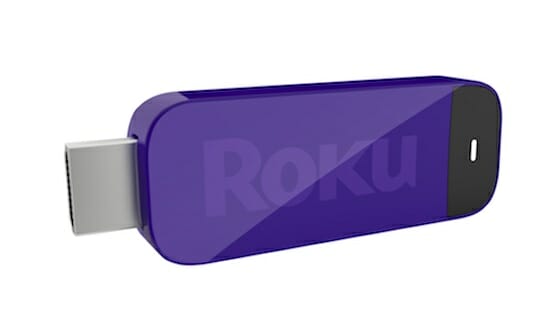 Roku, maker of the first original Netflix streaming box just released its latest streaming device, except this time it's not a box, it's a tiny stick.
The company already has products firmly planted on the high end of the spectrum to compete directly with Apple TV and Amazon's new Fire TV. So with the release of its Steaming Stick, as it calls it, it's all about the low end budget conscious consumer. To do this, Roku sidestepped new features and focused on size and price.
For $49.99, you're not only getting a physical device the size of a large USB flash drive, but Roku's extensive 1000+ channels of content. Roku tried a small streaming stick once before, but it relied on compatible TVs to work. The idea of replacing manufactures smart functions never caught on and it looks like Roku has repurposed its small dongle.
However, just because Roku has lowered its entry price it doesn't mean it's alone. Google's Chromecast has already established a low end streaming market with its $35 device to extend mobile apps to your TV screen. So the question really is as follows: Can Roku's Streaming Stick compete against the cheaper Chromecast as well as the more expensive options Amazon and Apple?
HARDWARE: A bite-sized streaming device
Unboxing the device, the first thing you notice is how small it really is, even smaller than Chromecast. The size is soon eclipsed, literally, by what has to be Roku's biggest remote control since its original black blob.
Because the dongle is out of sight behind the TV, the remote's RF functionality is key. That means no line of sight is needed. In my experience the remote worked fine, although pushing buttons never felt instantaneous. There was just enough lag to question where the button was pressed hard enough, but not enough lag to try and push the button again before the screen changed.
As a side note, the placement of Blockbuster as a dedicated button on the remote is curious. Blockbuster isn't shown anywhere on the retail packaging and likely won't be around much longer. Overall, it feels a wasted spot since it can't be reprogramed to another channel for fast access.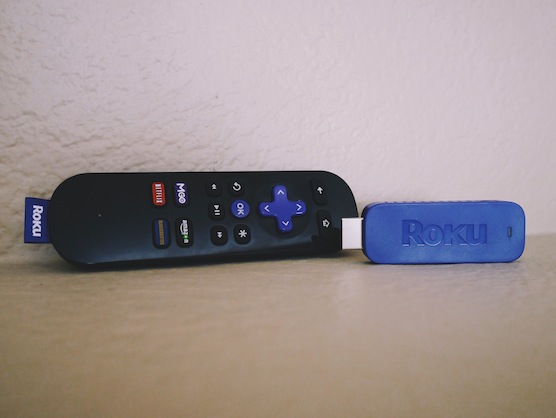 For those that prefer using their phones, the company did just redesign its Android and iOS app which can perform all the same tasks as the included remote. And for what it's worth, the redesigned remote app is now a fantastic option for controlling any Roku device.
In terms of size, even though the streaming stick is tiny, it still requires power, either from a USB port on the TV or tethered to an electrical outlet. It's the same for Google's Chromecast, which does make the smallness of these HDMI dongles feel a little pointless.
So if you choose, or need, to use the TV's USB power keep in mind that when the TV turns off, the Roku does too. This means that each time you want to stream video you'll be waiting about a minute for Roku to start up. It's not a deal breaker, of course, just another point of the experience that disappoints.
On the flip side, a minor benefit of the small size is that it makes it Roku's Streaming Stick a worthy travel companion. Being small enough to fit in any suitcase or bag pocket, it makes sense to casually bring along to get Netflix on the the hotel TV or while visiting the in-laws., without needing a phone or tablet to cast from.
SOFTWARE: Roku's great interface, without a few key features
Once you've plugged the device into an open HDMI port, followed the on screen directions, connected it to WiFi-the only connection option-and made a Roku account you can finally get going.
The initial setup isn't complicated, but does take quite a bit of time and feels overly drawn out. Keep in mind you'll still need to individually sign-in with each channel that needs account information as well.
If you've used any modern Roku device previous, don't expect anything new in the interface or functionality-though the recent universal search across apps is still nice. Once it disappears behind the TV, it's just another Roku, but I think that's its goal.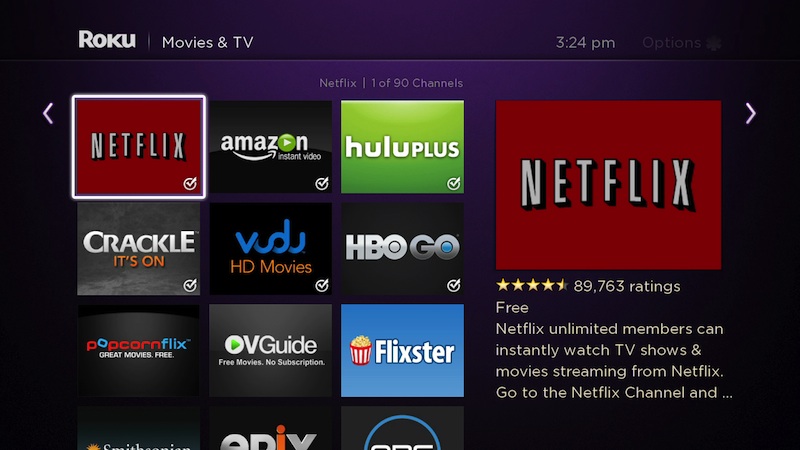 Part of Roku's advantage comes from how long its been making these devices. It's been able to open up channel creation to developers and by far has the most content offering compared to the current competition. This continues to be its main differentiator, so it's reasonable to assume the company is trying to make an inexpensive product to get people hooked on streaming options they can't get other places.
Roku has every top tier channel that someone would want including HBO GO, Redbox Instant, Plex, MLS, and MLB. Beyond those you'll also find some smaller gems like Spotify, Rdio, Pandora, and Amazon's cloud music locker. That means accessing music through the device is painless. You'll also find Roku's own M GO video on-demand service. It works just like Vudu or Target Ticket or any of the other on-demand services and fills Netflix's new release void. It's basically Roku's version of iTunes for movies and TV shows.
Roku doesn't have quite the same focus on gaming that Amazon has with its forthcoming Fire TV, but there are some options for the causal gamer. Jeopardy, Wheel of Fortune, and You Don't Know Jack are all extremely polished and probably worth the $4.99 each is charging.
Not available on the small stick are other gaming titles like Angry Birds which requires Roku's Wii-like motion controller. There are lots of other games from indie developers, however, all of which range visually from decent to pretty rough.
However, the major feature lacking here is screen-mirroring. Although the Chromecast doesn't offer the full functionality of something like the Apple TV's Airplay, being able to throw your Chrome browser onto your living room television at a moment's notice is a really cool and handy feature to have. Unfortunately, Roku's focus on video streaming really limits this device from being a serious contender for your HDMI port in this day and age.
The Roku Streaming Stick is a neat idea, implemented halfheartedly. The stick isn't the cheapest, fastest, or most full featured device on the market—so it's hard to find much that stands out about it. There's no question that Roku needed something in its product lineup like the Roku Streaming Stick, but this first iteration just may not be the one you should take the chance on.
What this product does do, however, is give someone looking for the most complete content selection a cheaper option to get their foot in the door. Until Apple opens an App Store on its TV device, Roku still has the the upper hand in this regard. If you're the person looking for the most content at the cheapest price or need a streaming device to travel with, you'll probably love Roku's new Streaming Stick. Otherwise, there are better options out there.