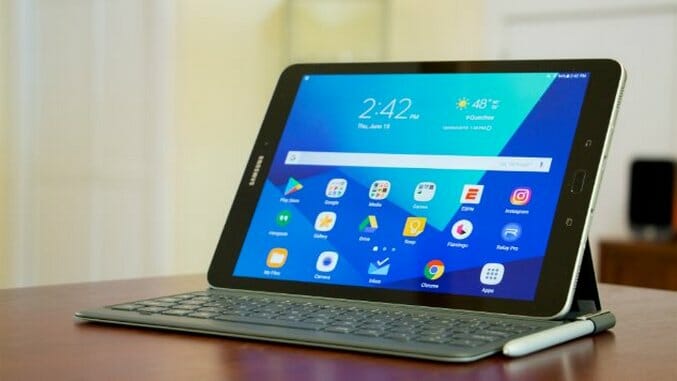 Tablet sales have been lagging for years now, but that hasn't stopped the top electronics companies in the world from putting their faith in the form factor as the possible future of computing. In the last several years, especially, the idea of the tablet as a machine for professionals, rather than a pure media consumption device, has captured the imagination of Microsoft, Google, Apple, Samsung and more. More than ever, companies are positioning tablets as devices users can turn to when they need to get real work done.
Samsung refreshed its flagship tablet line this year with the Galaxy Tab S3, a beautiful slab of metal and glass with a gorgeous screen and top-tier specs. But, like the iPad Pro before it, the S3 is not purely a tablet. It's being sold alongside a keyboard cover, which the company hopes will endear it to consumers as a potential replacement for their laptop.
The Tab S3 is one of the best Android tablets ever, and probably the best competitor Google's operating system has to the iPad Pro. But, can it really replace your laptop?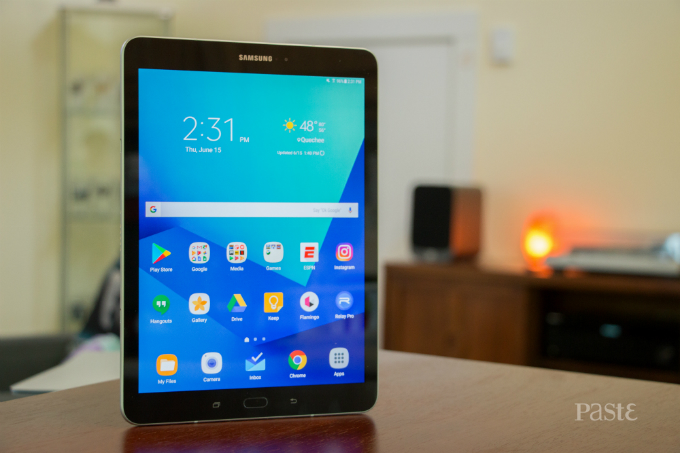 The narrative of Samsung hardware being a weakness has been dead for years now, so it's no surprise the Tab S3's design and build is a strength. Like a lot of the company's tablets, the design here echoes that of the Galaxy phone line. The S3 doesn't contain the curved edges of the S8, that characteristic wouldn't translate well to a machine of this size, nor the demure bezels. I imagine Samsung will slim down the area surrounding the screen for the next iteration, particularly given the fact that Apple did with the new 10.5-inch iPad Pro.
Even without a forward thinking design, the Tab S3 is still a well-built and undoubtedly premium machine. The fit and finish is excellent, the two glass pieces fit together beautifully with only the slightest hint of a seam. Because it is glass, it's susceptible to smudges and can get grimy quick if you're handling it without a case. Chances are, though, you'll slap a case on immediately or have it in the keyboard cover the majority of the time.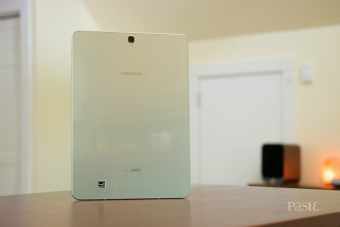 Unsurprisingly, aside from the exceptional build materials, the star of the show here is the 9.7-inch, 2048×1536 Super AMOLED display. Samsung has nailed displays for years, and that doesn't let up here. The screen is vibrant, with punchy colors and deep blacks and gets exceptionally bright, to the point that it hurt my eyes in low light. Glare is a bit of an issue, especially if you're outside, but the brightness does a lot to combat the problem. Whether you're using it as media consumption machine or a productivity tool, the screen will more than please you.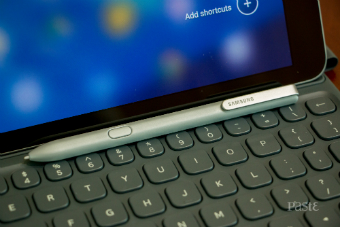 A nice feature is that an S Pen comes in the box, no need to spend extra cash in that regard. Samsung has been a leader with styluses for years, and the experience of using the S Pen here is quite good. I am not an artist, and thus can't adequately comment on the quality for more creative endeavors like drawing, but I can say it's responsive and feels nice as you drag it across the screen. It also comes with a host of features, which Note users would be familiar with, allowing you to perform handy acts like write on the screen or create a GIF.
Performance, much like the rest of the device, is reminiscent of other top-tier Samsung machines. That is to say, it's largely smooth, but the company's heavy-handed software occasionally gets in the way and bogs things down. The tablet was able to handle all that I threw at it, including running multiple apps at the same time, light gaming and the usual daily tasks of web browsing and flying between multiple apps. It has all the specs you'd want from a modern machine, including a quad core processor and 4GB of RAM, so it should be able to handle a heavy load and it rarely misstepped during my testing period. Samsung products tend not to age gracefully, though, so keep that in mind if you're considering the Tab S3.
There are four speakers, two on top and two on the bottom, in a similar array to the iPad Pro. They are certainly better than what many Android tablets offered in the past but they will not blow your doors off. They're plenty loud, but the sound produced is thin and tinny. Having them situated on the top and bottom or, more likely, the right and left side when in landscape does provide a good stereo effect, though it can occasionally slide into unnatural territory. For watching YouTube videos and movies, they'll do just fine but don't expect them to uncover any hidden detail in your music library,
As is customary for any tablet, the S3 comes with both front and rear cameras. Unlike those on the new iPad Pros, which are now the same found on the iPhone 7, the cameras here are nothing to get excited about. Aside from the fact that you'll look ridiculous taking a photo with this thing, the result you get simply isn't worth the effort. The front camera will work for the occasional video chatting, but otherwise, you're better off using the camera in your pocket.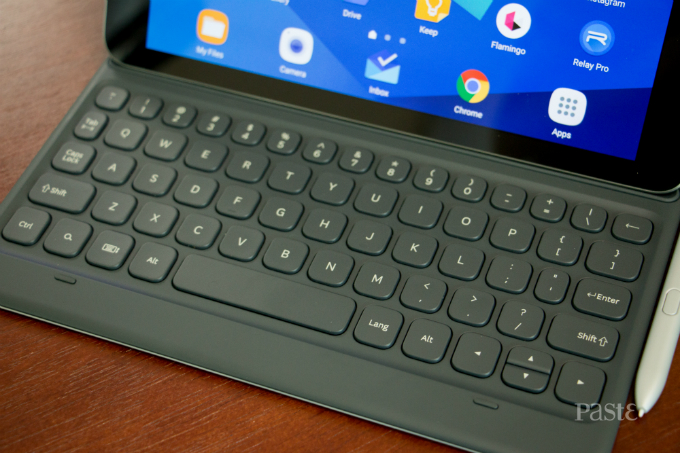 The Galaxy Tab S3, like the iPad Pro, is not meant to be solely a media consumption device. Samsung wants you to use this as a tool for getting work done. It may not be built to replace your laptop, but the company hopes you'd use it in lieu of a traditional clamshell when travelling or in a meeting, those instances where space is limited. That means there's a keyboard peripheral, sold additionally for $129.99.
The keyboard cover works well as a case for your tablet; it even has a holster for the S Pen which I love. The keys are well spaced and offer nice travel, though the board is cramped overall. One of the reasons Apple chose to up its smaller iPad to 10.5 inches is it would allow for a full-sized keyboard. The smaller size here means a smaller board, which will cause problems for those with larger hands. I have enjoyed typing on the keyboard cover, and found it an easy transition from my laptop, but I cannot imagine anyone with hands larger than mine finding this setup comfortable.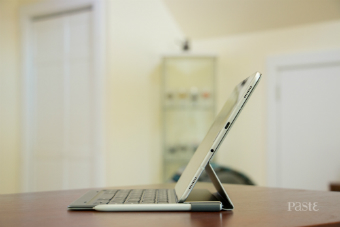 Opting for a folding design, Samsung limited the cover to one angle when propping up the device. It's a fine angle when on a desk, but if you want to use it in a variety of settings, especially your lap, you'll have to perform a bit of couch gymnastics. My favorite keyboard design in this era of "professional" tablets came from Google with the Pixel C.
The magnet hinge on that device allowed the user to place the screen at virtually any angle desired, making it far more usable in a number of settings. The issue Google had was with the actual function of the keyboard, typing on it was a nightmare due to the input lag. Samsung gets the latter, and more important issue, right. Typing on this cover is far more enjoyable than it was with the Pixel C, but the versatility is not as great. Until manufacturers can figure out a happy medium between the two, users have to make sacrifices. If you want to use this as a work machine, you have to be willing to use it primarily on a desk.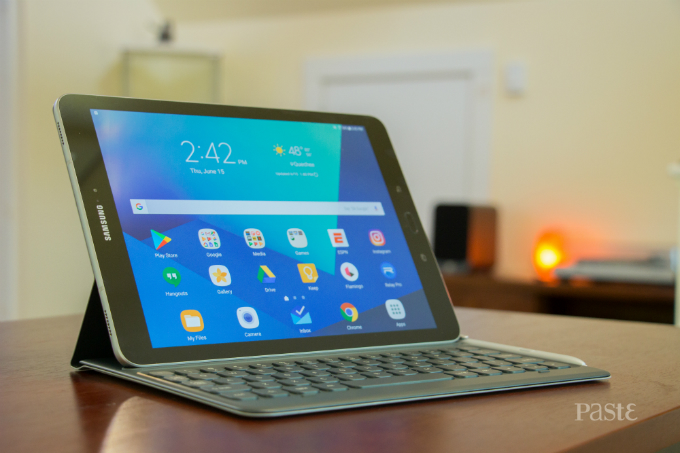 Versatility is really the sticking point of the Tab S3. Despite clear desires to push the market in this direction, manufacturers have not cracked the code in regard to making tablets work machines. With Android Nougat and Samsung's custom skin on top, the software needed to make the device more useful to professionals is present. You can run multiple apps side by side and quickly switch between them with multitasking, but that isn't enough. Truthfully, the idea that running two apps at the same time is the key for tablets to overtake laptops is laughable.
Even with my job, which is largely writing and thus not in need of serious firepower, I would not feel comfortable swapping out my laptop for a device like the Tab S3. Writing on Samsung's machine has been fine, even enjoyable, but more so for the fact that it simplifies the computing experience and, because of the limitations, reduces distractions. I don't think that's what the company had in mind.
The minute I have to do anything outside putting words on a page, I instantly wish I were on a laptop. That includes simple things like editing, in which you may be selecting large chunks of text at a time, a process that makes more sense and is quicker with a mouse or trackpad than a touchscreen. If I have to edit photos, despite the fact that there is an Adobe Lightroom app on Android, I would opt for my laptop everytime. The S3 can help you get work done, and certainly more so than a budget Android tablet, but it cannot replace your laptop and it does not allow you, as the company's marketing claims, to create and work any way you want.
Then there's the question of battery life. During my time with the tablet, I was able to get around 6-7 hours of screen-on time. That may be enough to get you through a work day if you're not constantly on your computer, but I imagine a lot of people are. That means you'll have to plan to charge the S3 at some point during your work day. Standby time is also not a strong suit, meaning you can't set the device down and expect it to be ready to go a few days later.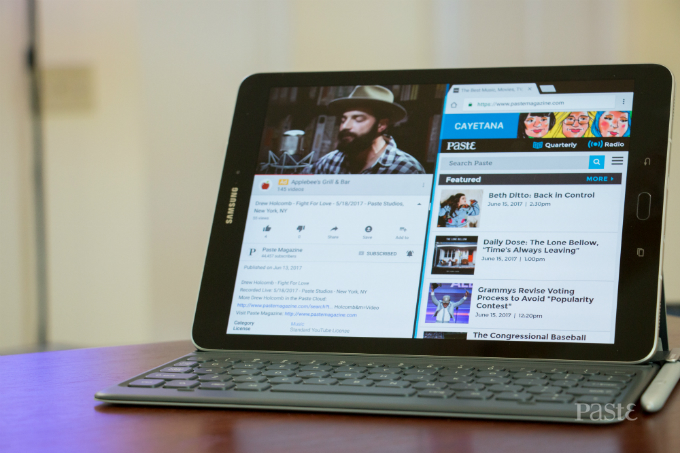 The S3's lack of true versatility is not entirely Samsung's fault. No company, from Apple to Microsoft has nailed the 2-in-1 concept. It is still stuck in no man's land, and will be for the foreseeable future, until a company comes along and figures out how to blend mobile and desktop interfaces in a usable and effective combination.
If you want a great Android tablet that you can use for surfing the web and watching videos on the couch, it doesn't get much better than the Tab S3. If you want something similar to the iPad Pro, but running Android, Google's operating system doesn't have anything better to offer.
But, if you want a device that can replace, or at least sub in, for your laptop and allow you to get serious work done, the truth is tablets aren't there yet. No matter what the companies claim in their varied marketing campaigns, they simply aren't ready to be the future of computing. They may get there eventually, and they are getting closer with each passing year, but it is not their time yet.
If you invest yourself and spend the time needed, you could probably solve the tablet riddle in regard to your own life. You could figure out how to make a machine like the Tab S3 work for you on a daily basis, to a degree that you're satisfied with. And, if you buy the S3 and spend the $700-plus, or nearly $600 with current discounts, you had better solve that riddle to warrant the purchase.
For most people, though, the answer is simple: if you want to get work done, buy a laptop.