Smart Speakers Buyers Guide: 5 Great Options To Find Your Acoustic Fit
Image via Sonos
Tech
Lists
Speakers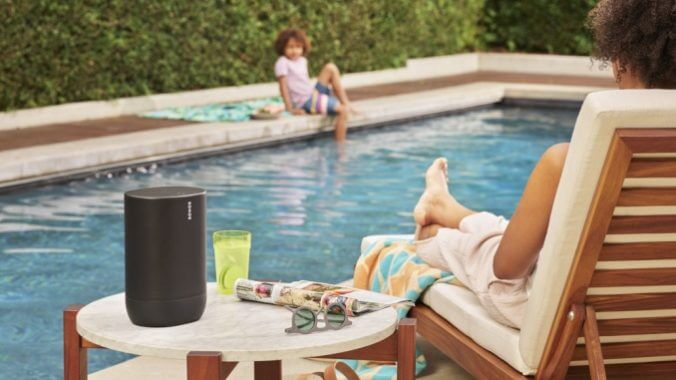 Sure, plenty of us love vinyl and that nice analog vibe around here, but there's something to be said for ease of use when it comes to streaming and smart speakers. So long as you have a Spotify or Apple Music account, just say whatever you want to hear and — poof — it'll start playing.
But even though smart speakers make it easier than ever to listen to whatever you want, whenever you want, you still have to figure out which software ecosystem you want to be in and sort out which smart speaker makes the most sense for what matters to you. Want something cheap? Need something that sounds completely amazing? Want to make sure you don't stray from the Apple product line?
There are myriad manufacturers cranking out a ton of separate models, and it can be a bit overwhelming if you're just looking to make it easier to rock your favorite Spotify playlist while you're cooking dinner.
No worries, we have you covered. We've rundown the best options for smart speakers and what we'd recommend based on what you might be looking for from a smart speaker. So, you can be smart (sorry) when choosing your smart speaker.
On The Cheap: Amazon Echo Dot ($50)
There is a reason millions upon millions of homes have a few of these little gadgets laying around, scattered across kid's rooms and kitchens as far as the eye can see. Amazon helped pioneer the market for smart speakers, with the Echo and Echo Dot being the basic (and most affordable) standard by which most others are judged. It comes in multiple variants, from a larger countertop unit to tiny ones you can literally just plug into the wall like a USB charger. But if you're wanting most of the benefits of a smart speaker without spending all the money, the basic Echo Dot checks a lot of the boxes. It's small, works with most major music services, runs off Amazon's Alexa assistant and provides decent sound. The output will certainly disappoint audiophiles, but if you're looking for something to keep the tunes or podcasts flowing in a smaller bedroom or bathroom, it'll do the trick.
For Googlers: Google Nest Audio ($99)
Google's flagship smart speaker is an excellent option all its own, but it's an even stronger option if you're a Google user for other connected services. The Nest Audio features an understated, textured speaker-style design that comes in multiple colors so you can blend it into your decor easily. The sound is solid, it's compatible with most major services, and if you have multiple devices or speakers within the Google family, they can easily be linked (i.e. shifting your music from room to room as you move through the house, etc.).
For Fantastic Sound: Sonos One ($219)
If you're an audiophile, you've probably heard of Sonos. Heck, you probably own a few Sonos speakers already. If you want some of the best fidelity and audio a smart speaker can deliver, the Sonos One is the obvious choice. Sonos has built its brand on providing users with some of the best, clearest sound possible from digital speakers. The Sonos One isn't huge, but it's output is, and it's more than capable of filling the average room with excellent sound. Sonos can link to AirPlay, which makes it easy to send music from your Apple device, and it's compatible with Alexa and Google assistant, so all the major services are covered. Plus, if you're a Sonos user, all their devices can be connected for surround sound, etc. across everything from Sonos sound bars to subwoofers.
For Apple Users: Apple HomePod ($299)
If you need a smart speaker to go alongside your MacBook, iPhone and Apple Watch, the HomePod is the perfect fit. The audio quality is excellent, it features spatial audio and (of course) Apple's Siri smart assistant. The HomePod also has room-sensing tech to adjust its acoustics depending on its location in the room. It sounds a bit silly, but it works, and the HomePod's performance rivals the best Sonos units. It's also seamless to "hand off" audio playing on your iPhone to the HomePod, because Apple loves that closed ecosystem synergy. It's also worth noting, Apple just dropped a new model of the HomePod with some upgraded internals and the ability to pair two units for stereo use.
Best Portable Option: Sonos Move ($399)
Need a party speaker to make your picnic or pool party sound as good as possible? Sonos has it covered on that front, too. The Sonos Move runs off batteries and can stream via Bluetooth or Wi-Fi. It even has a nifty handle on the back. The kit is also designed for the outdoors, with IP56 element rating, meaning it can handle some water splashes, heat and humidity out in the wilds. The sound is obviously primo, but it's the little details that make the Move so handy. The battery can run for more than 10 hours (a bit less if the volume is cranked up), and it has a charging base to make it as seamless as possible to keep it juiced up and ready to go — no hunting for a cord required.
Trent Moore is a recovering print journalist, and freelance editor and writer with bylines at lots of places. He likes to find the sweet spot where pop culture crosses over with everything else. Follow him at @trentlmoore on Twitter.