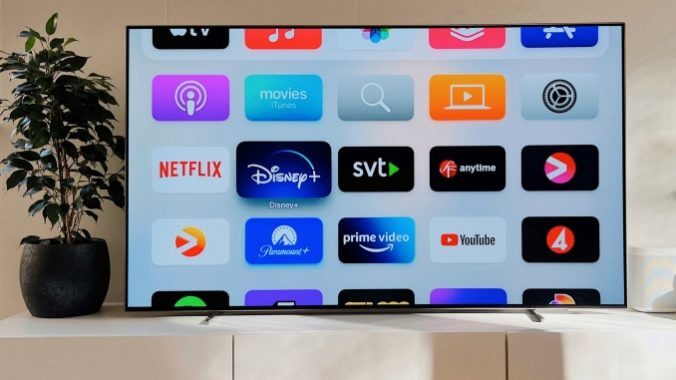 It's never been easier to find exactly what you want to stream, and it's also never been more complicated to put it all together affordably. Long gone are the days of basically everything just being randomly available on cable or all dumped on Netflix.
There are more streaming services than ever now, and as more services wall off their shows and movies on their own proprietary platforms, it's getting expensive to have access to everything you want. Just want to catch the various Star Trek spinoffs, the final season of Stranger Things and that new The Last of Us adaptation? Yeah, that'll cost you three different subscription services.
Want some great sitcoms? The classics and new hits are a bit scattered these days. Big sports fan? Woof, that might be the most complicated of all to piece together your favorite team's broadcast schedule.
Paste has broken down some cheat sheets based on what you might be looking for, and keyed it in to stay below the magic price point of $50 per month. So, what should you get? Well, that depends on what you're looking for. We're not including Live TV services like YouTube TV or Hulu Live TV here—mostly because those services typically cost more than $50 on their own. That said, if you want live TV access, those are both quality options.
Also, for the sake of keeping the prices in check, all service costs reference the cheapest tier possible for each service. This approach is all about pinching the pennies as far as possible, after all.
For Movie Buffs
Subscriptions recommended: Disney Trio Premium Bundle ($19.99), HBO Max ($9.99), Paramount Plus ($4.99), Criterion Channel ($10.99). Total: Approx. $46.
If you're a film junkie looking for the strongest collection of new and classic flicks, this is a great place to start while keeping your costs as low as possible. Disney's Trio Bundle is hard to beat, tossing in Disney+ (with tons of Marvel and Star Wars content on tap), Hulu (which is loaded with a lot of old 20th Century Fox content and quality original films), and ESPN+ (which includes an assortment of quality sports documentaries). Then there's HBO Max, which is admittedly in a state of flux but still packed with plenty of major Warner Bros. releases. Paramount Plus is a cheaper option that isn't quite as robust but still is a one-stop shop for decades of Paramount films. But the real cheat code here is the Criterion Collection, which is a dream streamer for fans of high-brow, classic and acclaimed films.
For Sports Fans
Subscriptions recommended: ESPN+ ($9.99), Peacock ($4.99), NFL+ ($12.99), Paramount Plus ($4.99), Apple TV Plus ($6.99), Prime Video ($8.99). Total: Approx. $49.
This is a tough one, admittedly. Live sports rights remain one of the most lucrative and expensive things in the TV business, and that means to get the majority of major sports broadcasts like the NFL, NCAA football and basketball, NBA and MLB, you're pretty much going to need a live TV service or subscription of some sort. But if you're just looking to fill in as many gaps as you can, there are some options. ESPN+ has a lot of live sports across the spectrum available, though you'll sometimes miss out on some A-list games as they're held for linear airing. Peacock also carries NFL Sunday Night Football and Premier League as part of NBC's package, and Paramount Plus also carries some games that air as part of CBS's package. Thursday Night Football made the jump to Prime Video this year, so that's the only place to find that weekly marquee NFL game. Apple TV Plus has also tossed its hat into the sports ring, airing select MLB games and plenty of Major League Soccer matches. It's admittedly a mix-and-match approach, but that's the sports landscape these days.
For TV Bingers
Subscriptions recommended: Netflix ($9.99), Peacock ($4.99), Disney Trio Premium Bundle ($19.99), Apple TV Plus ($6.99) and HBO Max ($9.99). Total: Approx. $50.
Pretty much every streaming service is cranking out TV shows these days, so we went for a mix of quantity and quality here. Netflix is the OG streamer and remains the only place to find shows like Stranger Things or Wednesday. The Disney trio bundle is the only spot to find all of Hulu's originals and the big budget MCU and Star Wars fare on Disney+, not to mention the mountain of sports docs on ESPN+. Peacock is inexpensive and loaded with beloved sitcoms like The Office and Parks and Recreation, plus buzzy originals like Bel-Air and Rian Johnson's forthcoming Knives Out spinoff Poker Face. HBO Max remains loaded with a variety of TV, from DC Comics fare to Friends, and Apple TV Plus earns its place based on the strength of originals like Ted Lasso and Severance.
The Kid-Friendly Combo
Subscriptions recommended: Disney Plus ($7.99), Netflix ($9.99), Boomerang ($5.99), Paramount Plus ($4.99), PBS Kids (Free), Noggin (7.99) and Peacock ($4.99). Total: Approx. $42.
It's easy enough to kick a cartoon on for the kids, but what if they're looking for Puppy Dog Pals, but you only have access to Paw Patrol? Yeah, there's a lot to unpack. Disney+ is a great place to start. It's stacked with decades of Disney cartoons and Pixar movies. Netflix is also a standard bearer, investing quite a bit into original family-friendly fare over the years. Boomerang is loaded with the classics like Looney Tunes, Scooby Doo, Jonny Quest and more, while Noggin fills the younger niche with franchise like Paw Patrol and Dora the Explorer. Peacock is a usual landing spot for Dreamworks animated films, typically featuring the Minions movies and newer fare; and Paramount Plus is a great catalog for Nickelodeon fans. PBS Kids is free and features favorites like Wild Kratts.
For Horror Fans
Subscriptions recommended: Netflix ($9.99), HBO Max ($9.99), Shudder ($5.99), Peacock ($4.99), Prime Video ($8.99), Scream Box ($4.99). Total: Approx. $45.
Looking for just the thrills and chills? Here's the best place to start. Netflix is home to excellent horror originals like the Fear Street trilogy and Stranger Things; while Prime Video boasts a surprisingly deep bench of modern horror and originals in its catalog. HBO Max taps into Warner Bros.' long horror history for plenty of A-list killers, and Peacock is the landing spot for plenty of Universal and Blumhouse flicks like The Black Phone and the rebooted Halloween trilogy. Getting a bit more niche, Shudder is arguably the strongest option for straight-up horror fans, featuring a curated line-up of originals and classics picked by the biggest horror nuts. Scream Box is similar to Shudder, including long-forgotten and niche horror content fans of the genre will certainly love.
For Comedy Fans
Subscriptions recommended: HBO Max ($9.99), Peacock ($4.99), Netflix ($9.99), Paramount Plus ($4.99), Hulu ($7.99) and Paramount Plus ($4.99). Total cost: Approx: $43.
HBO Max remains a major repository for recent comedies, and Peacock easily makes the list as the only place to stream The Office (plus the extended cut episodes rolling out every few months). Netflix built much of its early reputation on its stand-up special pedigree, and has been home to hits like The Ranch and is the only place to watch the new That 90's Show. Paramount Plus has a smattering of classics, plus plenty of Comedy Central programming beefing up its catalog. Hulu is also surprisingly strong, with recent releases like Abbott Elementary, classic sitcoms and recent original films like Palm Springs.
The Freebies
Subscriptions recommended: Amazon Freevee (Free), Tubi (Free), Pluto TV (Free), Crackle (Free), Roku Channel (Free) and Peacock (Free Tier).
If you're cutting back on streaming costs, there is nothing quite as cheap as free. Thanks to the tried-and-true concept of advertising, plenty of streaming services are available for nothing but the time you'll spend watching the ads between the programming. Amazon's Freevee offers a robust catalog of old and new shows and movies (like Leverage: Redemption and Alex Rider), as does Tubi. Pluto TV is effectively a live TV replacement on its own, featuring several live stations and on-demand shows and movies. Roku is getting in the mix with its own streaming channel, including a diverse catalog and a few buzzy originals. Crackle is buried in advertising but has some good things there if you can find them (like Starsky & Hutch and Sherlock), and Peacock offers its own free tier with classic catalog access and preview episodes of newer shows.
Trent Moore is a recovering print journalist, and freelance editor and writer with bylines at lots of places. He likes to find the sweet spot where pop culture crosses over with everything else. Follow him at @trentlmoore on Twitter.