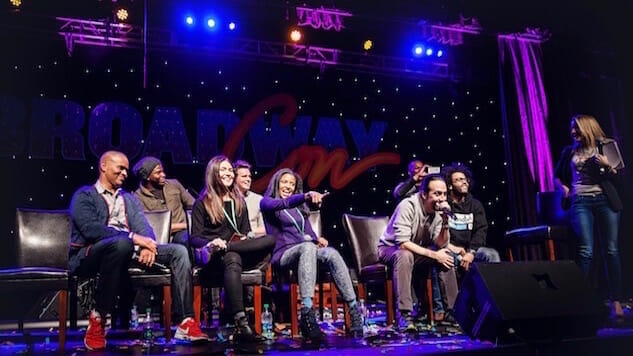 It's only natural that Broadway theatre fans are obsessive. The songs are so catchy, performances so show-stopping and the energy is infectious. BroadwayCon co-founder Melissa Anelli caught got up in it all years ago and decided to, with original Rent cast member Anthony Rapp, create a convention for theatre fans in New York City. Paste talked with Anelli about how BroadwayCon came to be and what to expect from this year's rendition.
Paste:For Paste readers who aren't familiar with BroadwayCon, can you explain what it is?
Melissa Anelli: BroadwayCon is a wonderland for theatre kids. It's a convention that celebrates theatre. It's our answer to ComicCon. It is a way for theatre fans to have a wonderful experience over three days to interact and meet some of their favorite stars, but also share their love of theatre in cool ways.
Paste:I noticed you had quite a lot of Hamilton cast coming and the stars of Natasha, Pierre & the Great Comet of 1812. What kind of panels will they be doing and will fans be able to interact with them in ways that they usually don't get to after a Broadway show?
Melissa Anelli: After a Broadway show is a stagedoor, which is a harried thing, you may get a quick signature but you don't really get an interaction. You don't get to hear from them. Some people might get to have really great conversations or enjoy a live performance. Some of them are doing autograph sessions or photo booths, where you can actualy going up and meet them. Those things are all included in the ticket price, because we don't like the pay-for-play format. Some of them are teaching workshops, some of them will be doing sketches and being a part of a larger event. It's like a circus in a way. Many rings going on at once, so there's a lot of options for people to interact with their favorite Broadway stars.
Paste::Are there any particular panels you'd like to highlight?
Melissa Anelli: Whoopi Goldberg [who originated the role of Shenzi] and Julie Taymor [The Lion King director] are going to discuss The Lion King to celebrate 20 years of The Lion King on Broadway. We also have the cast of Hamilton discussing moving Hamilton into a new generation, into a new field, because it's not the new kid on the block anymore. It's this new blockbuster that's selling out, we're going to talk about the experience. We're also going to feature the cast from the new shows, like Natasha, Pierre [& The Great Comet of 1812]. We have a first look on Sunday, which is a preview of all the upcoming shows for Broadway, so that'll be special. We're also having a talent contest this year, which is called Broadway Star to Be, and it's all the people who have to put in their auditions via YouTube. We've chosen some winners and at that event, we're going to have the winners of the National High School Theater Awards perform at BroadwayCon. There's just so much. Just every other minute there's something amazing going on at BroadwayCon!
Paste: I thought it was unique that this conference had workshops like Beginner Tap and the Art of Perseverance. Why did you decide to incorporate workshops?
Melissa Anelli: We find that having such passion theatre fans at this event is a unique opportunity to allow people to teach a workshop. Fans might live elsewhere and don't know when the next time they'll be able to take a workshop with a Broadway star at any other time. What a great opportunity. It's free for anyone with a ticket. It's a really great thing. We choose the title and the content based on what we see as those desires from the audience, what subjects are popular or even less served, because Tap 101 is not something you see often, but why not? We have so much opportunity and we have people who are good at it. We create an event that is based around: What would we most want to do? Because we are the fans. We don't hire the fans to run the thing. We are the fans who want to go to this event.
Paste: Going back to last year's BroadwayCon, could you give people more of an idea of what they're in for if they're going or want to go? If you could pick a favorite moment from last year's BroadwayCon what would it be?
Melissa Anelli: The The Rent reunion was a big highlight for me. This all started because I'm a fan and hoped to be a part of the theatre world someday and feel that connection that we're all looking for. What a turnaround moment 20 years later, having the cast and crew of Rent celebrating on stage. That was remarkable to me. Something else I've been thinking about lately—that blizzard, in the moment, was the worst. I felt like we were being tested. But in the end, it was something that really created a moment for everybody. We really felt like we were in something together, and it created an interesting spirit. Looking back, it was a great beginning.
Paste: What is your connection to the theatre personally? Why did you decide to put together this convention?
Melissa Anelli: I have an obsessive personality and I was just a really large fan of Harry Potter. Then what happened was that my website decided that they wanted to try to put on a convention. They had specific ideas and had to make everything for fans. I came at it from a purely fan perspective. They were right. The quality of the event we first put on—LeakyCon 2009—was really remarkable. We've taken that ability to think about the event from a fan's perspective and applied to other events. When the idea hit us for BroadwayCon, it could not have been clear that it had to happen and that we were the people to do it. I'm just a massive fan. I see everything I possibly can. There was a Kennedy Center event where they doing six or eight of Sondheim's shows. If you went down two separate weekends from New York, you could see all of them over the course of two weekends, and I saw six or eight Sondheim shows over the course of two weekends. I'm that kind of theatre fan. This not foreign to us. This is the kind of event we want to create, and we're so excited it's coming to fruition.
BroadwayCon is January 27-29.