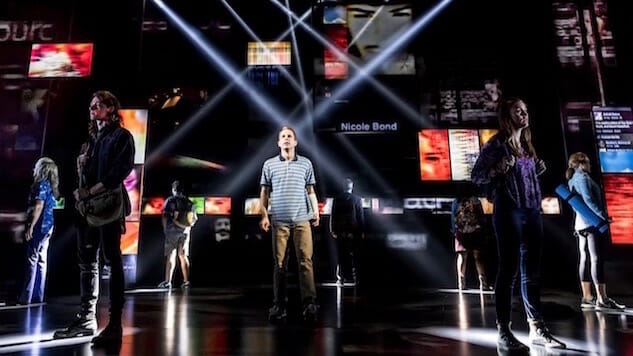 Midway through the first act of Dear Evan Hansen, it's tempting to think that a musical about teen suicide shouldn't be this, well, fun. As the titular Evan (Ben Platt) and the digital ghost of Connor (Mike Faist), the teen who committed suicide, frolic around on stage, it seems like this show might not feel like another after-school special on a Very Important Topic. Then, minutes later, the show breaks your heart in beautiful, truthful ways.
And the great success of Dear Evan Hansen is that it's tender and heartbreaking (and deals with heavy topics, like teen suicide, the pitfalls of social networking, family relationships, and neuroatypical characters), but there's not a single moment that feels preachy—instead, the story, from start to finish feels fully authentic, which makes the show's messages really resonate.
The story opens on Evan, an anxiety-riddled teen, on the first day of his senior year of high school. His therapist has suggested he write a letter to himself ("Dear Evan Hansen…"), outlining all the ways today will be a great day. Evan, who feels like an outcast, eventually writes the letter in the computer lab after school, but the letter he writes is more depressing than optimistic. Connor, a kid who doesn't get along with anyone, intercepts the letter, and is upset about a bit about Connor's sister, Zoe (Laura Dreyfuss), whom Evan has a crush on. He storms out, and Evan later learns that Connor committed suicide with the letter in his pocket. Connor's parents (Jennifer Laura Thompson and Michael Park) incorrectly assume that Connor wrote the letter to Evan, and Evan decides it's better to play along and let them think he and Connor were best friends than to reveal the truth.
Evan becomes close with Connor's family; for them, he's the well-behaved son they never had, and for him, they're the rich, picture-perfect parents he never had—Evan was raised by a busy single mother (Rachel Bay Jones) who's rarely home. But Evan's fake friendship with Connor starts to spin out of control after a video of a speech Evan gives about Connor goes viral online, and Evan has to figure out whether it's better to continue the lie that makes everyone feel better, or if he should tell the truth to Connor's family before everything catches up with him.
The show is anchored by Platt's beautiful performance. At the show's start, Evan is a nervous wreck, spitting out words a mile a minute, but when Evan sings, he escapes to a stable world where he can soar. There's a lot going on in Evan's head, and Platt communicates it all without telegraphing.
He's ably supported by Steven Levenson's strong book, which capably navigates nuanced content, deft characterization, and hot-button issues without missing a step. Levenson is particularly good at capturing the sanctimonious voices that flood social media news feeds after tragedy strikes.
Equally impressive is the score, by Benj Pasek and Justin Paul, which is full of good, catchy songs that feel fresh, and effectively balance music with story. Standouts include "Waving Through a Window," (a song about not fitting in, which includes a musical phrase that is effectively echoed throughout the show), the upbeat "Sincerely, Me," (wherein Evan fabricates email correspondence between himself and Connor) and the heartbreaking "You Will Be Found" (a reminder that, in the words of Stephen Sondheim, no one is alone). They're toe-tapping tunes, the kind you're likely to leave the theater humming to yourself.
The show comes together beautifully under Michael Greif's direction. In a world where we're more connected than ever, it's all too easy to feel isolated, and Dear Evan Hansen captures that idiosyncratic feeling perfectly.
Director: Michael Grief
Book: Steven Levenson
Music and Lyrics: Benj Pasek & Justin Paul
Starring: Ben Platt, Laura Dreyfuss, Rachel Bay Jones, Jennifer Laura Thompson, Mike Faist, Michael Park, Will Roland, Kristolyn Lloyd