Whether by horse, wagon, jalopy, motorcycle, bicycle, caravan or minivan, road trips have been a bullet on many travel bucket lists and often considered a rite of passage throughout America's history. Early expeditions, like Lewis and Clark's Corps of Discovery and the Oregon Trail, were about finding new land or the promise of a better life. Other trips, like those that inspired Jack Kerouac's On the Road, William Least Heat-Moon's Blue Highways: A Journey Into America, and John Steinbeck's Travels with Charley were about the journey into one's self.
Crossing the country (or even just a state) by road is not about getting to the destination, it is the destination. These 10 road trips are inspired by the ever-changing scenery they offer along the way and by the great expeditions of the past. They are by no means untraveled roads, but in the age of air travel, these routes are worth the journey.
1. Route 66
Illinois to California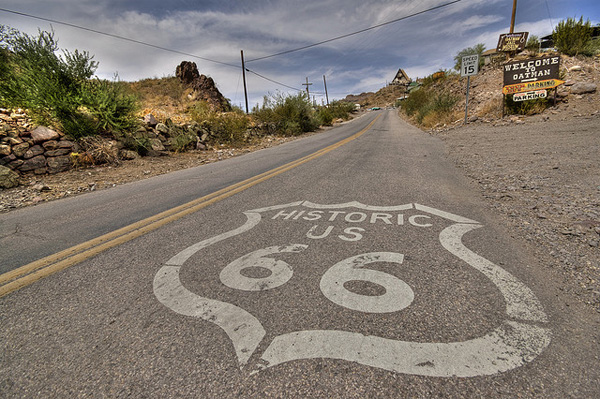 Photo via Flickr / Vicente Villamón
There is no stretch of road more closely associated with Americana than Route 66. Dubbed the "Main Street of America," 66 takes you from Chicago to Santa Monica and covers more than 2,000 miles when traveled in its entirety across Illinois, Missouri, Kansas, Oklahoma, Texas, New Mexico, Arizona and California. It opened in 1926 and continues to take drivers through the heart of America. The miles are marked by a diversified itinerary of attractions including national parks (Grand Canyon National Park and the Mojave National Preserve), architectural landmarks (Willis Tower and the Gateway Arch), roadside oddities (the world's largest ketchup bottle, covered wagon, rocking chair), countless billboards, motels, and no shortage of greasy diners.
2. Pacific Coast Highway
California to Washington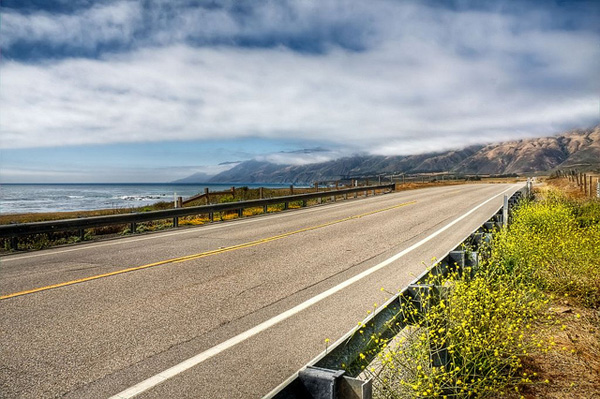 Photo via Flickr / Rian Castillo
The Pacific Coast Highway (U.S. Route 101) is a winding coastal stretch of road from Los Angeles to Olympia, Washington. Driving these miles (around 1,500 or more) offers ocean views and cliff-hugging curves. While the California portion of this West Coast road trip (typically Los Angeles to San Francisco) is the most popular, adding Washington and Oregon includes additional stops in Portland and Seattle and attractions like Olympic National Park and the Oregon Dune National Recreation Area. The California stretch includes drives through Redwood National and State Parks, the Golden Gate Bridge, Big Sur, as well as the 700-feet high Bixby Bridge.
3. Great River Road
Minnesota to Louisiana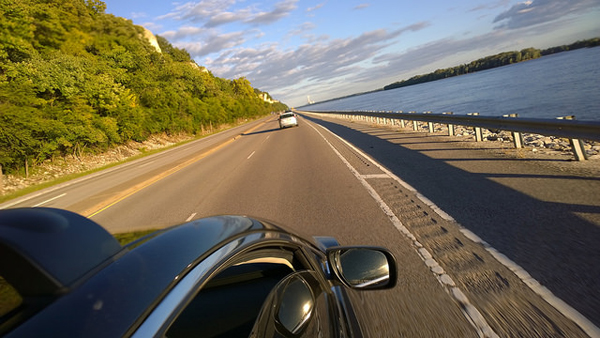 Photo via Flickr / Dave Herholz
This more than 2,000-mile road trip through the middle of America, which has been designated a National Scenic Byway, is guided by the Mississippi River and takes you north to south along a series of local roads and highways. From the river's trickling headwaters at Lake Itasca in Minnesota to the delta in Louisiana, you'll cover 10 states in total (Minnesota, Wisconsin, Iowa, Illinois, Missouri, Kentucky, Tennessee, Arkansas, Mississippi and Louisiana) as you chase the bends and riverboats of the Big Muddy. Window views include flat plains, rolling hills, dairy farms, massive limestone bluffs, swamps and plenty of feathered and furred wildlife. Be sure to stop at St. Louis's Gateway Arch, indulge in some Blues music and barbecue in Memphis, and binge on beignets in New Orlean's French Quarter.
4. Overseas Highway
Miami to Key West, Florida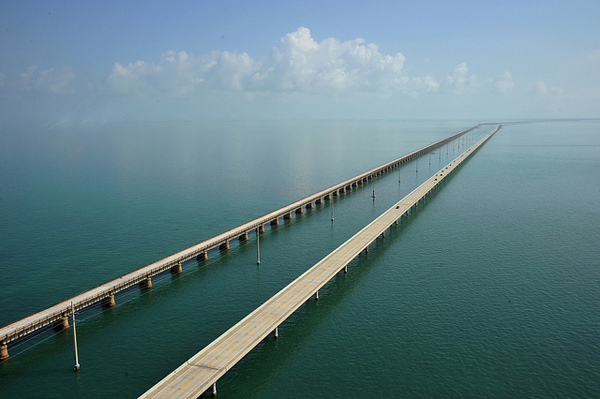 Photo via Flickr / Karen Bleier/AFP/Getty Images
Connecting mainland Florida with Key West, this road trip takes you on the final 150 or so miles of U.S. Route 1, more commonly called the Overseas Highway. You'll be rewarded with 360-degree ocean views as you islet hop your way over down more than 150 miles and over more than 40 bridges on your way to Key West. Start in Miami where there are enough beaches, museums and Cuban food to fill a few days before hitting the road. As you set out toward Key West, you'll pass through Key Largo, dubbed the dive capital of the world. The Keys are home to the only living coral reef in the continental United States, so be sure to visit the John Pennekamp Coral Reef State Park where glass-bottom boat, snorkeling and scuba diving tours are available. Dolphins, osprey, manatees and even bald eagles are among the wildlife you will likely spot as you continue further south to Key West. Once you've arrived, snorkel and sunbathe to your heart's content in the southernmost city in the continental United States.
5. The Oregon Trail
Missouri to Oregon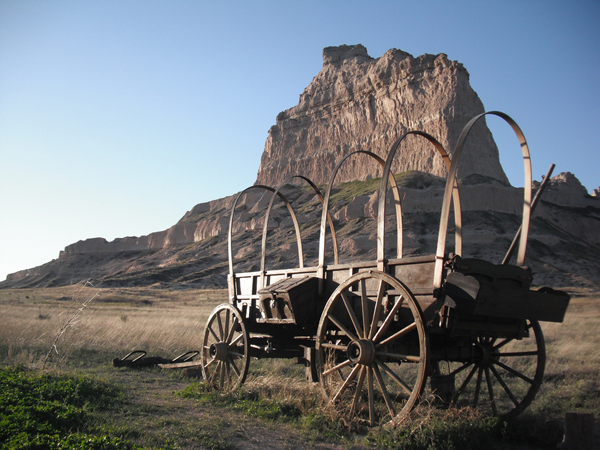 Photo via Flickr / Matt Turner
Follow the Oregon Trail on this westward road trip without the risk of losing a wagon wheel or succumbing to dysentery. The more than 2,000-mile route starts in Independence, Missouri just like the thousands of pioneers who embarked on this journey in the 19th century. Before heading out, visit the National Frontier Trails Museum for perspective and inspiration. As you make your way across Missouri, Kansas, Nebraska, Wyoming, Idaho and Oregon, you'll be surrounded by plains and desert landscapes, many of which remain untouched by modern civilization. Keep an eye out for the tombstones of those who perished on the Oregon Trail, as well as the wagon wheel ruts they left behind.
6. Road to Hana
Paia to Hana, Hawaii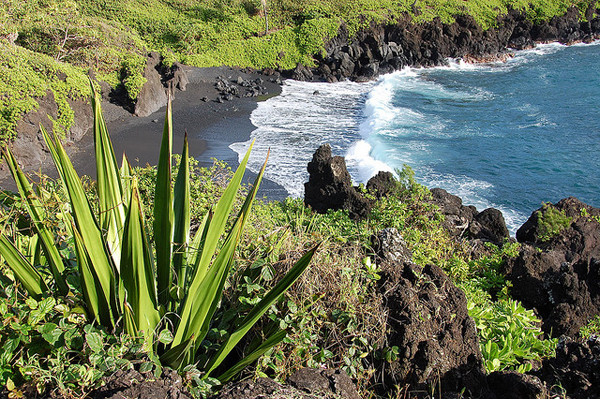 Photo via Flickr / Eric Chan
The Road to Hana (Highway 36/360/31) along Maui's dramatic coastline provides more than 52 miles of scenic driving. Hairpin turns that wind over plunging cliffs and postcard-perfect waterfalls make this one of the most picturesque drives in the country. Without stops, and traffic pending, the trip takes around three hours to get from Paia to Hana, but plenty of lookouts, beaches, and other attractions along the way will likely have you making detours. Be sure to visit the Garden of Eden Botanical Garden and Arboretum around mile marker 10 and the black-sand beaches and lava tubes at the Waianapanapa State Wayside Park around mile marker 32.
7. Blues Highway
Nashville to New Orleans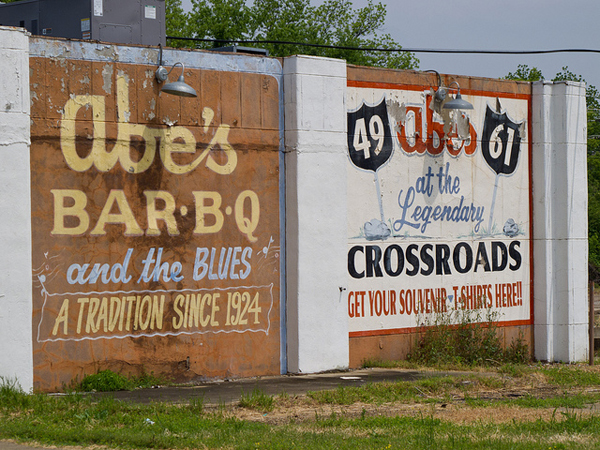 Photo via Flickr/ Gary J. Wood
There should be no difficulty curating a playlist for this 400-mile road trip. U.S. Route 61, also known as Blues Highway, lets you drive through the land of the delta blues via Tennessee, Mississippi and Louisiana. The route was often taken by musicians heading north to try and make a career in bigger cities like St. Louis, Chicago and Detroit. As a result, it has inspired countless songs that bear it's name in the title or lyrics. Start this road trip in Memphis where there's no shortage of blues and barbecue. B.B. King's Blues Club sits on Beale Street. Don't leave town without paying the Stax Museum of American Soul Music a visit. This legendary studio recorded classic hits by such greats as Otis Redding, Sam and Dave and Isaac Hayes. After Memphis, travel southward via Tunica (Gateway to the Blues), Mississippi. It's here you'll find the Blues Visitors Center and Museum. From there it's onward through Clarksdale where you can visit the Delta Blues Museum and grab a bite at 91-year-old Abe's BBQ before ending in New Orleans. For diehard blues fans, or those with more time, starting the trip in St. Louis or Nashville is an alternative option.
8. Northern Atlantic
Massachusetts to Washington D.C.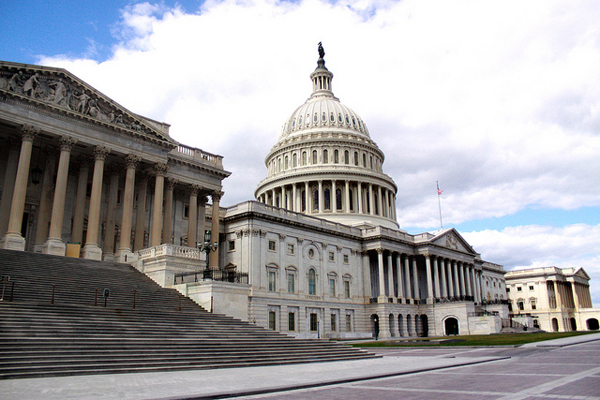 Photo via Flickr / Gage Skidmore
Arguably the most patriotic of routes, this road trip through the northern Atlantic states will take you from Boston to Washington, D.C. on a tour of some of America's most historically relevant cities and sights.The nearly 1,000 miles covered are marked by American icons from the Statue of Liberty to the Liberty Bell. The trip will take you through Massachusetts, Rhode Island, Connecticut, New York, Pennsylvania, New Jersey, Delaware and Virginia, before ending in Washington, D.C. Attractions along the way include some of the oldest cities in the country and Revolutionary War battlegrounds.
9. The Eastern Seaboard
New York to Key West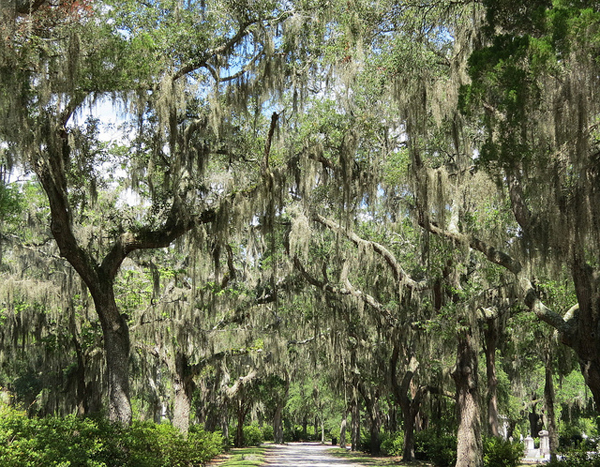 Photo via Flickr / Sandy Auriene Sullivan
U.S. Route 1 is to the East Coast what the Pacific Coast Highway is to the West Coast. This more than 1,200-mile route weaves its way down the Eastern seaboard though New York, New Jersey, Pennsylvania, Virginia, North Carolina, South Carolina, Georgia and Florida. It rarely veers too far from the coast, with the exception of a few inland detours like Washington, D.C. Start in New York and make your way south through breathtaking beach scenes, lighthouses and boardwalk destinations like Ocean City, Atlantic City and Myrtle Beach. You'll pass through postcard-perfect Charleston, South Carolina, and Savannah, Georgia, before traveling to Florida, where you'll take the Overseas Highway down to Key West.
10. The Loneliest Road Trip
Lake Tahoe to the Great Basin National Park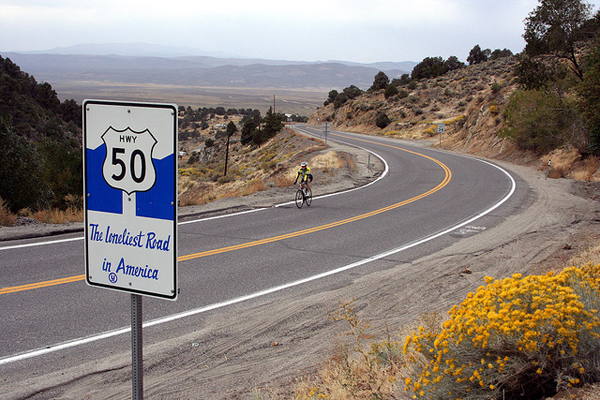 Photo via Flickr / Bruce Fingerhood>
If it's solitude you're after, this road trip is for you. Nicknamed the "Loneliest Road," the Nevada leg of U.S. Route 50 brings you passed a whole lot of nothing. You'll drive through desolate deserts and barren basins on this stretch of 400 miles. The road trip loosely follows part of the Pony Express route and you just might spot a herd of wild horses among the wildlife. Make it from Lake Tahoe to Great Basin National Park and you'll be rewarded with some of the most pristine Wild West landscapes you could ever imagine seeing outside of a John Wayne film.
Paste Travel columnist Lauren Kilberg is a Chicago-based freelance writer. Her travels have found her camping near the Pakistani border of India and conquering volcanoes in the Philippines.