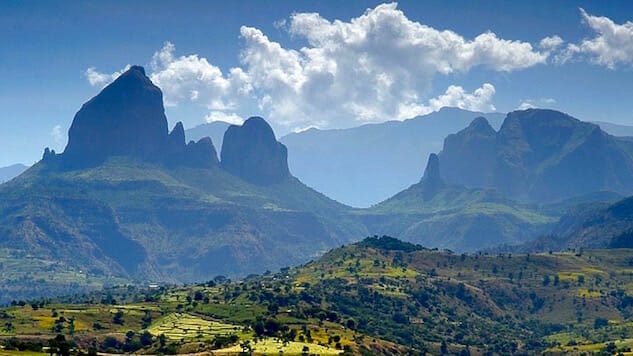 Looking for new year travel ideas? Off The Grid has you covered, dear reader. To get the creative juices flowing, here are five points of interest that are, for one reason or another, especially relevant in 2017.
Vancouver, Canada
There's never been a better time to visit Canada, let alone one of North America's best cities. The reason: this year Canada is celebrating 150 years as a country and visitors are invited to take part in the year-long celebration. Year-long perks include free admission to all national parks, of which there's no shortage in British Columbia, and extra doses of revelry as the months wear on. In honor of our northern neighbor's anniversary, I'll also be traveling to and examining Canadian culture in greater detail. Wait for it.
Imam Square, Iran
The hospitality of Southerners ain't got a thing on Iranians. While the former will say "hi," "bless your heart," and warmly welcome friends into their homes for iced tea, the latter have a reputation for inviting complete strangers into their homes for dinner, a free night's stay, and insisting on paying the tab when dining out. "We don't often hear a lot of positive things about Iran in the news, but everyone I know who has visited has nothing but wonderful things to say," remarked American travel blogger Clint Johnson after visiting last year. If you make it there, be sure to also see Persepolis—the "Acropolis" of ancient Persia.
Saguaro National Park, Arizona
Most people who think of a cactus imagine green spiky plants no taller than five or six feet at most. At Saguaro National Park, the titular cacti grow 8-10 times that height—anywhere from 40 to 60 feet tall. That's the size of maples, people! This explains why so many visitors travel all the way down to Tucson to catch a glimpse of these ageless desert giants. For best results, consider hiking, biking, or driving the eight-mile loop at dusk or dawn.
Tiger's Nest, Bhutan
As the Middle Ages came to a close, a group of Himalayan Buddhists decided to build a temple on the side of a Bhutanese mountain. With perseverance, old-school ingenuity, and lots of patience, the monks succeeded and their magical temple still stands today as "Taktsang Palphug Monastery." As you can see from photos, it's difficult to reach and one of the world's most beautiful religious sites. So much so that even people who have visited it before yearn to return. It's that kind of place.
Simien National Park, Ethiopia
While Serengeti National Park in Tanzania is five stars all the way, Simien National Park in the mountains of Ethiopia (pictured) is right there with it, if not one of the continent's three greatest national parks. The dramatic views, untouched nature, and inevitable comparisons to The Grand Canyon easily make Simien National Park the best hiking spot in all of East Africa. If you didn't before, now you know.
Off the Grid columnist Blake Snow writes epic stories for fancy publications and Fortune 500 companies. Follow him on Twitter.