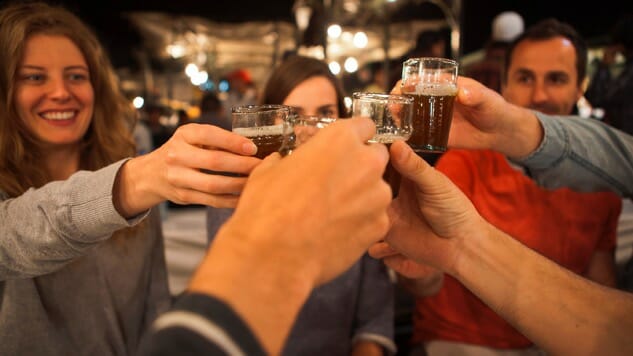 Not long ago, guided tours were something mostly geriatrics did from the not-so comfortable confines of oversized buses. But thanks to growing interest in push-button adventures, socially and culturally aware travelers, and new modes of transportation, times are changing.
Take my 10-day hike around The Alps this summer. Behind the scenes the once-in-a-lifetime trip involved dozens of bookings, numerous transfers and sub-transactions, and lots of logistical back and forth. All I did, however, was press "book now" and everything was taken care of, save for packing and boarding my flight.
Which explains why new-age adventure escorts such as G Adventures and Intrepid Travel are expanding as fast as they are. Instead of offering underwhelming trips that are brief, shallow, impersonal and low-impact, modern group tours reach as far as Antarctica and give birth to new friendships from like-minded individuals.
"We're making group tours cool again," proclaims Bruce Poon Tip, founder of G Adventures. In addition to removing the logistical hassle of bagging some of the world's greatest hikes, Poon Tip's company has partnered with National Geographic, Jane Goodall, and all seven continents to bring 800 destinations to life.
Travel styles include active, "yolo," marine, rail, family, local living and classic group tours to some of the most unique corners of the world. "Before the internet, do-it-yourself guide-booking was the only way to go and required a lot of time," Poon Tip says. "Now with a couple of clicks, you can go to Tibet or Mongolia as early as Thursday. And you can get more experiences in less time and share them with like-minded people."
That social aspect is a big reason for the rise in-group tours, Poon Tip says. "Since starting 25 years ago, our group sizes have grown to 12-14 total," he says. "We'll still run trips with 4-6, but our customers prefer groups twice that size."
That and they're serious about experiencing the world. Not just getting sloshed while abroad, he says. And not just with locals. But also with the diverse nationalities that travel in groups now. Poon Tip explains that "160 nationalities booked with us last year. No other company has that level of diversity—fewer than 20% are from North America, in fact."
That was certainly the case in my experience. In addition to getting a full helping of French, Italian, and Swiss culture, I explored British, Canadian, and South American culture with my fellow Alps hikers. They were mostly millennials and Gen-Xers, but even one young-at-heart baby boomer joined us.
Whether in groups or not, guided tours are noticeably on the rise as travelers seek to maximize their time abroad. Anecdotally, several family friends have used trip planners recently to accomplish straightforward things such as prioritizing and discovering Italy's municipal highlights in the shortest amount of time.
So who aren't these modern tours a good fit for? "Since they take away from the personal experience, we don't do coach tours," Poon Tip proudly says, implying at least a baseline of physical activity. They're also not good if you're looking to recreate a western environment abroad.
"We want people to be comfortable, but we really want them to experience the country without a tourist culture," Poon Tip explains. "We're very clear that if you want the comforts of home, you should just stay at home."
And that's really the difference between old-fashioned group tours and modern ones. The latter help you step out of your comfort zone better than the former, without sacrificing the ease or depth of the journey. Bon voyage indeed.
Off the Grid columnist Blake Snow writes epic stories for fancy publications and Fortune 500 companies. Follow him on Twitter.