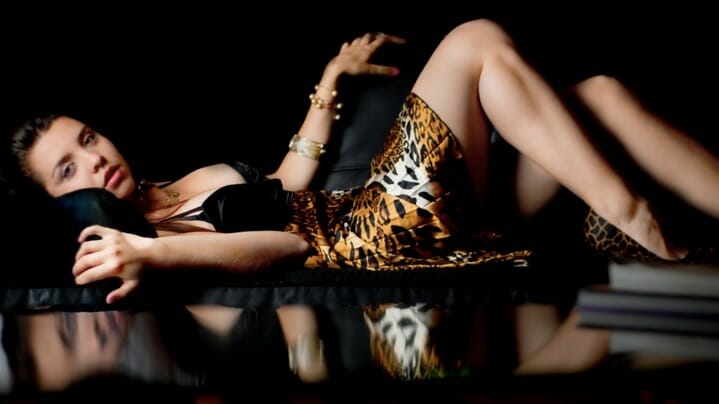 Women in Colombia like sex.
The hombres I see paying very close attention to Colombian women like sex too.
Here's the way it goes down, in this mostly machismo culture.
A Colombian woman walks down the street. She wears fashionable leather boots high up the ankle, tight jeans—very tight, stylishly ripped at the knee—and an eye-catching blouse with a deep neckline. A glimpse of her personal Andes would be possible except for one brave little blouse button that strains to keep from popping off right into the eye of the beholder.
The beholder will be a male, unabashedly girl-watching from his shoe-shine box or the shade of his street-vendor umbrella or his parking-lot kiosk. The heads of these admirers swivel constantly to follow the sidewalk parade of Bogotá fashionistas, their black hair long and straight, typically cut in a shallow V down the back, past the shoulders. Handbags? Yes. Earrings? Yes. Nails done to death? Of course.
A taxi does what taxis do: honk! honk! The construction crew on the high-rise stops jackhammering to stare. An appreciative—or provocative—wolf whistle pierces the air.
Mira! There she goes, Miss Colombia! Imagine Stan Getz blowing his horn, The Girl from Ipanema floating by. Tall and tan, all that saxy jazz.
The world stops when a Colombian woman passes.
Colombia remains a deeply Catholic country, but one gets the feeling that many citizens have left the church's caution at the altar … at least in swinging modern cities like Bogotá and Cartagena, Medellin and Cali. You'll find more young people at the rumbas, the dance clubs, on Saturday nights than on their knees Sunday morning. Kids seek salve for their souls … but a wholly different kind.
A vast, glamorous industry supports the efforts of women (and men) to look sexy. The Victoria Secret franchise in Unicentro, the big mall in a ritzy suburb of Bogotá, bustles every time I pass.
I hardly know whether to stare or cover my eyes when I see women lift scanty panties into the air, sizing them up, calculating their effect on Friday night. Unicentro has several other sexy underthing stores, with displays in window that raise eyebrows (and other things). Who knew mannequins could look so tempting?
Bogotá has as many peluquerías—hair-and-nail salons—as panaderías, little bakeries. I'm told on good authority by one stylish lady here that many consider unpampered nails a disgrace and an embarrassment. The assortment of nail colors used to make hands (and feet) attractive would stress out Mr. Pantone himself. I've seen green apple and cat black and snow white and red-and-white peppermint swirl. I've seen women hold up 10 fingers with a different color on every nail.
Women and men think of their tinted nails in different ways … as women and men think about so many things differently.
The woman: "This nail polish will accent my best blouse and go with my favorite hand-bag and show off my rings and spangles!"
The man: "How would those fingernails feel raking my back in a dark room on a hot night?"
Colombian women fearlessly put on high heels and stork along in full view of the passing world. I often see stilettos with fair young things balanced atop them like stilts. The high heels achieve the desired effect … if the desired effect is to make a shapely derriere wiggle like two healthy minks fighting in a sack.
And you can't mention women in Bogotá without talking about breasts. Remarkable, in a word.
I'm thinking the plastic surgery industry must be booming with busting here. A walk through Bogotá's Zona T, The Pink Zone, a hot area for night-clubs, restaurants, and discos, reveals table after table of perfectly crafted bosoms, cupped and uplifted, awaiting closer inspection. Handsome young male hyenas, laughing and on the prowl, stare across plates of sushi and never blink for fear of missing … something. Maybe a brave little button letting go …
I'm reminded of an exchange (paraphrased here) in a love scene from the Steve Martin movie L.A. Story, set in a Hollywood swarming with starlets:
He: "Your breasts … they feel so … weird."
She: "Uh … they're real."
Women, mostly brown-eyed, accent their optical organs with teased lashes, some feathered out so far they stir a cool breeze when the lady blinks. Sometimes, startling green eyes peer from a honey-colored Colombian face. In a country where farmers turn up raw emeralds in black fields, men revere eyes of dazzling green.
And these Colombian men? Sexy style seems mostly about hairdos.
I see outlandish cuts, gelled into arabesques or cockscombs or lank bangs straggled meticulously to one side in shabby chic. To get an idea, check out the selección de fútbol, the Colombian national soccer team. There's James (pronounced Ha-mez) with his Euro-couture. There's Cuadrado with his buoyantly jheri-curled Afro. Colombian hair stylists plow chevrons into temples. They mould top knots, and shave sides into rooster combs, and craft shag sculptures that can smother a rock star.
Stand away from a Colombian courting man if scents make you sneeze. Hombres like colognes and fragrances. They will never rival the Saudi Arabians for heavy perfumery (when it's hard to find water, it's hard to bathe, and perfume really matters). Still, the Colombian tomcat doesn't mind splashing on a little pheromone as he heads out for a night of salsa and seduction.
Men do their nails. It feels weird when I enter John's Peluquería, my barber shop, and I see a banker in a bespoke suit and tie getting his fingernails manicured … and even weirder when the expensive Boss black-leather shoes come off and 10 manly toes wiggle in anticipation.
Bogotá has sexier spots.
One, an atmospheric French restaurant called Casa San Isidro, sits atop Monserrate, a prominent peak of the Andes that throws its shadow over bustling downtown Bogotá. Among blazing candles in the cafe, Edith Piaf enchants enamored couples. They gaze out at The Milky Way overhead and the billion lights of Bogotá below. A little vino rojo and a taste of champignons aux trois fromages starts the night with promise.
In Colombia, the road to sex is paved with good inventions. Still, courting follows accepted rules. A man is expected to make the first move, a date, a formal invitation. A woman shows restraint, even if the dynamic tension between her and her new date feels smoking hot. A polite kiss most commonly ends a first encounter.
But a little luck may bless a bogotano boy who turns to his amor before he parts, such sweet sorrow, and looks straight into her lustrous, long-lashed eyes to quote, say, a little Shakespeare, the words of Juliet:
_
Come gentle night, come, loving, black-brow'd night,_
Give me my Romeo; and, when he shall die,
Take him and cut him out in little stars,
And he will make the face of heaven so fine
That all the world will be in love with night
And pay no worship to the garish sun.
After that?
The spreading, wide open sky's the limit.
Photo: jorge larios, CC_BY
Charles McNair is Paste's Books Editor emeritus. He served the magazine as writer, critic and editor from 2005-2015.