How to Do Aruba: Resorts and Beyond
Bottle photo by Johnny Motley. All others courtesy of the Aruba Tourism Authority.
Travel
Features
Aruba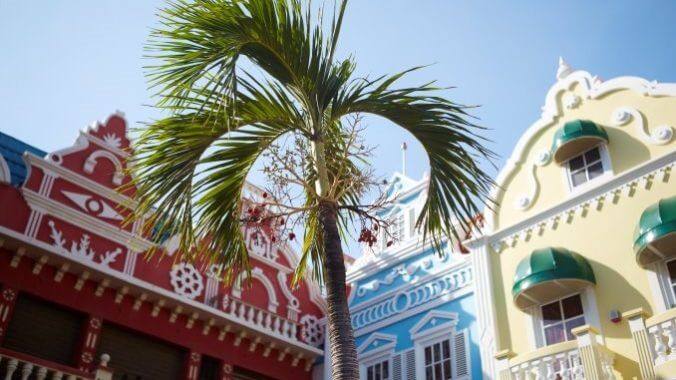 Aruba, the small, sun-soaked island in the Leeward Antilles, has long evoked the dolce vita of all-inclusive tropical vacations: mojitos by the pool, cigars with the sunset, sex in beachside suites—in short, blissful days filled with pure, sweet nothing. The most popular destination in the Caribbean for U.S. travelers, Aruba's dreamy resorts rightfully deserve their renown, with retreats like the Divi & Tamarijn Aruba All Inclusives and Ritz Carlton Beachfront epitomizing luxury and elegance. Such all-inclusive pleasure palaces, however, are only part of the former Dutch colony's charm. Surprising to many first-time visitors, Aruba's cultural, culinary, and ecological treasures are equally compelling reasons to book a plane ticket.   
Don't get me wrong here: the delicious indulgences of a cosseted resort should be a high priority while in Aruba. On my most recent trip down, I spent the first few days hardly leaving a 500 ft radius around my suite at the Divi Aruba All Inclusive, enjoying the gym overlooking the ocean, a library of rums at the poolside bar, and an assortment of good restaurants. But what really made the trip memorable, and why I'm itching to return to Aruba, were adventures away from the hotel: dazzling hikes in Arikok National Park, lazy strolls through Oranjestad and San Nicolas, and feasts of fried seafood at hole-the-wall fish shacks.
Here's my take on visiting Aruba: set aside the initial few days to fully relish the far niente of resort life. While away the hours with a good book and frosty drink; take long snoozes on a beach towel; toast the stars with a glass of Papiamento Rum. Then, when as rejuvenated as a balmy tropical morning, strike out for the island's off-resort wonders—the parts of Aruba that truly distinguish this One Happy Island.  
Hike Arikok National Park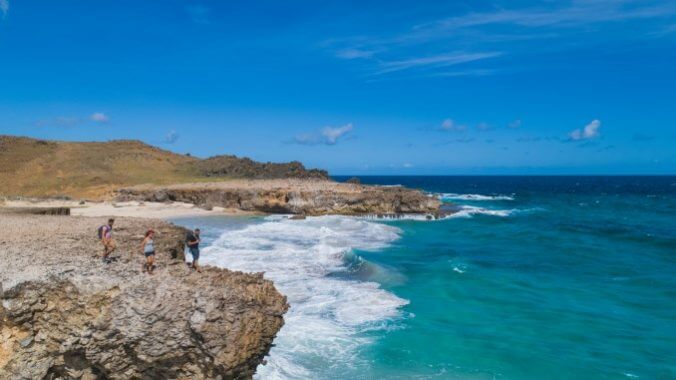 Comprising almost one-fifth of Aruba's land mass, Arikok National Park is one of the most pristine tracts of land in the Caribbean—8,000 acres of sprawling cacti forests, Pre-Columbian rock art, and isolated beaches where you'll encounter nary another soul. Arikok harbors dozens of endemic plant species, as well as a handful of birds and reptiles found nowhere else on Earth. If you're a birder, keep an eye out for several rare species of egrets.
Purchase entry tickets ($11 USD) at the park's welcome center, also home to exhibits on Arikok's geology, flora, and fauna. After grabbing a map and paying the entrance fee, head for the trails weaving through the cacti forests. As tall and thick as small trees, the colossal succulents form something like an arid enchanted forest. During my hike, a billy goat greeted me from the thorny brush, and I lost count of how many iridescent lizards scurried across my path. You can reach Quadirikiri Cave, a sea cave riveted with stalagmites and decorated with Indigenous rock art, from the same trails, but the hike is arduous. If you have a rental car or arrange a guided tour, your best bet is to drive to Quadirikiri after the cacti forest hike. 
Cool off after the long trek with a dip at Dos Playas Beach. Long a closely guarded secret among surfers, Dos Playas' serene coves are a welcome foil to the busier beaches of the resorts. A word of caution: Dos Playas has large waves and an undertow, and only strong swimmers should venture far into the surf. Within an easy walk of Dos Playas beach is Boca Prins Restaurant and Bar, a beachy oasis of ice-cold beer, tasty snacks, and dulcet calypso music.
Renting a car or booking a guided tour is the most efficient way to see Arikok National Park. I took a taxi on this last trip, but next time, I plan to arrange a guided tour with Divi Aruba All Inclusive's concierge service, as finding a taxi back at the end of the day proved challenging. Temperatures in the park can exceed 100 degrees Fahrenheit, so make sure to bring extra water, a fully charged phone, and sunscreen.  
---
Get Lost in Historical Oranjestad
Oranjestad, Aruba's largest city, enchants with Dutch-Colonial architecture, cobblestone streets, and waterfront bars frequented by local characters vaguely reminiscent of Cpt. Jack Sparrow's crew. Seething with history and ornamented with pastel-hued buildings, "The Orange City" is small enough to explore on foot. Bring cash, as many street vendors and taxis don't accept plastic. From the Divi Aruba All-Inclusive, the taxi ride to Oranjestad costs about $10 USD. Fuel up with a tasty pastechi, essentially an Aruban empanada, from a local street vendor, then spend the afternoon shopping, museum-hopping, or strolling the promenade.  
The National Archeological Museum offers a deep dive into Aruban history, showcasing artifacts from Aruba's Pre-Columbian Arawak societies and the various phases of colonial history. The museum also does a commendable job speaking to the plight and contributions of enslaved Africans in the Lesser Antilles. The building itself, protected by the Aruban historical registry, is a shining exemplar of Dutch-Colonial architecture—bearing a resemblance, in fact, to old buildings in Connecticut or upstate New York, albeit painted in tropical hues of green, yellow, and orange.  
When you've worked up an appetite for dinner, make a beeline for Willem's Dutch Pancakes. You'll notice the restaurant from afar by the massive plastic windmill over the entrance, perhaps the Dutch equivalent of the plastic pigs used to advertise BBQ joints in the South. Beyond the wind-mill entryway, Dutch-speaking waitresses serve stroopwafels, cappuccino, and the house specialty of pannekoek. These crepe-like fritters are the size of manhole covers and heaped with scrumptious toppings like tropical fruit, salty cured meats, and cheeses. The wisest play is to order both a savory and sweet pannekoek—although large, the airy dough is light enough that you'll want to scarf more than one. 
After dark, tie one on at Apotek, a speakeasy inside a century-old pharmacy. With tiled floors and Mahogany cubby holes on the wall, the bar still echoes the Dutch apothecary of its namesake. The cocktails, served with frills like vintage magnifying glasses and prescription papers, are as creative as those in any ritzy Manhattan cocktail lounge—but, beware, they're just as pricey. Apotek's mixologists are authoritative when it comes to Caribbean spirits and botanicals, so if you're a cane-spirit aficionado, ask about their collection of rare rums.  
---
Explore Aruba's Southern Tip
Most tourists venture to Aruba's southern extremity for the placid turquoise shoals and powdery white sand of Baby Beach, but a slew of worthy attractions grace this side of the island. San Nicolas, Aruba's second largest city, was once the center of the country's thriving oil industry but today is famous for robust Afro-Aruban culture and brilliant street art. Colorful murals, painted by both local and international artists, adorn the palm lined streets, and statues centered in handsome plazas commemorate Aruban heroes.  
The Community Museum, inside a former Dutch general store, houses a quaint cafe serving espresso and toothsome pastries like coconut candy and quesillo, a flan-like dessert. About a 20-minute drive from San Nicolas is the legendary Zeerover's, a pier-side fish shack frying up what's possibly the most delectable fish and chips in all the Seven Seas. The menu changes based on daily catches, but if available, try the fried barracuda or mahi mahi—the delicate white flesh pairs beautifully with crisp fries, pickled coleslaw, and a cold Balashi beer. 
---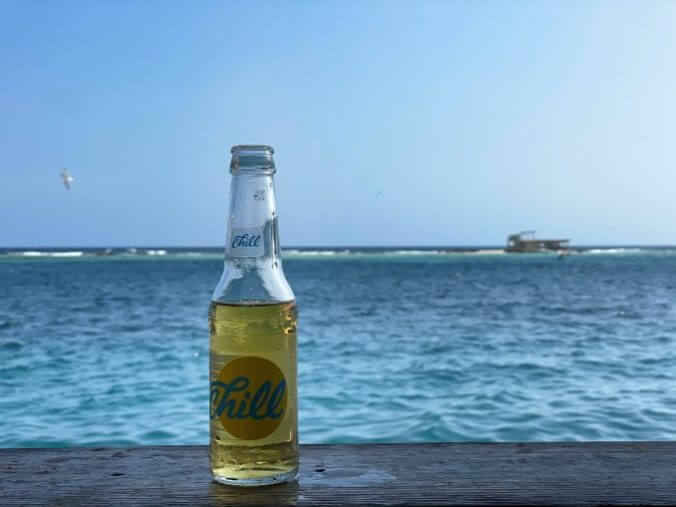 ---
Explore the Coastline with an E-Bike
Aruba boasts excellent bike paths, with much of the island's stunning coastline eminently explorable on two wheels. I arranged an e-bike tour through the Divi Aruba All Inclusive, an excursion filled with sightseeing, chatting with other guests, and a refreshing dip at Boca Catalina Beach as a finale. Riding an e-bike is as smooth as a magic carpet ride, more leisurely than rigorous. Two highlights of the ride included the California Lighthouse, a postcard icon of Aruba, and the Butterfly Farm, an enclosed garden full of rare specimens of these beautiful insects. Pro tip: grab snorkeling gear, included for free, along with an e-bike. The bike tour ends in Boca Catalina Beach, where in addition to cliff-jumping, you can submerge beneath the waves to ​view a brilliant array of tropical fish.
---
Attend the Festivities at Aruba Hi-Winds
Buffeted by the tradewinds, Aruba is one of the world's premier windsurfing and kitesurfing destinations. Since 1986, the island has hosted the annual Aruba Hi-Winds, a multi-day competition drawing athletes from around the world. If you're in Aruba in May, when the tournament takes place, grab a spot at Hadicurari Beach to watch gifted wind- and kite-surfers defy gravity, executing intricate flips and spins high ​above the ocean. After dark, the sport​ing events yield to beach parties, with food trucks, live music, and a pop-up bar hosted by the Divi Aruba All Inclusive. 
---
Toast the Sunset with Jolly Pirates
On my penultimate day in Aruba, the concierge recommended taking a sunset cruise on Jolly Pirates, an old schooner retrofitted as—you guessed it—a pirate ship. Now, I'm not going to argue that a booze cruise on a faux-pirate ship offers some profound cultural insight… but it is one hell of a good time. Departing port at 5:30 p.m., the ship is a quick taxi ride from the Divi Aruba All Inclusive. On the water, the vistas of the sunset melting into sapphire waters are gorgeous to a hallucinogenic degree. Cosplaying pirates double as bartenders and reggaeton DJs, and by the end of the cruise, all parties involved are indeed very jolly. The ship has a tall rope swing on the poop deck, so go ahead and show off that killer backflip for the crowd.
---
Johnny Motley has written for The Daily Beast, Matador Network, Cool Material, and more. He's on Twitter @johnnymotley.