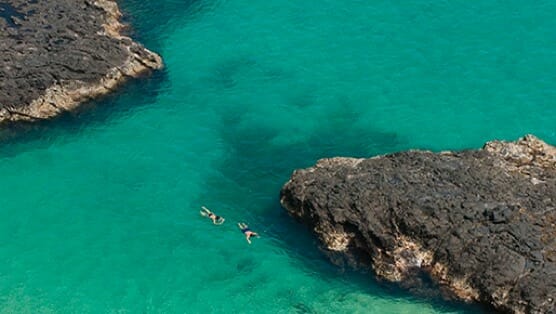 Brazil is a nation with an embarrassment of beautiful riches, but the title for most stunning place can be narrowed down to either Fernando de Noronha (pictured above) or Lençóis Maranhenses.
More than 200 miles from the mainland, Fernando de Noronha is a 21-island archipelago formed by the peaks of the Southern Atlantic ridge rising 12,000 feet from the ocean floor. Visitors stay on the 10-square-mile main island, with planes arriving from Natal and Recife on the mainland.
If Fernando de Noronha is like visiting a storybook paradise, Lençóis Maranhenses is like visiting another planet. Shifting white sand dunes fill the 600-square-mile national park, and the rainy season leaves behind countless freshwater lagoons. The term Lençóis means "linen," which aptly characterizes the park's look of ruffled white bed sheets. Most people stay in Barreirinhas, a small town outside the park, and arrive via São Luis, a colonial city founded by the French. Located in northeast Brazil, both Fernando de Noronha and Lençóis Maranhenses are UNESCO World Heritage Sites.
What Makes Them Special
Fernando de Noronha
For centuries, Fernando de Noronha was an island where people sought escape, but not in the sense one might expect. Brazil's first national marine park was formerly a political prison. Changes opened the tourism door several decades ago, though restrictions keep the masses at bay. Only people born on the island can live there, and tourists—limited to several 100 at any one time—must pay a daily environmental tax. The island also forbids new construction on its beaches, business chains and Jayoncé-type vacation palaces. In other words, Noronha is paradise found with wide sandy beaches that never met a condominium. While Charles Darwin visited in 1832, Amerigo Vespucci set foot on Noronha three centuries earlier, and his dramatic account of the island possibly inspired the setting for Thomas More's novel Utopia.
Lençóis Maranhenses
Though it evokes images of a desert mirage with a 1,000 oases, Lençóis Maranhenses' ecological dreamland is technically not a desert. By definition, a desert should average less than 10 inches of rainfall per year, and Lençóis receives about 50 inches thanks to the neighboring Amazon Basin. As to the magical look, the Parnaíba and Preguiças rivers carry sand from the interior to the Atlantic, and ocean currents and powerful northeasterly winds push the sand back inland up to 30 miles. The result is a series of dunes that can reach more than 100 feet in height. Meanwhile, the rainy season (December to April) produces crescent-shaped freshwater lagoons, and an underlying layer of rock keeps the water largely intact through the fall months. At full size, the bodies of water can be hundreds of feet long and 10-feet deep. The 2005 Brazilian film The House of Sand, winner of a Sundance Film Festival award, was filmed in Lençóis.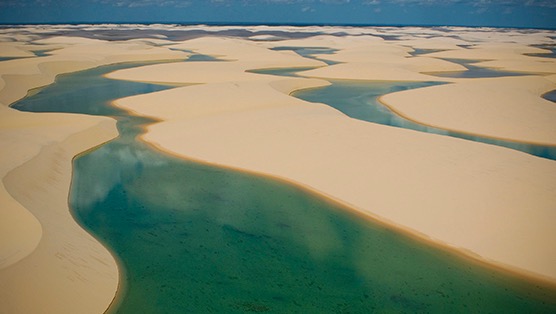 Lençóis Maranhenses Photo by Ricardo Rollo
What to See
Fernando de Noronha
Wake up early and claim your spot on the cliffs above Baía dos Golfinhos to see as many as 1,000 spinner dolphins playing in the water, or if the turtle nests are set to hatch, watch hundreds of newborn turtles scramble into the gentle surf of Praia do Leão. The Atlantic-facing coastline is rugged and rocky, but the beaches facing the mainland enjoy lush sandy expanses perfect for swimming and sunbathing. Baía do Sancho rewards brave souls like former guest Jacques Cousteau, who descended the 200-foot iron ladder through a cleft in the rock face to enjoy a tropical beach free from deck chairs and margarita mixers. On the land, Forte dos Remédios is an impressive yet crumbling 18th-century fort replete with antique canons, and hit the clifftop perches to view the island's famous sunset with the small twin mountains (Mirante Dois Irmãos) in the foreground.
Lençóis Maranhenses
With almost no vegetation in the park, the sand dunes in Lençóis could almost pass for snow-covered bunny slopes, and the intense white brings out the vivid blue, green and turquoise colors in the water. The Azul and Bonita Lakes are large bodies of water that most tour operators visit, but many more dunes and lagoons like Gaivota Lake are accessible on alternative 4×4 outings. When the water levels reach their peak in the summer, the lagoons and rivers often connect, and silver-colored fish make their way into the lagoons. Visitors might even see shepherds leading their goats over the dunes.
What to Do
Fernando de Noronha
For an island with so many restrictions, Fernando de Noronha has an exaggerated number of things to do. The archipelago is a world-class dive spot with volcanic rock formations and abundant sea life that make up for its less impressive coral. For non-divers, the island-born Plana Sub (also called Aquasub and Aquanaut) uses motorboats to tow snorkelers holding plastic boards that, when tilted, allow rapid ascents and descents in the water. A snorkel and mask are also required to explore two of the island's most unique experiences. First, a limited number of people each day can explore Praia do Atalaia's shallow volcanic tidal pools whose nursery-like waters often house baby sharks, octopus, lobster and various tropical fish. Second, snorkelers (often in life jackets to protect the turtle eggs) can enjoy swimming with turtles and sharks in Baía do Sueste. From December to March, the island also claims excellent surf spots at beaches like Cacimba do Padre, Praia do Bode and Praia do Boldró. The island also offers hiking, fishing, horseback riding and sea kayaking.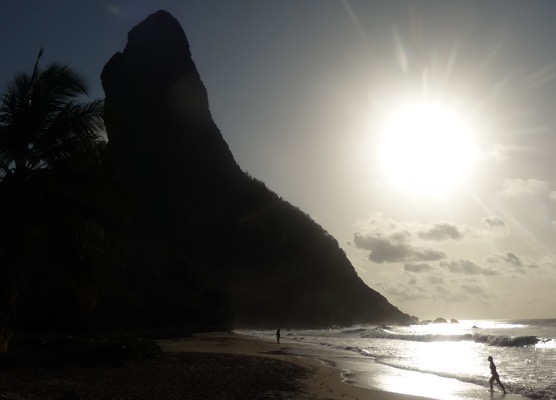 Fernando de Noronha Photo by David Jenison
Lençóis Maranhenses
Seeing the watery dune field is the main activity in Lençóis Maranhenses, and many tour operators bring sandboards that people ride down the dunes directly into the water. Still, after a day or two exploring the dunes, travelers often take a boat tour to Mandacaru and Caburé, tiny villages nestled between the dunes where the Preguiças River meets the Atlantic Ocean. After a possible stop at the smaller Pequenos Lençóis, the boat takes passengers to the coast where they enjoy the waves, eat lunch and watch the dunes and ocean meet from atop a 150-foot lighthouse. For an even more elevated view, panoramic plane tours give passengers the chance to view the whole of the park from the sky. Travelers can also enjoy a leisurely float down the Cardosa River in an inner tube, while the park's Atlantic coast offers surfing, kiteboarding and wind surfing. Some people even kiteboard in the larger lagoons like Gaivota.
Where to Go
Though both Fernando de Noronha and Lençóis Maranhensesare are undeniably iconic, they are also wildly different. Noronha has more activities that often involve unique interactions with nature and marine life, yet it is also the perfect island for people who simply want to relax on unspoiled beaches. Lençóis, on the other hand, has a narrower range of activities, but few experiences can match walking over the sand dunes and feeding the eyes such unimaginable sights. Even the best Lençóis photos fail to create the emotional impact of first seeing the otherworldly landscape. Ultimately, people will have different opinions as to which is the most beautiful place in Brazil, and the paradox is that both sides would be correct.
David Jenison is a Los Angeles native. He has covered entertainment, restaurants and travel for more than 20 years as a writer and editor.