Take Five: Boulder's Best Craft Breweries
Photo below by Devon Van Houten Maldonado
Travel
Lists
Breweries
Boulder, Colorado is one of the original American craft brewing hotspots and now, as the scene continues to grow internationally, Boulder's beers are winning awards and making bubbly waves in the adventurous clean-living city with a breathtaking view of the Rocky Mountains. From bitter IPA's made with glacial runoff to rich and malty coffee stouts, new breweries are popping up alongside long established masters everyday.
Basically, Boulder is drowning in beer, but these five spots have floated to the foamy surface.
1. Mountain Sun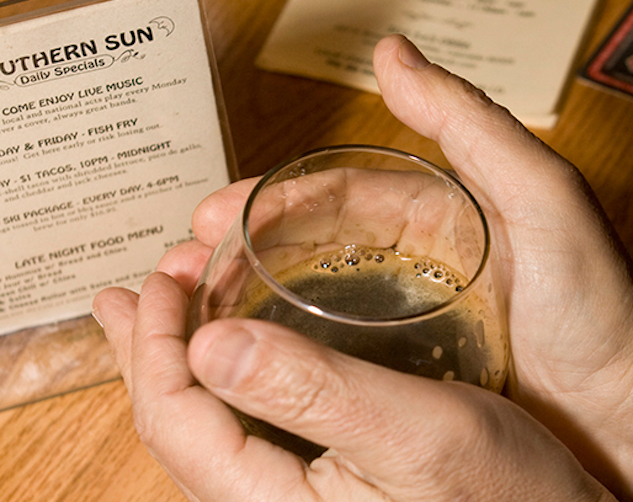 Photo courtesy of Southern Sun
One of Boulder's longest standing and most reliable brewers, the Mountain Sun (along with its sister breweries spread throughout the front range) has been pumping out kegs of fresh Colorado beer since 1993. Even though it's not the oldest brewery in town, the Mountain Sun sits in the heart of Boulder, along the famous Pearl Street Mall, and is arguably Boulder's most iconic brewery, with food and styling that embodies the adventurous spirit of the community.
The Southern Sun (est. 2002), the second version of the Mountain Sun, is one of the most welcoming and homey taprooms in the city. On a snowy winter day, the hearth at the Southern Sun will warm your souls—and soles—after a day of skiing, hiking or travel. Try the Colorado Kind Ale, a balanced session ale that embodies the whole flower flavor of the Rocky Mountains, or make sure to be in town for Stout Month.
2. Boulder Beer
Established in 1979, Boulder Beer is the city's original craft brewery and one of the first in the country. Boulder Beer recently inaugurated its mega expansion to a new facility in the industrial section of North Boulder, upping their capacity for production and visitors. Their year-round brews include a balanced spectrum from blonde ale to a chocolate porter, with seasonal specialties that keep locals coming back.
Their Hazed and Infused dry-hopped ale has been a long-standing staple of beer lovers around the country, with funky designs and full floral flavor that you can sip for days. Hazed and Infused, now known only as "Hazed" (infused has another connotation in Colorado), is one of those beers that you can pop open at the crack of noon and drink until midnight. It's pure, refreshing and delicious mountain water, on tap or in a can (my personal favorite).
3. Sanitas Brewing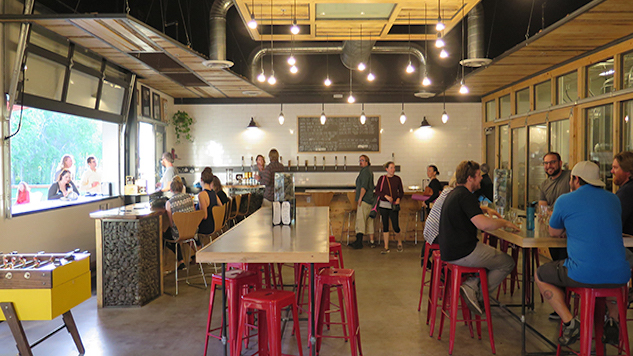 Photo by Devon Van Houten Maldonado
A relative new-kid-on-the-block in the Boulder brew scene, Sanitas Brewing has made a big impact during its short tenure. Sanitas expertly composed a highly enjoyable and comfortable taproom, with an expansive patio, lawn games and a taco cart. There are even yoga classes in the brewery. With an expansive space accentuated by tree lined train tracks, Sanitas feels like somewhere you want to call home.
Sanitas has a unique specialty, the black IPA, which can be hard to find, blending the best of bold stouts and bitter IPAs into one super beer that goes down like butter but with the bite of more the 60 IBUs (International Bittering Units). This newcomer boasts an impressively diverse menu from the strong and bitter Sanitas IPA to the Sanitas Cherry Saison, from the Oso Grande imperial brown ale to Jim's English Bitter. Sanitas is a must visit brewery during any stay in Boulder.
4. Upslope
In contrast to the hippie branding and design of most of Boulder's breweries and businesses, Upslope Brewery is the sleek industrial little brother with a knack for minimalism, perfectly showcased in the concrete and steel taproom. Their flagship IPA lists the following ingredients on the can: snowmelt, malt, Patagonian hops and yeast. Not to mention, all of their beers are canned in order to preserve maximum freshness and transportability.
Maybe it's gimmicky (they probably don't literally melt snow for their beer), but the spirit of minimal quality that Upslope embodies is appreciated. Their lineup of five year-round standards offers a no-frills quality and freshness, which the brewers continue to perfect for mountain peak or lakeside celebrations. The Upslope Imperial IPA is a safe bet, with a whopping 90 IBUs and 10 percent alcohol.
5. Liquid Mechanics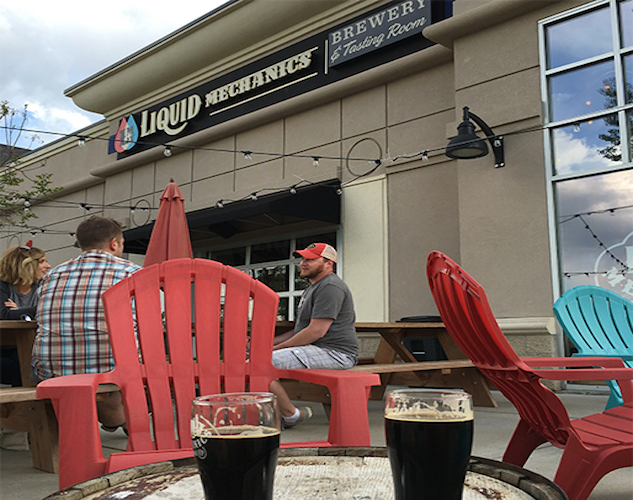 Photo by Devon Van Houten Maldonado
As breweries proliferate and property prices soar, young and rebellious breweries have begun to emerge in the suburbs surrounding the city of Boulder. Located just east of Boulder, in the suburb of Lafayette, Liquid Mechanics is a new brewery cooking up some big flavors and looking to make their mark in the beer world, with a growing list of awards and recognitions.
The Liquid Mechanics Imperial Porter is one of the finest dark beers around, with a smooth and robust mouth feel, but not overly sweet, as is the case with most amateur porters and stouts. This inconspicuous brewery had an explosive 2015 and the porter took home bronze at the U.S. Beer Open and gold at the Denver International Beer Competition. You can expect these ambitious brewers to keep accruing accolades. The liquid gold pouring from these taps is more than worth the 25-minute drive from downtown.
Devon Van Houten Maldonado is a writer, painter and runner from Boulder, Colorado, currently living and working in Mexico City.