Thirsty? You're in luck. In Paste's drinking-and-traveling series, City in a Glass, we mix up a city's signature swills and slide them down the bar to readers. Grab a stool. This round is on us.

Speakeasies, rum-runners, bootleggers and Al Capone! Welcome to Chicago, where booze, politics and organized crime have proven themselves inseparable throughout history. Take for instance the city's first civil riot, in 1855, which was over lager beer. Or how during Prohibition, Chicago's gangsters, who brokered deals to get Canadian whiskey onto the streets, were some of the most powerful men in the country. Today Chicago is still a beer-and-shot town that loves its saloons. But it's also a cocktail bar town, so much so that bar owners who have been successful in other cities like New York and Miami now are opening locations in the Windy City to get in on the action.
On this city drinks tour, we're going to introduce you to a few Chicago-only cocktails featuring cult-favorite spirits, food items and lore. Here's where to find them and even how to replicate them at home.
1. Slim Husky
Where to order: Sportsman's Club
If you've ever been to a bar in Chicago, chances are just reading the words Jeppson's Malört will make your stomach turn. This vile-tasting local product is hard to find outside of the city, but impossible to get away from within it. Developed during medieval times, the wormwood-based Swedish schnapps (bäsk brännvin) immigrated to Chicago in the early 1900s. During Prohibition, Swedish businessman Carl Jeppson peddled the beverage as legal, medicinal alcohol. It soon appeared in every Swedish bar and then every Polish bar and eventually every bar in the city, where it still appears today—and where it is dutifully shot by bar patrons all night long.
So what's the problem? Well, some would say the niche delicacy tastes kind of like the way a tire smells when it's lit on fire. Graham Heubach, general manager of Sportsman's Club in Humboldt Park, says it took him a while to appreciate the elixir. "I used to think Malört tasted like expired bug spray," he says. "But now I love it. It just finishes so dry." He has even come up with a Malört cocktail that tastes…good? The Slim Husky, as he calls it, includes Malört, Cynar 70 (a high-proof artichoke bitter), honey and grapefruit. "The drink has a super thick, rich body with a biting, pithy, bitter finish. It's perfect for slow winter sipping," he says. Drinking a Slim Husky (pictured at top) may be the only time you'll ever savor a glass of Malört.
Slim Husky
1 oz. bonded bourbon
1 oz. Cynar 70
¼ oz. Jeppson's Malört
¼ oz. honey syrup (recipe below)
Grapefruit peel, for garnish
Make honey syrup: Combine 3 parts honey and 1 part water in a saucepan. Heat slowly, stirring until the honey dissolves. Simmer for 2 minutes. Remove from heat and let cool.
Make drink: Combine ingredients, plus ice, in a mixing glass. Stir. Strain into a cocktail glass. Garnish with grapefruit peel.

2. Prima Donna
Where to order: GreenRiver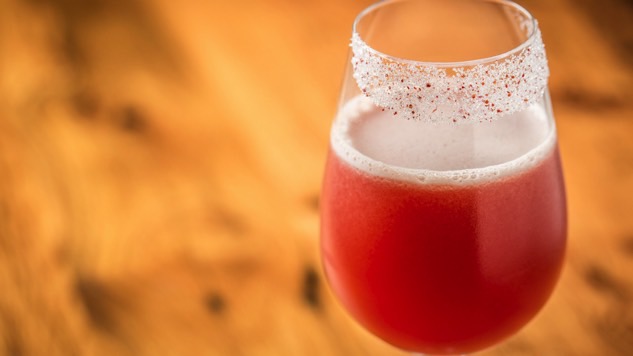 Photo by Gladones Photography
Get your drink with a liberal dash of history at GreenRiver, a new cocktail bar from Jack McGarry and Sean Muldoon (the team behind The Dead Rabbit in New York City), plus restaurateur Danny Meyer. Each cocktail on the GreenRiver menu is inspired by a famous—or infamous—Irish-American from 19th Century Chicago. "We researched hundreds of historical Irish characters and chose an exemplary few who stirred our mixological creativity," McGarry says. "The menu celebrates Chicago and its history in every drink." There are 32 characters in all, including artists, politicians and inventors, and their detailed bios appear right in the menu. Each cocktail's flavor profile is designed to match that person's personality.
Take for instance the Prima Donna cocktail, a blend of chili pepper-infused Irish whiskey, mint bitters, hibiscus bitters, pomegranate juice, lemon juice and sumac (a lemon-y spice). It is sweet, tart, bitter and spicy. The cocktail is named for Ganna Walska, who could be described in similar terms. Walska was the second wife of Harold Fowler McCormick (1872-1941), chairman of the International Harvester Company and a member of one of Chicago's most prominent Irish-American families. Ambitious Walska was an aspiring opera singer, but she was talentless. Regardless, McCormick spent a good chunk of his fortune trying to promote her. Supposedly Orson Welles later used McCormick as inspiration for Citizen Kane's title character, who was also hoodwinked by his second wife, a prima donna.
Prima Donna
2 oz. cascabel pepper-infused Teeling Single Grain Irish whiskey
¾ oz. sumac syrup
¾ oz. pomegranate juice
¾ oz. lemon juice
1 tsp. Branca Menta
2 dashes Bittermens Burlesque bitters
Make the drink: Combine all ingredients, plus ice, in a cocktail shaker. Shake. Strain into a dessert wine glass half-rimmed with a mix of sumac powder, Maldon salt and sugar.

3. Chicago Dog Margarita
Where to order: The Broken Shaker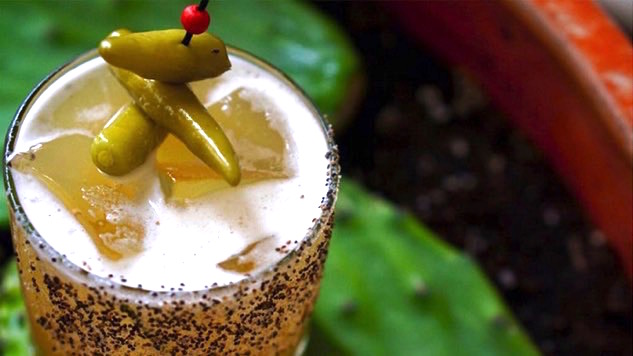 Photo courtesy of The Broken Shaker
What the cheesesteak is to Philly, the Chicago Dog is to the Windy City. This classic street food has its roots in Depression-era Chicago, when entrepreneurial vendors rolled carts around the working class neighborhoods, selling these hot dogs for only 5 cents each. But these weren't your ordinary hot dogs, these were meals. To this day the Chicago Dog follows a very rigid yet elaborate formula: beef hot dog in a poppy seed bun, topped with yellow mustard, chopped white onions, sweet pickle relish, a dill pickle spear, tomato slices, pickled sport peppers and a dash of celery salt.
At The Broken Shaker bar in River North, owners Gabe Orta and Elad Zvi have transformed the ubiquitous dish into a drink. "We wanted to pay some respect to the Chicago food scene through a cocktail, and what's more iconic than a Chicago Dog?" they say. Their Chicago Dog Margarita is made with tequila, lime juice and a spicy mustard-pickle shrub (drinking vinegar). In margarita-like fashion, the cocktail glass is rimmed with celery salt and poppy seeds. Orta and Zvi, whose flagship Broken Shaker location is in Miami Beach, say their savory cocktail has straightforward ingredients, but is packed with delicious flavors. We can only hope they set their sights on crafting a deep-dish pizza cocktail next.
Chicago Dog Margarita
2 oz. Olmeca Altos tequila
¾ oz. mustard-pickle shrub (recipe below)
¾ oz. lime juice
Celery salt, for garnish
Poppy seeds, for garnish
Sport peppers, for garnish
Make mustard-pickle shrub: In a jar with a lid, combine mustard powder and pickle brine. (The Broken Shaker makes its own pickle brine using vinegar, onions, chilies, sugar and water.) For every three parts mustard-pickle brine, add two parts simple syrup (60:40). Top the jar with lid and shake well. Store in refrigerator for two days for the flavors to meld. Shake again before use.
Make drink: Combine tequila, shrub, lime juice and ice in a cocktail shaker. Shake. Pour into a rocks glass that is half-rimmed with a mix of celery salt and poppy seeds. Garnish with sport peppers on a cocktail pick.

City in a Glass columnist Alyson Sheppard writes about travel and hangovers for Playboy.com. She currently resides in the great state of Texas.