Five Reasons to Visit Rocky Mountain National Park
Photo by Kevin Moloney/Getty
Travel
Lists
Colorado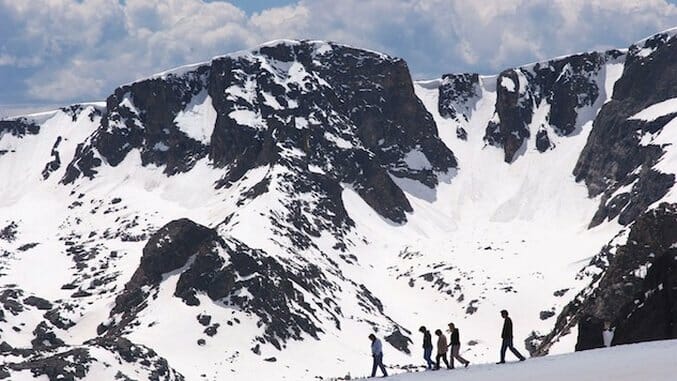 Rocky Mountain National Park has some of the most stunning topography in the continental United States, with altitudes of over 12,000 feet and several Alpine lakes. A mere 90 miles northwest of Denver, it is the perfect trip for nature lovers or anyone simply looking to disconnect.
The park is most heavily trafficked in the summer months due to its idyllic weather, but autumn is a great time to visit if you want to experience the changing foliage and have a good chance of spotting wild elk during mating season. Admission to the park is $20 for the day but if you time your visit properly you can take advantage of free entry days.
Lodging in nearby Estes Park can be expensive, so don't be afraid to search Boulder or Fort Collins for alternative accommodations. The Berthoud Inn & Events, for instance, is a top-rated bed-and-breakfast situated just 40 minutes from Denver, Boulder and Rocky Mountain National Park. 
With mountains, rivers and views to make you shiver, there are plenty of reasons to make Rocky Mountain National Park your next vacation destination, but here are the top five.
1. Falls River Visitor Center
Frank Lloyd Wright fans might be tempted to visit Beaver Meadows Visitor Center on the way into Rocky Mountain National Park as his firm designed it, but Beaver Meadows is not as architecturally intriguing as Fallingwater or Wright's other notable accomplishments. Aside from naturally decorated exterior walls, this is little more than a pretty building in a pretty place. Those wishing to actually reap the benefits of a visitor's center will be much better served at Falls River Visitor Center, which has a restaurant, museum and larger Colorado-themed gift shop for your tacky trinket obsession. 
2. Bear Lake Trailhead
This is the busiest trailhead in Rocky Mountain National Park. The parking lot immediately adjacent to the entrance is typically packed by sunrise and overflow guests are directed to the "park and ride" where they then board a shuttle. To avoid the crowds, opt for a sunset hike instead.
Bear Lake is steps away from the entrance. Nymph Lake, Emerald Lake and Dream Lake are all part of a two-hour trail from there, with Nymph Lake mirroring a scene out of a fairy tale since it is covered in countless lily pads. Guests looking for a full-day adventure can take the alternative trail leading past Alberta Falls, Loch Lake and up to Sky Pond instead, an approximately five-hour hike.
3. Whitewater Rafting
Whitewater rafting in the Rocky Mountains is both scenic and refreshing, with water temperatures rising to about 40 degrees Fahrenheit on a good day. Those hoping for a thrill ride should aim to go in July, when the rivers are at their highest. Beginners, however, will enjoy discounted rides and more tranquil rapids toward the end of August.
If you are bold enough to partake, check out A Wanderlust Adventure in LaPorte, Colorado. They raft down the Cache La Poudre River, one of only five companies permitted to do so, and have an excellent team of guides that make the experience safe and enjoyable for beginners and advanced rafters alike.
4. Downtown Estes Park
There are more than 200 retailers, restaurants and attractions in downtown Estes Park, Rocky Mountain's base camp, along Elkhorn and Moraine Avenues. Visitors will find freshly made taffy, fudge and caramel corn, enough to satisfy even the most indulgent sweet tooth. For those into arts and crafts, there are several places where you can purchase authentic Native American artifacts as well as pellets and blankets.
5. Alcoholic Afterthoughts
A day of hiking earns a liquid reward, and no place is more serious about its brew than Colorado. Treat yourself with a mini-brewery tour. There are five breweries total in Estes Park, most serving craft beer. If you're a fan of a good IPA, check out Rock Cut Brewing Company. If spirits are more your poison, you won't be disappointed by the Dancing Pines Distillery, featuring unique liqueur flavors like cherry tart.