Cruising With Force During Star Wars Day at Sea
Photo below courtesy of Disney Cruise Line
Travel
Lists
cruises
At 3 a.m. on the heels of a canceled flight, I do what any self respecting, minivan-driving dad would do—I brave icy roads and sleep depravation, and drive from Atlanta, Georgia to Port Canaveral, Florida. The mission: to make it to a cruise ship on time. The nerd in me wouldn't have it any other way; Star Wars Day at Sea, a one day event celebrating that galaxy far away during a weeklong Disney cruise, awaits.
If Luke could face freezing temps and a ginormous snow beast on Hoth, I could do this.
Copious cups of coffee and an eight-hour drive later, my family and I set foot aboard the Disney Fantasy for pampered escapism. Instead of freezing our snowballs off on an ice planet, we'll visit a quartet of Caribbean ports, with weather rivaling the beaches of Scarif.
Yet, my geeky juices percolate, anticipating the main event: a full day at sea featuring Star Wars immersion. Think movies, screen-worthy character interaction, intergalactic grub, stage shows, Jedi training and more.
After stowing away for the first Star Wars Day at Sea cruise of 2017, we make like Rebel spies and uncover the plans.
Star Wars Day at Sea cruises aboard the Disney Fantasy and is available exclusively on select Disney Cruise Line 7-night Eastern and Western Caribbean sailings through mid-April.
Why drop serious dough for a cruise encounter of the nerd kind? Read on for further convincing.
Star Wars Like It Should Be
Star Wars flicks are meant to be seen in a theater, with a bucket of popcorn resting atop your lap. Thankfully, all seven of the saga films get screen time in the ship's Buena Vista Theatre. With its jumbo projection, the details pop from the screen in their intended scale. You can practically taste the blue milk. Instead, we opt for popcorn in a TIE Fighter tub. Others nibble on their kernels from a box shaped like Han Solo frozen in carbonite and wash it all down with a soda in a BB-8 sipper. Go early to snag a good seat. The saga films screen one time each during the cruise, so check the Disney Cruise app or the Navigator print schedule for showtimes. On Star Wars Day at Sea, Rogue One: A Star Wars Story runs multiple times, including in 3D on the massive screen in the Walt Disney Theatre.
Opportunities for Your Own Adventure
While on the cruise, exploring new worlds isn't reserved for on-screen characters. Cruise ports offer bucket list adventures, many with backdrops exotic enough to fit right into Star Wars canon. Cozumel's Rio Secreto, also known as the Amazing Secret River, invites guests on a trip through a subterranean world where caverns connected by underground waterways teem with stalagmites and other natural wonders. You can't rub elbows with a Cantina alien, but you can hug a dolphin. Dolphinaris in Cozumel allows visitors to swim with dolphins, steal a smooch and cruise across the pool while riding atop a creature's belly. Even a jaded pirate like Han Solo couldn't deny Dunn's River Falls; in Falmouth, Jamaica, guides take guests 600 feet up a series of waterfalls, cutting through rushing water and rock formations along the way. A day on Castaway Cay, Disney's private Bahamian island, isn't complete without a snorkeling excursion. Rent a mask, snorkel, life vest and fins, and hit the crystal waters where you'll find sea turtles, an array of fish, a sunken Mickey Mouse statue and other treasures. To schedule a port excursion, head to the Port Adventures Desk on Deck 5.
The Best Photo Ops on the Planet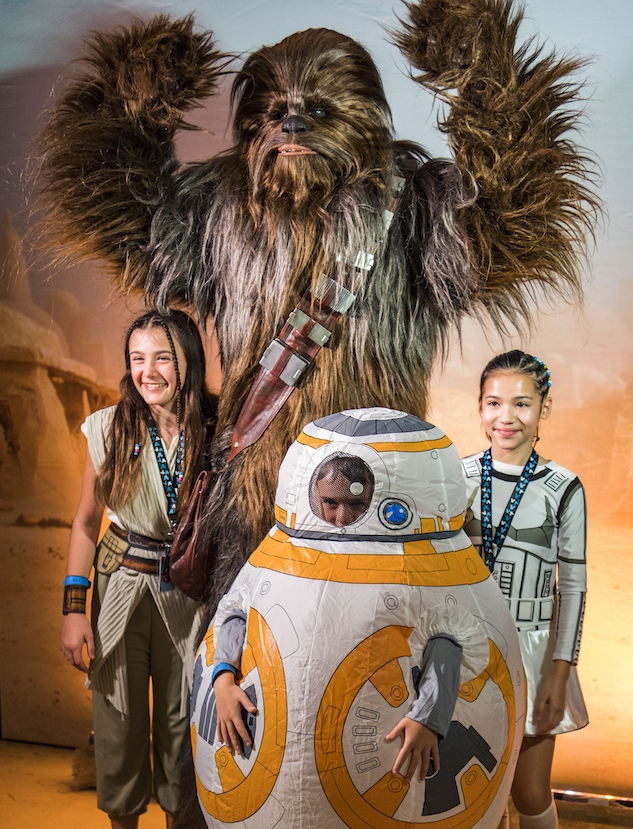 Photo courtesy of Disney Cruise Line
Sure, Disney drops Star Wars characters in its theme parks, but you often need bounty hunter-like skill to track them down. On the cruise ship, travelers have a captive audience with franchise denizens dressed as if they hopped off the screen. On Star Wars Day at Sea, each guest gets two guaranteed ticketed character experiences. In true magical form, characters including Darth Vader, Captain Phasma and C-3PO talk to you in their respective screen voice. So, yes, that's really James Earl Jones' voice. Other character encounters drop organically. Throughout the day, peruse Decks 3, 4 and 5, and keep an eye out for pig-faced Gamorean Guards, stuffy Imperial Officers and others. Bring a tiny tchotchke you can live without and make a trade with a Jawa. We actually watched as a Tusken Raider ran off with someone's empty baby stroller. Check the schedule for Pool Patrol times, that's when Stormtroopers scour the main pool area on Deck 11. Stick around to catch bounty hunter Boba Fett repel down from the ship's smokestacks, and be prepared for possible shout-outs. When Fett spotted me wearing my Boba onesie, he pointed at me and exclaimed, "I see that you're trying to impress me" over the loudspeaker.
Show Off Your Useless Star Wars Knowledge
Do you know your gundarks from Gungans? Star Wars nerds with craniums full of useless franchise-related knowledge have the opportunity to battle it out with fellow fans during trivia competitions. Although we made it to the semi-finals of the Star Wars Superfan Contest, Huffington Post and StarWars.com contributor Bryan Young showed Jedi-like prowess for the win.
Wookiee-Worthy Food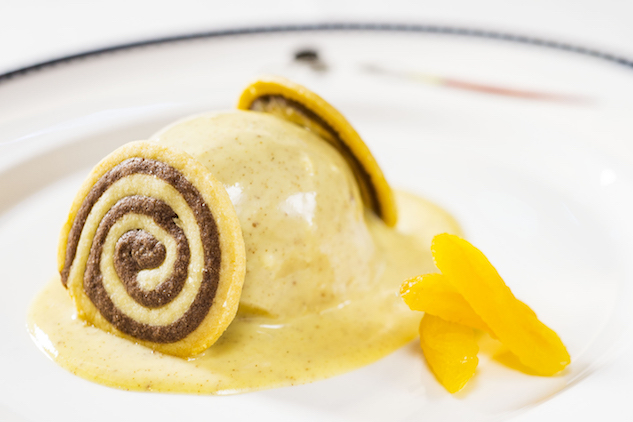 Photo courtesy of Disney Cruise Line
Cruises have a rep for edible overindulgence, and this one is definitely guilty of floating gluttony. Save room in the belly for Star Wars Day at Sea, when things go intergalactic. At dinner, the food gets a Star Wars overhaul, complete with lenticular menus proclaiming everything from Lord Vader's Nerf Steak to Yoda's Pappardelle Pasta. Be sure and order Princess Leia's Warm Apricot Pudding with hair bun-shaped cookies, even if only for Instagram fodder. But don't overdo it. After the "Summon the Force" deck show, Cabana's restaurant rolls out a late-night buffet featuring a bevy of Star Wars treats. Guests grab Vader-shaped chocolates, Dark Side barbecue sliders and more. The kitchen staff even carves the Star Wars logo into watermelons. When it's all over, you'll feel like Jabba.
Jedi Training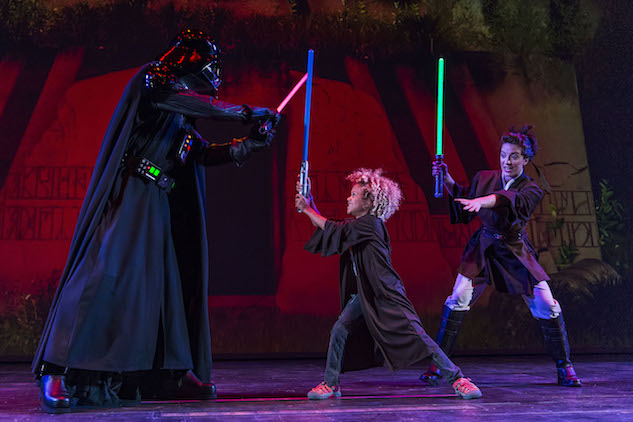 Photo courtesy of Disney Cruise Line
On Star Wars Day at Sea, children can sign up for "Jedi Training: Trials of the Temple," which takes place at select times in the Walt Disney Theatre. Those lucky enough to make the cut go saber-to-saber against either Darth Vader or the Seventh Sister live onstage. Even if you don't have a participating Padawan, it's worth checking out. You never know how these younglings will react when facing some serious Sith. Let's hope Vader wears a cup.
An Excuse to Be a Star Wars Star
Cosplayers show off their duds throughout the cruise, so make room in your luggage for costumes (you know you want to). On our cruise, Carolyn Claire, Caitlin Cobb and Bridget Cobb —a trio from Newport Beach, California—dove into the deep end of cosplay and each brought seven costumes. Among their standouts was a tribute to The Force Awakens with Claire as Rey, Caitlin channeling General Hux and Bridget going all Poe Dameron in X-wing pilot garb. You'll find everything from Yodas to droids to Kylo Rens during the Costume Celebrations on Star Wars Day. That's when cruisers show off their get-ups in the lobby atrium.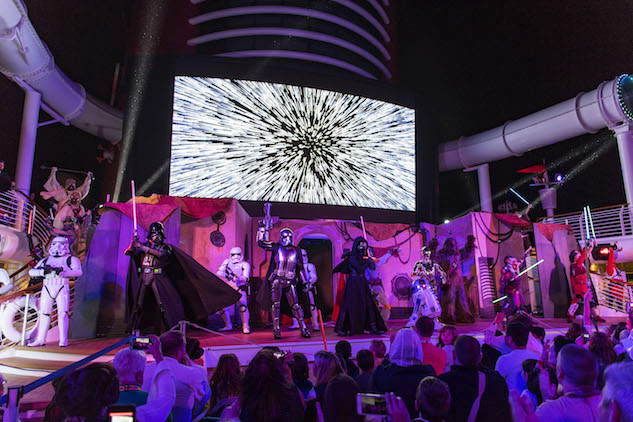 Photo courtesy of Disney Cruise Line
The Really Big Space Show
Star Wars Day at Sea culminates in the "Summon the Force" outdoor stage show on Deck 11. Crowds can get thick, so stake out a spot early. Consider lining up alongside the rail on Deck 12 port side for a nice view of the stage and the perfect vantage point for the fireworks finale. This year's version includes an intro dedicated to the recently departed Carrie Fisher. Live characters, a booming Star Wars soundtrack and film clips on a jumbo screen pump up the production. During my trip, the crowd got giddy when Kylo Ren took the stage and even louder when the physical embodiment of Ahsoka Tano—an animated favorite—emerged. Chewbacca belted a Wookiee roar for the crowd, Jawas chased C-3PO and R2-D2 and Stormtroopers fired their rifles. Ren, and Ezra and the Seventh Sister from Star Wars Rebels, made their Disney Cruise debuts.
Galactic Guests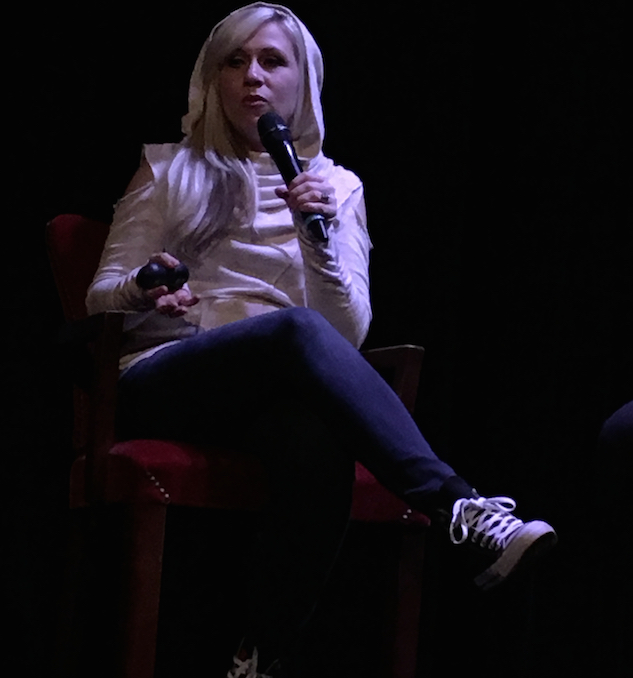 Photo by Jon Waterhouse
A special guest speaker hops aboard for each Star Wars Day at Sea sailing. We were lucky to have Ashley Eckstein, the voice of Ahsoka Tano from S_tar Wars: The Clone Wars_ and Star Wars Rebels. Eckstein, who also owns and operates geek chic clothing company Her Universe, told behind-the-scenes stories and fielded questions from the crowd. Later in the day, she took her time chatting with fans and signing autographs. Other guests scheduled throughout the rest of this year's sailings include Industrial Light & Magic animators, film producers and more.
A Boatload of Merch
During Star Wars Day at Sea, the gift shops on the Disney Fantasy sell a wealth of exclusive merchandise. This includes everything from collectible pins and T-shirts to fashion bags and limited edition artwork. One of our favorites proved to be the customizable Disney cast member name badge printed in the Star Wars Aurebesh script. Consider investing in a functional souvenir such as the Star Wars Day at Sea jumbo Tervis Tumbler. This comes in handy when watching flicks; just before a movie starts, fill up your tumbler at the soda fountain on Deck 11, then head to the theater without having to pony up extra dough for a drink at the concession stand.
Jon Waterhouse is an award-winning journalist, radio show host and performer whose byline has appeared in a variety of print and online publications including Esquire, BlackBook, the Atlanta Journal-Constitution and MTV.com.