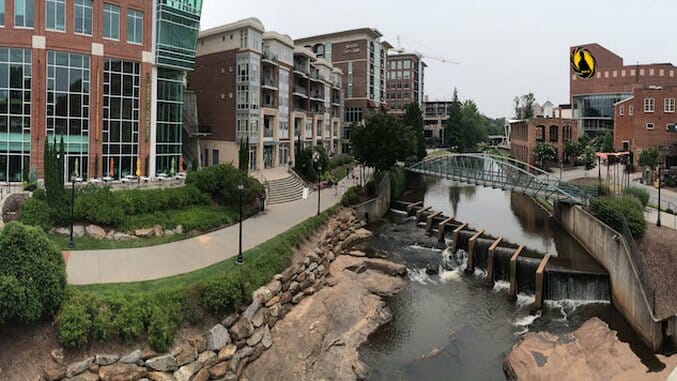 Active travel is becoming popular for travelers across the globe, but the cautious may want to test their skill with options before setting off. Greenville, South Carolina, may be the solution. The infrastructural changes here, over the past decade, have encouraged local and visiting cyclists alike to seek this green city. From the burgeoning biker to the training pro, everyone can find an avenue to take.
George Hicapie, a well-known US cyclist, has traveled to top cycling destinations around the world, but he and his family braked here, in the northwest corner of the state. Though Hicapie has always loved riding in this city, he mapped the "Tour de Greenville" route, on which he convinced the United States cycling team to ride and train, after he settled there.
Greenville is often overlooked by folks on the way to coastal Charleston, but the scene here is rapidly changing. An outdoor enthusiasts' playground, the cultured community and college town has landed among the top-listed destinations to visit in 2017. While tourists flock to the seashore, real travelers remain close to the mountains. Make the most of time in the saddle with Paste Travel's cycling guide to Greenville.
Saddle Up
No bike? No problem. Just two blocks from the Swamp Rabbit Trail, visitors can rent at Reedy Rides for easy trail access. The shop carries 7-speed cruisers, but be sure to call a day in advance to reserve one. Rent by the day or half day for $30 or $20, respectively.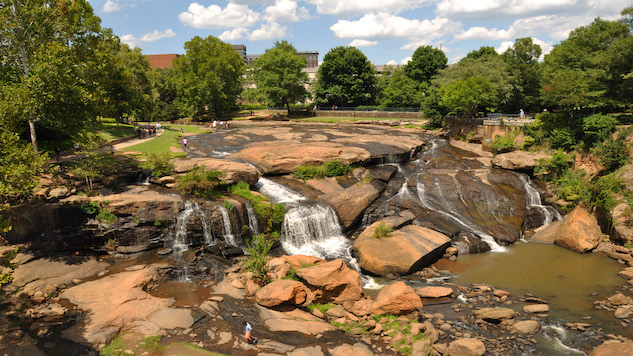 Photo: James Willamor, CC BY-SA 2.0
Fall into Line
Cyclists of every age and fitness level can find their place in this Southern town. From beginners' parks, intermediates' Swamp Rabbit Trail and pros' "Tour de Greenville," there is a ride for everyone.
Those new to two wheels can try out their balance in Falls Park. The Reedy river, which boasts the city's iconic waterfall and suspension bridge, runs through the green space. Practice on the lawn or follow the road to the Swamp Rabbit Trail. If this popular public space is too crowded to ride, try Green Forest Park.
Novices can follow the trail south to Conestee Lake or north to Traveler's Rest, South Carolina. Greenville's outdoor lifestyle eventually led the city to open Swamp Rabbit Trail, a 20-mile multi-use "rails to trails" project that opened in 2009. Though the trail is already in use, there are plans to extend it 100 miles south from the current end point. A Swamp Rabbit pro tip: Stop at Swamp Rabbit Café along the trail for a caffeine fuel-up or indulge with crepes at Tandem in Traveler's Rest.
Experienced cyclists looking for a challenge should head straight for the "Tour de Greenville." The first stage begins along the Swamp Rabbit Trail downtown and heads toward Furman University. Stage two takes on Paris Mountain. Climb the two and a half miles to descend on the other side. Start the timer to compare your pace to that of the United States Cycling National Competitors. Coast along Piney Mountain to Rutherford road before reaching Main street.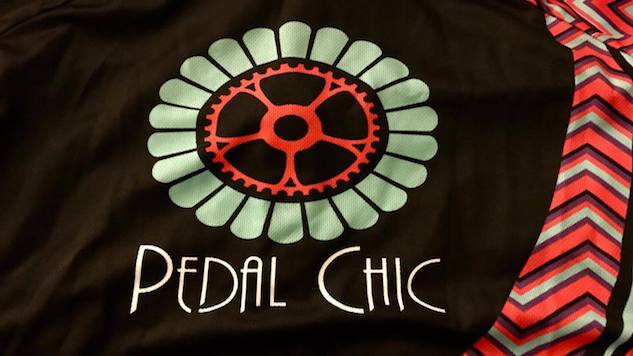 Photo: Molly Harris
Keep On Rolling
Pedal Chic, the United States' first "women-centric" cycling boutique, opened in 2010. Owner Robin Bylenga decided to create the space after being laid off for a year. After applying to and receiving a loan from Michelin's development program, Bylenga opened Pedal Chic as not only a bike shop, but as a "women's empowerment center."
Drop in for a tune up or to pick up new gear after a ride. Enthusiasts can find bike-themed home decor, apparel, stylish helmets and repairs.
Top Image: Matthew Rings, CC0 1.0
---
Molly Harris is Paste Design's assistant editor and a freelance writer based in Athens, Georgia.