How to Spend a Weekend Exploring Detroit
Detroit skyline photo by Charles Falsetti, courtesy of Visit Detroit. Other photos by Johnny Motley.
Travel
Features
Detroit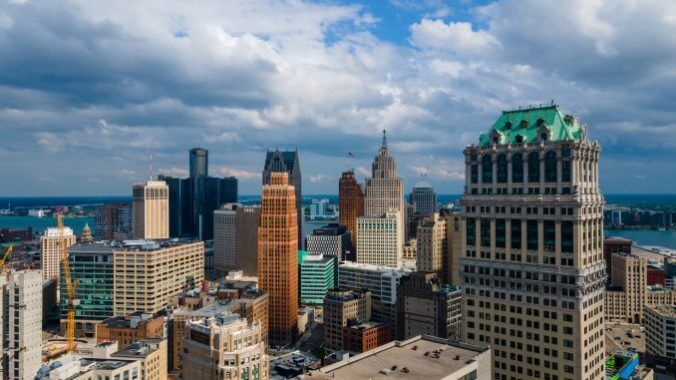 Detroit always has been, and still is, one of the Great American Cities. Blending blue-collar grit, innovative zeal, and Heartland charm, Motor City has played an outsized role in shaping American industry, popular music, and civil rights. We can understand Detroit's distinctive character, texture, and sense of pride upon considering its history over the past century: an ascension to dizzying heights of wealth post-World War II; financial freefall ending in bankruptcy in 2013; and resurrection to recapture its glory as a Midwestern cultural and economic powerhouse. Anyone who wants to better understand America should visit Detroit, the city largely responsible for building our nation. Not to mention, the Paris of the Midwest, awash with culinary delights, colorful neighborhoods, and awe-inspiring architecture, makes for one hell of a fun visit.
Getting around Detroit is easy and affordable. The downtown core is eminently walkable, and the city's light rail and bus networks make reaching the outer neighborhoods like Hamtramck and Dearborn a piece of cake. Below, find a mix of classic and one-off suggestions for exploring the elegant belle of Lake St. Clair.
Sample Dearborn's Middle Eastern Delicacies
Right outside Detroit proper, the suburb of Dearborn is home to the largest Arab community outside the Middle East. Understandably, Dearborn boasts some of the nation's finest Middle Eastern cuisine—and, better yet, the prices are right. Walk down Michigan Avenue, Dearborn's main drag, to find an enticing array of Yemeni coffee houses, banquet hall-style kebob houses, and Syrian grocers. Malek Al-Kabob is a local favorite for skewer-roasted meats—succulent and perfectly charred—pillowy dollops of hummus, and housemade toum, that addictively delicious whipped garlic sauce ubiquitous in Lebanese cuisine. While Malek Al-Kabob doesn't serve alcohol, the mint tea, refreshing and mildly caffeinated, pairs well with the rich meat dishes. After a platter of kebabs and fragrant basmati rice, walk across the street to Qahawa House, a buzzing cafe hawking jet fuel-strength milk tea laced with cardamom and ginger. 
Dearborn is the headquarters of Ford Motor Company, and The Henry Ford Museum of American Innovation ranks among the world's premier industrial museums. The sprawling complex, reminiscent of a college campus, houses such historical treasures as the bus Rosa Parks rode, the Wright Brother's aircraft, and John F. Kennedy's presidential limousine. In the museum's outdoor section, Greenfield Village, visitors ride a restored Model T, peruse Thomas Edison's lab, and see locomotives and automobiles from the early days of the Industrial Revolution. General admission to the Henry Ford will run you $30.  
---
Choose Sides in Detroit's Coney Dog Battle
If somehow you're still hungry after Dearborn, make a beeline for downtown to sample Detroit's legendary dueling hot dog joints, Lafayette and American Coney Island. Coneys, lightly fried franks lashed with chili, diced onion, and Michigan mustard, are a luncheonette and diner staple throughout eastern Michigan, but Lafayette and American, each over a century old, constitute the undisputed weenie duumvirate. Like Pat's and Geno's in Philly, the culinary rivalry between America and Lafayette is fierce, and every Detroiter holds an unshakable opinion about who reigns supreme. The restaurants are next door to each other, and coney dogs are light enough to sample both variations and make up your own mind—but tread carefully when broadcasting your allegiance around town. 
---
Spend an Afternoon at the Detroit Institute of Art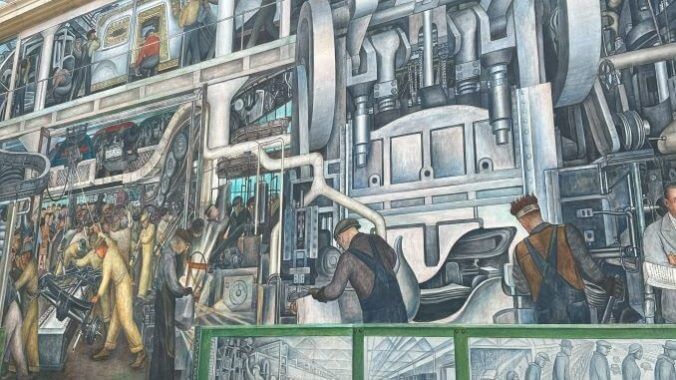 A reminder wrought in marble of Detroit's former status as the world's wealthiest city, The Detroit Institute of Arts is one of the most impressive art collections in the United States, in the same elite echelon as the Metropolitan Museum of Art or the National Gallery. 
As with all great museums, a single visit offers precious little time to satisfactorily view the exhibits. With collections ranging from ancient Sumerian artifacts to Renaissance masters and Jazz Age giants, give yourself at least two hours to meander through the DIA's majestic halls and galleries. Among the museum's most renowned works are the Industry Murals, a parlor adorned floor-to-ceiling with Diego Rivera's masterful brushwork. After spending months in Ford's automotive factories, Rivera, often drawing on symbolism from Catholicism and Aztec religion, painted a masterpiece depicting the boons and perils of man's relationship with machines. 
From downtown, the DIA is just a few stops away on the Detroit People Mover, the city's overground light rail. If you plan to spend the day at the museum, the DIA Cafe serves caffeinated pick-me-ups, craft beer, and light lunches. For a more filling repast, Buddy's Pizza, right down the street from the DIA, bakes scrumptious Detroit-style pies—square-shaped and rimmed with caramelized parmesan—and serves a decent selection of Michigan craft.
---
Marvel at Downtown's Art-Deco Gems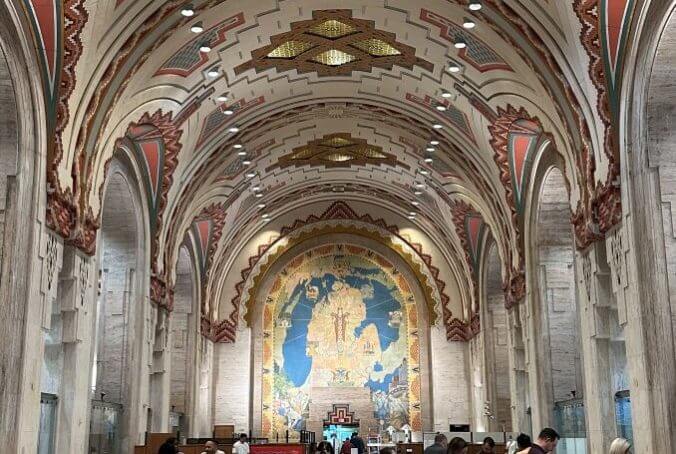 Art-Deco grandeur, on a level rivaling even Manhattan, embellishes Downtown Detroit, with many of the city's architectural treasures open to the public for self-guided tours. The lobby of The Guardian Building, a few blocks from Lafayette and American Coney Island, could well be the Sistine Chapel of Art Deco—a cavernous foyer with floors, walls, and ceilings meticulously decorated with tilework, tracery, and a riot of flamboyant hues. Within walking distance of The Guardian is the Fox Theater, an iconic performance hall festooned with neon lights and statuary. For an evening of architectural splendor and world-class music, check out the theater's line-up while in town. 
The City Institute of Detroit offers architectural and cultural tours of the city (about four hours). Tour guide Jeanette, a walking encyclopedia on Detroit history, shuttles guests to her favorite restaurants, eateries, and neighborhoods. The tour includes a visit to Third Man Records, a music store founded by guitar god and Detroit native, Jack White. Behind the rows of records and rock 'n' roll memorabilia, Third Man houses a vinyl-pressing factory, one of a few dozen currently operating in the country. 
---
Grab a Beer by the Detroit River
On the banks of the Detroit River across from Windsor, Canada, Atwater Brewery treats patrons to delicious pours, indulgent bites, and good cheer. Michigan, writ large, is a heavy-hitter on the American craft beer landscape—on par with Colorado or Oregon—and Atwater's offerings exemplify the Great Lake State's sterling reputation for masterfully brewed suds.   
Grab a flight or a pint—Detroit City Juice and Dirty Blonde are standouts—and post up on the riverside patio to rub shoulders with GM executives, automotive workers, and local musicians. To soak up all that good beer, Atwater's kitchen serves cheeseburgers, loaded nachos, meatball subs, and other such pub grub. With a hoppy IPA in your hands and views of the sunset over the water, an afternoon at Atwater is peak Detroit. 
---
Discover the Roots of Techno and Motown
While today techno evokes underground raves in Europe or warehouse parties in Brooklyn, the genre was born in Detroit in the 1980s, when DJ Juan Atkins released an experimental track called "The Alleys of Your Mind." Yes, without Detroit, the ecstatic, dance-inducing beats of Avicii, Skrillex, or Steve Aoki never would have been. In fact, today, there are still direct flights from Berlin and Osaka to Wayne County Airport, largely catering to techno-geeks eager to discover the music's cradle. Exhibit 3000, part museum and part shrine to techno's founding fathers, walks visitors through the history of early techno. In the museum's basement, Somewhere in Detroit, a store akin to a holy site for EDM enthusiasts, sells rare techno and jazz records. Techno is far from a relic of the past in Detroit, with venues like Marvel Bar, Motor City Wine Bar, and Spotlight carrying the electrified torch into the 21st century. 
Obviously no discussion of Detroit's music heritage is complete without an homage to Motown, the label credited with breaking the Color Line in American popular music. In the 1960s, the city fell so smitten with the dulcet melodies and crooning voices of Motown pioneers like Smokey Robison, The Temptations, and Stevie Wonder that radio stations abandoned policies of segregated airwaves. The Motown Museum, housed inside producer Berry Gordy's studio, Hitsville, USA, is where all the immortals of Motown cut their tracks in the '60s and '70s. The museum is small but packed with musical memorabilia, including a glove donated by Micheal Jackson, and eloquent exhibits cataloging the music's origins and global impact.
---
Where to Stay in Detroit
Shinola Hotel 
Mirroring the clean aesthetics of Shinola watches and bicycles, the recently opened Shinola Hotel offers a visual feast for architecture and design buffs. The rooms, gorgeously furnished and graced with bars stocked with locally distilled spirits, are as handsome as the company's celebrated timepiece. Rates hover around $350 per night. 
The terracotta-adorned tower also houses a bevy of excellent restaurants and bars. Evening Bar, the hotel's speakeasy, serves expertly mixed Pre-Prohibition cocktails within a Jazz Age-inspired lounge. Chef Andrew Carmellini, the force behind Manhattan's Bar Primi, launched San Morello, an upscale trattoria, and Penny Red's, a gourmet fried chicken joint, within the Shinola Hotel. And if you're a watch aficionado, set aside a morning to peruse rare and classic Shinola watches, along with leather goods and clothing, at the hotel's shop.
The Element Detroit at the Metropolitan 
Next to Ford Field, the Detroit Lions' stadium, The Element Detroit at the Metropolitan is a soaring Neo-Gothic tower converted from an office building into a sumptuous hotel. During the renovation, architects restored the lobby's Art Deco splendor to its full majesty, and the rooms match the elegant aesthetics of the building's façade. On the penthouse level, The Monarch Club treats guests to expansive views of the city and a curated wine, cocktail, and craft beer list. 
The Element is within a quick walk of Parker's Alley, a narrow brick walkway brimming with hip restaurants, bars, and boutiques. Mad Cap Coffee, in Parker's Alley, is a fantastic Third-Wave coffee roastery, and Checker Bar, a lively watering hole bedecked with Michigan sports memorabilia, is an after-hours go-to for grub and nightcaps.
---
Johnny Motley has written for The Daily Beast, Matador Network, Cool Material, and more. He's on Twitter @johnnymotley.