Disney's Star Wars: Galactic Starcruiser Hotel Will Let You Sleep in Space… in Florida
Artist Concept courtesy of Disney/Lucasfilm
Travel
News
disney world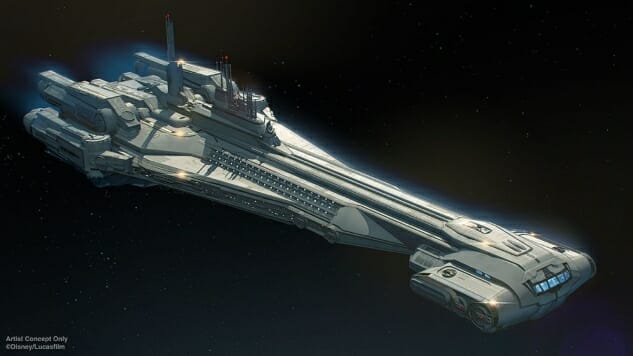 Ever dreamed of waking up in a strange, sterile room and peering deep into the endless churning void of outer space? Disney World will soon make that dream, like so many others, come true. Star Wars: Galactic Starcruiser was officially unveiled at the D23 Expo fan festival in Anaheim tonight, finally giving a name and a shape to the Star Wars hotel that we've long known is coming to the company's Florida resort.
#StarWars hotel coming to Disney World will be called Star Wars: Galactic Starcruiser.

"Guests will check in for a 2-night adventure aboard a starship. Once onboard, they will interact w/ characters, become active participants in stories that unfold around them." #D23Epxopic.twitter.com/Zfbe9idMWn

— Ashley Carter (@AshleyLCarter1) August 23, 2019
The news initially broke through the Twitter accounts of journalists at tonight's D23 media preview; eventually the Disney Parks blog quickly shared the news, along with some additional information. The basic facts: it's a spaceship, you hang out in it, at some point you go to Star Wars: Galaxy's Edge at Disney's Hollywood Studios, and if you're lucky you don't have your mind blown a little bit by the vastness of the cosmos that envelopes you. According to that Parks blog post, each visit will be a two-night stay aboard the Halcyon, where "guests will interact with characters and become active participants in stories that unfold around them on their galactic journey." It's an expansion on the immersive goals of Galaxy's Edge, where cast members are all in-character and the Play Disney Parks app helps you interact with the world around you.
D23 Expo visitors will be able to check out a model of the hotel, along with additional artwork, at the Disney Parks "Imagining Tomorrow, Today" pavilion at the event. Perhaps those images will answer some of the questions we have about the hotel—most crucially, how will Disney build a massive structure that looks like a Star Wars spaceship in central Florida without it looking incredibly out of place? Disney currently shuttles its hotel guests from the Orlando airport straight to its resorts; will they build the Halcyon inside some kind of exterior show building to hide it from outside eyes, and then prevent guests from seeing that building and the land around it upon arrival? Instead of the typical Disney Magical Express buses (which, to be frank, aren't that magical at all), will there be unique cars or buses that look like Ralph McQuarrie spaceships, have screens with space projections instead of windows, and that will ferry guests directly to a garage within the spaceship hotel? Uh, how many semesters of college would something like that cost?
So yeah, other than a name and a model, we really don't know anything yet about Star Wars: Galactic Starcruiser—including an opening date. Expect more news from this year's D23 Expo, which officially starts tomorrow; the Disney parks panel is on Sunday at 10:30 a.m. PT. As expensive as this adventure might be, if it's as impressive as the world-building that went into Galaxy's Edge, Star Wars diehards will no doubt line up for the experience.
For a larger look at the Starcruiser concept art, click on the image below.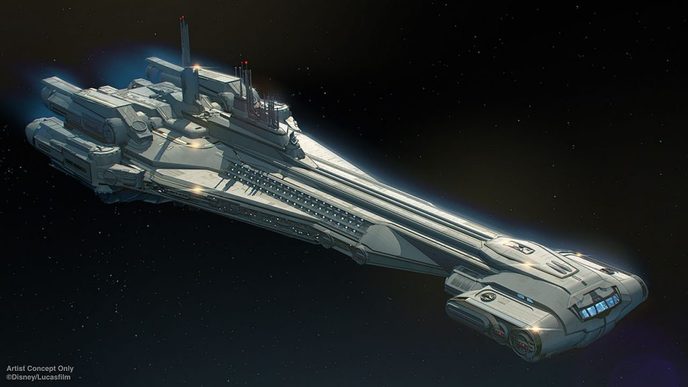 ---
Senior editor Garrett Martin writes about videogames, comedy, travel, theme parks, wrestling, and anything else that gets in his way. He shares stories and photos from his Disney journeys on Instagram at @garrett_goes_to_disney. He's also on Twitter @grmartin.