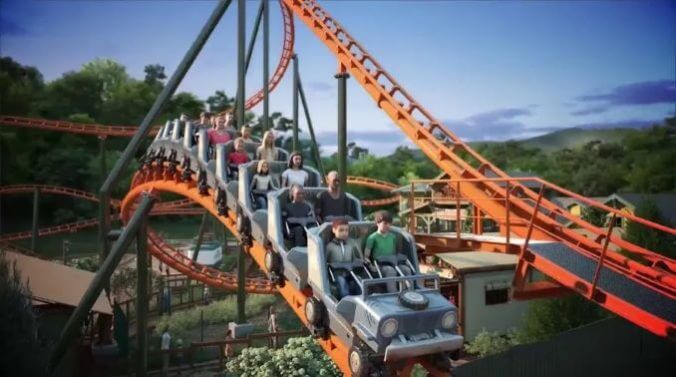 Big Bear Mountain, the newest roller coaster at Dollywood, officially opens this Friday. It'll be the latest addition to the park's Wildwood Grove section, a family-friendly area that opened with a coaster and a variety of flat rides in 2019. At almost 4000 feet long and with top speeds up to 50 miles per hour, the new coaster promises to up the thrill factor a bit in Wildwood Grove, bringing Dollywood its longest roller coaster yet, but without alienating younger or less adventurous riders.
Paste talked to Dollywood's president Eugene Naughton about Big Bear Mountain at the IAAPA Expo last fall. "When we talk about wanting to be the number one family destination in the United States, a family-friendly ride with a multi-generational view is a perfect addition to our park," he told us back in November. He pointed out that despite being a roller coaster, it should accommodate both "the average five-year-old" as well as their grandparents, underscoring the new ride's accessibility. Despite its family-friendly nature, Naughton made sure to boast about the "over 20" airtime moments the coaster has—or, as he noted, what Dolly Parton calls "butterfly moments"—in order to assure serious coaster fans that Big Bear Mountain will still have is enough thrills to make them happy.
Big Bear Mountain also promises to be more story-focused than most of Dollywood's coasters. It'll be the park's first coaster with on-board audio, and is based on a character named Ned Oakley and his search for a legendary wild bear. We haven't ridden the coaster yet ourselves, and Naughton was beyond cagey when discussing story details last fall, but ideally a ride with that set-up would include a face-to-face meeting with Big Bear himself. If that happens, and whether the bear appears as an animatronic or in another fashion, remains to be seen.
Dollywood guests will be able to ride Big Bear Mountain starting at 2:30 p.m. on Friday, May 12. Hopefully Big Bear himself isn't as elusive as his legend.