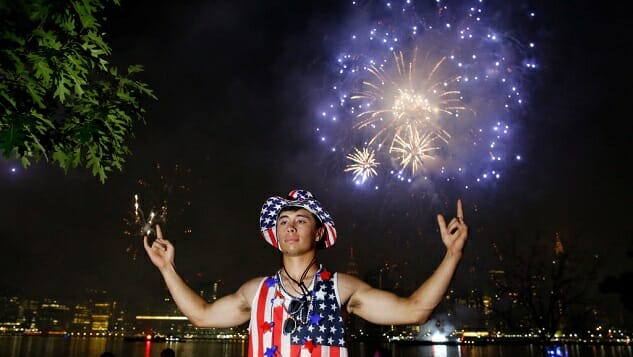 It's time once more to celebrate the birth of our country by frightening dogs, littering the earth, and blowing up massive amounts of fireworks. It's what our forefathers would want; nobody understood the value and pleasure of pyrotechnic-heavy displays of corporate patriotism than a bunch of 18th century farmers. If you live in one of America's biggest cities, Paste can point you towards the biggest and best fireworks displays that'll be blasting your home tomorrow night. If you don't live in one of those cities, hopefully you're close enough to drive to one. Or maybe you can just spend a couple of minutes on Google and find out what's happening in your neck of the woods. For all the big city folks out there, here's where you can find your fireworks this year.
New York City
Macy's annual fireworks show is scheduled to start in the East River around 9:20 p.m. The department store lists seven recommended viewing locations on its website, although with limited capacity there's no guarantee you'll make it into any of them. If you can't find a good place to post up and watch the show in person, you can always tune in to NBC from 8 to 10 p.m. Or maybe just go get a drink somewhere instead—Paul Revere would understand. He was a brewer, you know.
---
Los Angeles
L.A. is full of various fireworks displays tomorrow, and you can find a good rundown of them in the Los Angeles Times. There'll be fireworks after the Dodgers game tomorrow, and the Hollywood Bowl will be hosting a celebration with music from the L.A. Philharmonic, Nile Rodgers and Chic. Cerritos hosts the Let Freedom Ring party for the 46th year, with music, rides, food and fireworks at the Cerritos Civic Center and Cerritos High School. In Long Beach you can catch a fireworks show from aboard the Queen Mary, and Universal Studios Hollywood will be having Fourth of July fireworks for the first time. There are dozens more fireworks shows and Fourth of July celebrations throughout the Los Angeles area, so make sure to consult the list at the Times.
---
Chicago
The Navy Pier is the main fireworks spot in the Second City. The show starts above Lake Michigan at 9:30 p.m., with prime viewing spots around the Pier or on nearby rooftops. Also worth mentioning is the Northwest Fourth-Fest at the Sears Centre Arena, which is both a great rhyme and a multi-day carnival jam-packed with fun, including rides and a water park. There are other fireworks shows throughout the metro Chicago area; check out a list of them over at Time Out Chicago.
---
Houston
Freedom Over Texas is the main game in town for the Fourth. Expect country music, food, and a massive fireworks show to close out the night. Also expect to see and hear the word Citgo all over the place—even Independence Day celebrations have to get those sponsorship dollars. If you'd rather have a more traditional experience, the Houston Symphony will once again host a Star Spangled Salute to America. The free show at the Miller Outdoor Theatre ends with those holiday fireworks that you crave. Find more to do in Houston over at Paper City.
---
San Francisco
If you don't mind hitting up a supreme tourist destination, Pier 39 and Fisherman's Wharf will both have a good view of the city fireworks launched in the Bay, while offering different musical entertainment earlier in the day. And if you're looking for something a little mroe low key, check out SF Gate's list of celebrations.
---
Boston
The annual Boston Pops Spectacular will pack out the Hatch Shell by the Charles River once again, capping off a revue of patriotic classics with a stirring and explosive-filled "1812 Overture" while the fireworks explode over the water. If you're looking for something that'll have a smaller crowd or less stodgy soundtrack, check out the Boston Globe's list of options.
---
Atlanta
Atlanta's Fourth is known for the annual Peachtree Road Race, a 10K run through the heart of the city in the morning. (Because waking up early to jog in the hot and humid Atlanta July is my idea of a day off.) Fireworks-wise, the best bets in the city are the Georgia World Congress Center Authority's Fourth of July Celebration, which will be held at the International Plaza near the new Mercedes Benz Stadium this year instead of Centennial Park. There's also a fireworks show at the Fourth Ward Historic Park, sponsored by Ponce City Market. Georgia Public Broadcasting has a full list of Fouth celebrations throughout the region, if you don't mind heading to the website of a company that steals college radio stations from their students.
---
Seattle
Seattle's main fireworks show, Seafair Summer 4th, takes place at Gas Works Park. Fireworks are scheduled for 10:15 p.m., which seems a little late for a family event, but maybe those hardy lumberjacks just stay up later in the Pacific Northwest. Find out more at Eater Seattle.
---
Washington, D.C.
D.C.'s standard Fourth of July celebrations might've been co-opted by a certain President who wants to turn it into a modern day Roman triumph, but the fireworks show at the National Mall is above and beyond partisan politics. If you can stomach heading into town during Trump's self-congratulations, you'll find one of the most iconic fireworks displays in America—even if it doesn't have any tanks.
---
Dallas
Paper City also has a rundown of all the fun you can have in Dallas on the Fourth, including another morning race, a day-long pool party in Plano, and even goat yoga. The highlight is Fair Park Fourth, the city's annual tradition, with carnival games and a big fireworks show starting around 9:30 p.m.
---
Miami
I have faith that we'll save Miami from the ravages of climate change somehow. I mean, the city itself is almost definitely toast, but maybe a flotilla of barges can keep people living in relative comfort at the southern tip of Florida. Barges are often used in fireworks shows, so it wouldn't even be a big change in that regard. The America's Birthday Bash at Bayfront Park could probably continue as is. Check out the Miami New Times for info on more celebrations happening around the city.
---
Phoenix
Fabulous Phoenix 4th returns again with all the music, food and fun that's been its forte since the '80s. The Vandellas are playing, so expect a heatwave, which you already should have expected anyway, since Phoenix is basically one long, unending heatwave. The fireworks should start 'sploding around 9:30 or so p.m., so glue your eyes to the skies around then. the Phoenix New Times has a deep list of other options, too.
---
Philadelphia
Nothing makes me happier than finding out that Philly's premier Fourth of July celebration is called Wawa Welcome America. This shindig seems to take over the entire city, with events popping up around town for days. The centerpiece is the July 4th Concert & Fireworks, which will feature performances by Jennifer Hudson, Meghan Trainor, the Philly POPS Big Band, and then a fireworks display set to live music from the United States Army Field Band. I guess it makes sense that America's birthplace would have one of the biggest Fourth of July parties—almost as much sense as it being sponsored by Wawa. Visit Philly has the full list of what's happening, if you need more information.