When it comes to Scotch whisky, commonly called Scotch, people are serious … especially those making the pilgrimage to one of the five distillery regions. In this installment of "From the Source" Paste Travel takes a look at the brief history of uisge beatha (the water of life) and which locations are worth the trek.
The practice of producing the amber liquid is an art that continues to be perfected after 600 years. By 1494, distilling Scotch was already well established. The earliest record shows Friar John Cor receiving eight bolls of malt. An amount of that size could roughly make 1,500 bottles. Through translations over the years, Scotch is also known to have been used for medicinal purposes such as prolonging life and easing the side effects of smallpox.
The first tax on Scotch came in the 17th century—1644 to be exact—and was increased with the Act of Union in 1707. Inflation was introduced as an attempt to rein in fractious clans. These heightened duties eventually drove distilleries underground causing smugglers to work around the law for the next 150 years. Ministers stored the liquor under pulpits and transported it in coffins—whatever it took to avoid confrontation and bloody battle with excisemen.
Having weathered many storms, Scotch solidified its place as a cherished drink when the phylloxera beetle decimated French crops and by extension the region's products. Until wine and brandy returned to cellars, Scotch took center stage as a time-honored favorite.

Photo: Flickr/Steve Adams
1. Do the Mash
Scotch is made with only three ingredients: water, barley and yeast. Malting the barley—allowing it to produce sugar—yields grist after grinding the grain. Grist is a coarse flour that, when mixed with water, creates mash. This concoction is then brewed. Tiny perforations in the double pot allow wort, a sugary liquid, to drip through.
2. Getting Tanked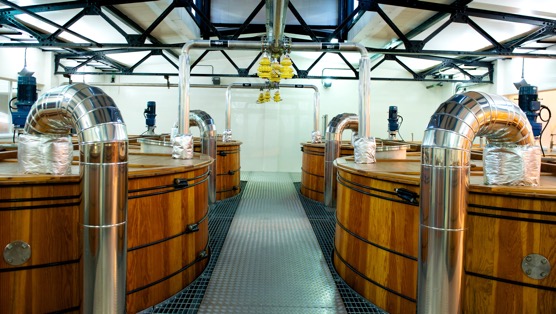 Photo: Flickr/Josh Rubin
After collecting the wort, it is then transferred to fermentation tanks where yeast is added. Yeast eats the sugar from the liquid which produces alcohol and carbon dioxide so that the wort bubbles. After fermentation, the alcohol is distilled and left to mature in oak barrels before bottling.
3. Singles Party
Generally speaking there are two types of Scotch whisky: Single malt and single grain. Single malt is made in batches using only water, malted barley and yeast. Pot stills at a single distillery are used to produce single malt Scotch. With government regulation of the pot still size, the batch size is also controlled. Single grain Scotch meets the same requirements as single malt but may have malted or unmalted cereals added as whole grains. Single simply refers to the fact that the drink is made at a single distillery.
4. Born and Bred
To legally label and advertise Scotch whisky in the United Kingdom there are five regulations to be met. The product must be made in Scotland following the proper procedure with only water, malted barley and yeast. Next the Scotch must aged in batches no more than 700 liters or 185 US gallons for at least three years and one day in oak casks on Scottish soil. Maintaining the qualities of the raw materials used to make the drink, no other substances with the exception of water and E150A caramel coloring may be added. Lastly, the end result must be at minimum 40% ABV.
The Glenlivet
Speyside Region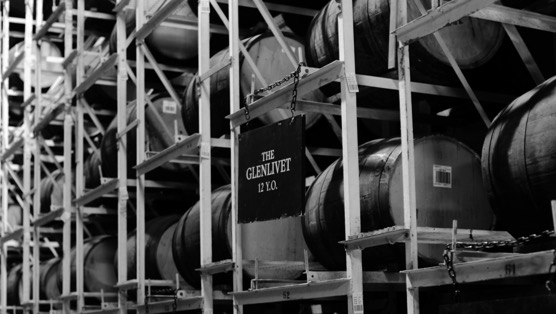 Photo: Flickr/Mark Rowland
The Glenlivet distillery, named for the parish it resides, has a long history beginning in 1824. As the oldest legal distillery in the Speyside Region, it produces single malt whisky. American residents most likely recognize the name due to the brand's status in the U.S. The Glenlivet is known for utilizing springs near the premises as well as the shape of their stills which give their Scotch a light taste. Tours are free and last about 45 minutes. Visitors can also journey through time with a walk along one of three marked smugglers trails.
Bladnoch
Lowland Region
Built on the banks of the River Bladnoch, Bladnoch distillery is another single malt Scotch operation. This distillery was founded 1817 by John and Thomas McClelland in the Lowland Region. Originally, 131,640 liters of whisky could be produced yearly. Today more than 36,000 liters can be made per week. While tours are not currently available, this picturesque stone distillery is worth stopping by along a Scottish road trip.
Old Pulteney
Highland Region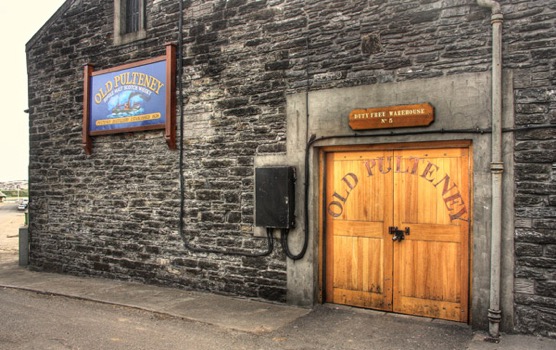 Photo: Flickr/Steve Adams
One of the finest distilleries around, Old Pulteney has something to offer every Scotch drinker. Spirits of all ages can be found in the Highland Region with their 21-year-old single malt among the most popular. Known as "The Maritime Malt," this distillery was once difficult to access. Therefore the barley was brought by sea. The final product is characterized by its flare from exposure to ocean air as it matures. General tours start at six pounds, or fifteen with a taste of three varieties, before increasing to forty-five pounds for the masterclass.
Glengyle
Campbeltown Region
Founded in 1872 by brothers, Glengyle distillery was once a part of Springbank distillery. Later a disagreement between the owners led to a split and two separate companies. The grounds changed hands more than a few times over the years and even served as a gun range at one point. After repairs came to a close in 2000, the first batch reached maturity in 2014 under the new name Kilkerran located in Campbeltown. Currently tours are by appointment only.
Lagavulin
Islay Region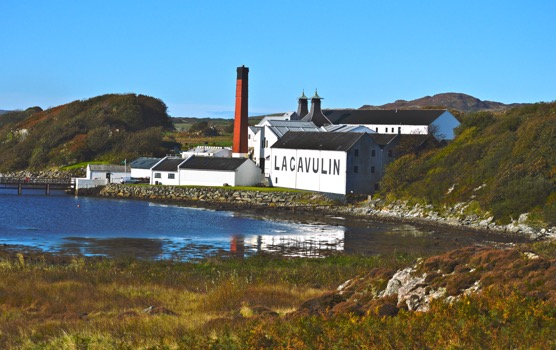 Photo: Flickr/Stephane Farenga
Twenty miles off the coast of Scotland is Lagavulin distillery in Islay. Dating back to 1816, Lagavulin is no easy destination. However, Scotch whisky enthusiasts make the journey for the festival each year. Ranging from 12 to 37 years, this whisky is characterized by the use of peat from the distillery's grounds. Known for its slow distillation process and pear shaped pots, their 16-year variety is renowned. Wander the warehouse during daily hours. With their average bottle requiring 16 years of maturation, there are plenty of barrels with which to get acquainted.
Talisker
The Islands (unrecognized sub-region of Highland)
Founded in 1830, the Talisker distillery's production has significantly grown to three and a half million liters yearly. Whisky ages range from 10 to 30 years. The complexity found in Talisker Scotch is largely due to their use of water from a spring that flows over a local peat bog. Since the early 2000s specialty bottles have become popular among Scotch connoisseurs. Stop by the distillery for a tour given on the hour daily.
Molly Harris is a freelance writer based in Moscow, Russia.