Great Venues: Codfish Hollow Barn
Photos: Ed Wilson, Aric Keil, Roberta Osmers, & the Codfish Hollow Barnstormers
Travel
Features
Like any true oasis, the Codfish Hollow Barn isn't easy to find.
Outside of Maquoketa, Iowa, which has a population of 6,141, the road turns gravel beneath car wheels and cell service vanishes, leaving travelers with only gut feelings to guide them. The only folks to ask for directions are cows, and they are never responsive. Dust clouds and hand-painted signs are the only trustworthy things to chase in the hollow, and on this late June afternoon they lead up a small rise to where Marvin sits in a lawn chair next to his John Deere 4020 tractor.
He gives a one fingered wave and cracks a smile. Like everything else in the hollow, he's been here for a long time and has no plans of leaving.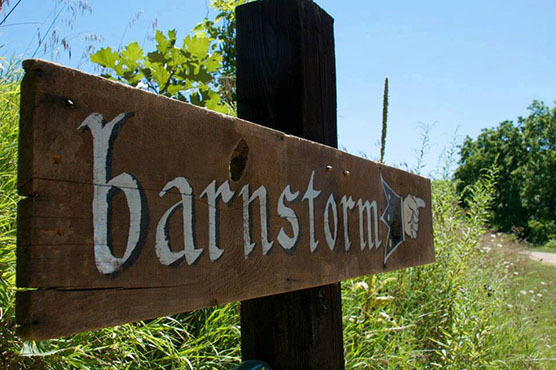 On this Saturday, Delta Spirit is scheduled to commence with the music at "7-ish," and the parking lot/camping pasture is slowly filling up. It's been five years since the band has been here, and things have grown and changed immensely in the interim for both camps: Delta Spirit has come to the forefront of the folk rock world, and Codfish Hollow has carved out its now mythic reputation.
This is due in part to the folks who have filled the barn's stage over the last six years, including but not limited to Counting Crows, John C. Reilly, Dawes, Justin Townes Earle and Conor Oberst. A reminder of each of their shows—hand-carved wooden boards adorned with the names of headliners and openers—hang from the rafters of the barn; there are more than 40 boards now.
Each one of them still looks like an improbability to Daytrotter founder and co-framer of Codfish Hollow Sean Moeller. Back in 2009, he was planning the first Barnstormer Tour, a series of shows to be played in barns across the Midwest. He was given an address and a couple of names: Shawn and Tiffany Biehl. From the moment he met them and saw the barn, he knew that this place was a haven.
"If you planned to build a barn and planned to put on shows in the countryside, you would have built it exactly the way this thing naturally is," Moeller says. "I don't think you could have actually planned it out any better than it's laid out. It'd be virtually impossible."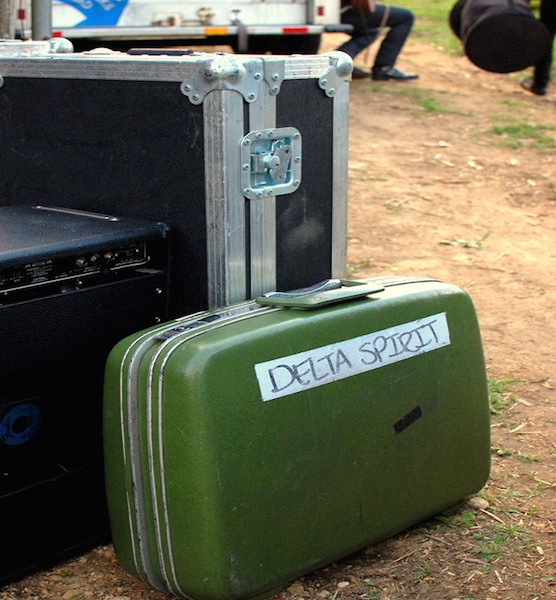 At the time, the barn was full of farm equipment, bales of hay and straw, and cattle were still in the lower level of the barn which has now become the bar and band green room. Local farmers and neighbors helped the Biehls remove the equipment, and within a few weeks, the inaugural Daytrotter Barnstormer show began with Caleb Engstrom, Catfish Haven and L.A. band Local Natives. It was the first time in 55 years that there had been music in the barn. After it was raised in 1954 by Tiffany's grandfather, a community barn dance was held to celebrate the achievement.
Apart from the barn, there are pieces of familial lineage littered throughout the hollow, land that has been in the family since 1871. The house where Tiffany's grandfather was born is 50 yards from the barn, converted now into an art house that showcases local artists. The walk-in beer cooler by the barn was once a shed out in the meadow. And then there's Marvin, the gatekeeper, who has worked for the family for nearly as long as the barn has stood. He provides the transportation down the hill in his wagon until well after the sun goes down.
Things like this certainly give the oasis its grace for both fans and performers.
"It's hard to be in a bad mood when you are going to Codfish Hollow," Amasa Hines frontman Joshua Asante says while sitting in the green room. "The rolling hills, cornfields, the sleepy lazy cows … by the time you get up here, whatever you were uptight about kind of just goes away."
But it takes more than a scene to tell the story.
As Asante says this, Tiffany appears with a batch of homemade Chocolate Chip cookies and asks if the band needs anything.
If there is a magnetic pull that brings musicians and people to middle-of-nowhere Iowa, it emanates most strongly from Tiffany and Shawn.
"We are like tiny fish in terms of the people who come and play at this place, but everyone gets treated the same," Amasa Hines guitarist Judson Spillyards says a few minutes before their near concert-stealing set. He's been here four times as part of both Amasa Hines and other bands. "You don't ever get emails from club promoters asking you what you need, let alone cookies."
"In a perfect world, this is how artists would be regarded everywhere, with the same regard that you place on an accountant, or doctor, or lawyer," Asante adds. "We are not in era of patronage. Their family has made it their business to be patrons of the performing arts. It's a rarity."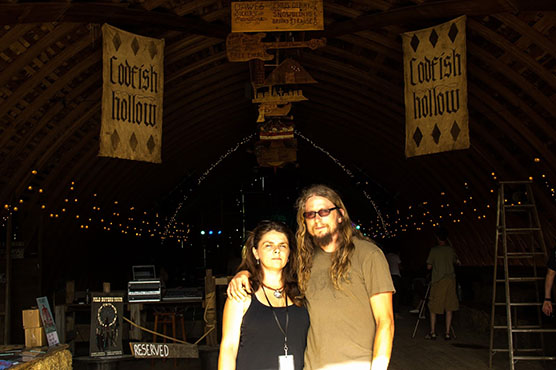 Throughout the night, the two can be seen surveying and cultivating the entire experience of Codfish Hollow. And after the shows are done, they forfeit their entire home a quarter mile up the hill to the musicians.
"They are probably two of the best people I've ever met in my life. They've converted their house into this welcoming, weird bosom," Moeller says. They are just so damn accommodating and everyone is treated like royalty in a very Midwestern way."
Tiffany is quick to dismiss such praise, embodying fully the generosity attributed to her and her family.
"The bands work all night to play us music, the least I can do is give them a bed to sleep in," Biehl says. "I sometimes wake up to a house full of people that I don't know, and we make them breakfast. Some bands ask, 'can we live here with you forever?', and I always say, 'sure!'"
And damn if she doesn't sound sincere.
Avery Gregurich has never strayed too far from the Mississippi River.