Founded on the fumes of fat cigars and pirate's booty, Tampa's always been a city of old-school indulgences. At the turn of the 20th century, cigar factory workers turning out tightly rolled stogies in Tampa's Ybor district put "Cigar City" on the map. And the entire town still goes wild when swashbucklers galore wash ashore during the century-old Gasparilla Festival, held each winter in honor of Spanish buccaneer Jose Gaspar, who amassed scores of treasure trolling Tampa's waters. But in the last few years, cosmopolitan hoteliers, James Beard nominees, and neighborhood revitalizers have transformed this history-heavy city by the bay into a must-visit gulf coast gem on the cultural cutting edge. The hallmark of Tampa, though? It never forgets its roots.
Day One
Morning
Bustling with brewpubs, eclectic eateries and shops, and craftsman-style bungalows, the Seminole Heights neighborhood is a good place to start your Tampa tour. Skip the chain pancake places and head to Three Coins Diner on Nebraska Avenue for breakfast. The diner, open 24/7, exudes an old school, greasy-spoon charm with vinyl booths and bottomless cups of coffee served on Formica countertops. After filling up on a feta cheese omelet and cheap caffeine, head west a few blocks to Florida Avenue to get your boutique and antique shopping on. Stop by the Seminole Heights General Store to stock up on everything from deli meats and locally produced honey to live fish bait and antique teacups. At Sherry's Yesterdaze down the street, the pastel purple and Pepto-Bismol pink façade hints at the colorful racks of vintage clothing inside. For more shopping, head to the newly opened Vintage Post Marketplace, where fine china and kitschy knick-knacks mingle on the shelves of antique and consignment furniture.
Afternoon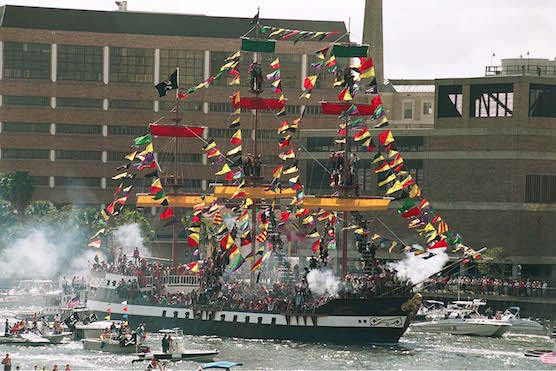 Photo courtesy of Gasparilla Pirate Fest/Event Fest, Inc.
Not content with three James Beard nominations in the last three years for his Seminole Heights hot spot The Refinery, chef Greg Baker opened his second restaurant Fodder & Shine in early 2015. Head here for lunch to try inspired takes on Cracker cuisine, the down-home grub of early 1900s Florida settlers. Think grilled frog legs, from-scratch biscuits, smoked mullet, and pilau (pronounced per-loo)—a rice cake smothered in a rich tomato gravy and topped with sausage, shrimp, and a fried egg.
Ready to work off those biscuits? Then stroll, sprint, or skate down Bayshore Boulevard in South Tampa, home to the longest continuous sidewalk in the world—and definitely the only one to be invaded by pirates every year. If you're here in January, line up a lawn chair along Bayshore to witness the ribald festivities and eager—though poorly aimed—bead throwing of the krewes that march in the annual Gasparilla Parade (pictured above).
Evening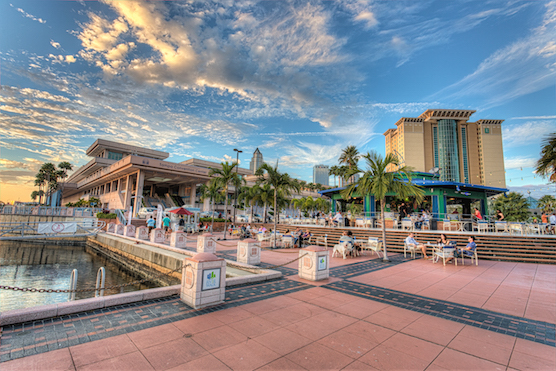 Photo courtesy of Visit Tampa Bay
Move from the bay to the river at Downtown Tampa's Riverwalk. A wide pedestrian thoroughfare studded with small parks and green spaces that snakes alongside the Hillsborough River, the Riverwalk has revitalized Tampa's once-ghostly downtown waterfront district. Make a pit stop at the Curtis Hixon Waterfront Park for prime views of the University of Tampa's Moorish architecture and striking minarets across the river. And yogis, take note: free yoga lessons are offered at the park many evenings.
Go from "om" to "nom" with tapas and drinks at the nearby downtown hot spot Fly Bar. With names like "Rosé All Day" and "Poolside in Mexico," the cocktails shaken up here are "relax and unwind" in a glass, and they pair perfectly with the kitchen's sophisticated takes on classic bar food, like nachos topped with succulent Cuban pulled pork or rabbit tacos. This isn't a beach bum's Tiki bar, though; warm wood paneling and steam-punk-inspired steel accents keep things hip yet comfortable. Head up to the roof deck for a spectacular sunset over the downtown skyline.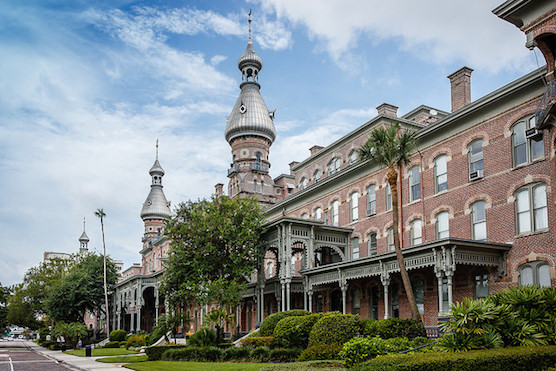 Photo by Holmes Palacios, CC-BY
Day Two
Morning
Across the street from the University of Tampa's towering minarets sits the Oxford Exchange, where beautiful home goods, stylish gifts, and fresh-roasted coffee lure shoppers and diners inside. With a brick exterior and an interior sheathed in reclaimed white oak, brass fittings, and Italian marble details, the Pinterest-worthy, carefully curated shop/tea bar/bookstore/restaurant is perfect for browsing after brunching on Lobster Benedict with corn fondue and micro cilantro. But be warned: it'll be hard to walk away without one of the shop's leather bound collectible editions of beloved classic books like Jane Eyre and Old Man and the Sea, designed in-house.
After shopping and sustenance, head across Kennedy Boulevard for a history lesson at the Henry B. Plant Museum (pictured above). Plant—a railroad magnate—built the Tampa Bay Hotel in the late 1800s, investing over $2.5 million of his own fortune to construct an opulent resort that would attract the likes of Teddy Roosevelt and Babe Ruth. The city of Tampa purchased the hotel in 1905 for $125,000—chump change for such a stunning structure—and began leasing it to the University of Tampa in the 1930s.
Afternoon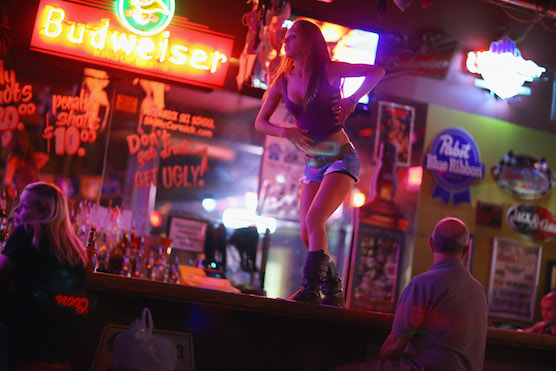 Photo by Getty/Joe Raedle
Head to Ybor City for a taste of Tampa's Latin roots. During the late 1800s, immigrants from Spain, Cuba, and Italy flocked to a sandy patch of scrubland just northeast of Downtown Tampa to take up jobs rolling cigars in Vicente Martinez Ybor's cigar factory—the largest in the world at the time. Now, Ybor's a vibrant entertainment district full of shotgun houses, cobblestone streets, and rowdy nightclubs (pictured above). Stroll through tropical gardens and peek into a restored cigar factory worker's home at the Ybor City Museum State Park; if you're lucky, a cigar roller will be on hand for a demonstration.
Hungry yet? Stop by Carmine's Restaurant on historic Seventh Avenue to indulge in meaty devil crab, a uniquely Tampa treat. Deep-fried, football-shaped pockets of dough (made from moistened Cuban bread crumbs) are stuffed with a spicy blue crab mixture studded with red pepper flakes, making them as hot as the devil.
Evening
Cool off with some smooth sips at Cigar City Brewing, a short drive west of Ybor. In the tasting room, you'll find a rotating line up of beers on tap with kitschy names like "Florida Cracker," a Belgian-style pale ale, and "This Won't Be Popular in the Tasting Room," an English dark mild ale. Get there before 5 p.m. to take the brewery tour for a behind-the-scenes look at its brew houses and canning and bottling lines.
Head back to Seventh Avenue for a filling dinner of Spanish favorites in one of the 15 dining rooms of the sprawling Columbia Restaurant. Dubbed "Florida's oldest restaurant," the Columbia's been around since 1905. Slurp up sangria and the restaurant's signature Spanish bean soup while Flamenco dancers whirl around the dining room dance floor in blood red ruffled dresses.
Getting There
Fly into Tampa International Airport (TPA), just six miles west of the downtown district. Southwest, Delta, and U.S. Airways dominate here, although you can find flights on United, Jet Blue, Spirit, and others.
To Stay
At the Epicurean Hotel in Tampa's trendy SoHo neighborhood, food-themed décor meets outrageously good eats in the in-house bar, restaurant, culinary "theater," and pastry shop. In keeping with the culinary theme, the hotel spa slathers visitors in liquor-based lotions that smell so good you'll want to sneak a taste. Rooms start at $139.00/night.
Built in 1926, the Floridan Palace Hotel's 19 stately stories overlook Tampa's downtown district. The room décor, with carved wood bed frames and gilt-accented dressers, evokes the Beaux-Arts style. Rooms start at $167/night.
Emily Matras is a freelance writer and Tampa native who writes about travel, food, and culture.