Jet-Set Bohemian: Dream Hotels for Chocolate Lovers
Photo courtesy of Boucan by Hotel Chocolat
Travel
Lists
hotels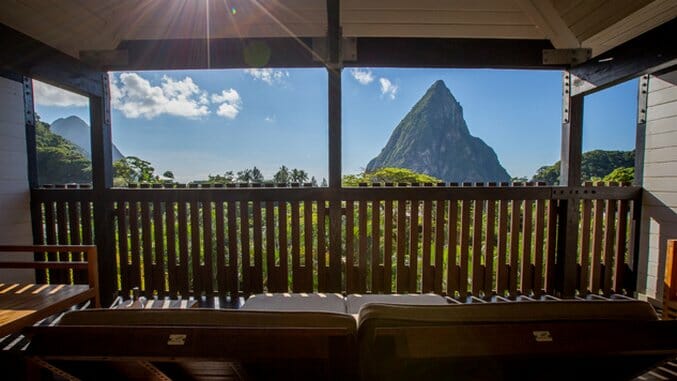 A jetset lifestyle doesn't have to be all private planes and decadent digs. In Paste Travel's Jet-Set Bohemian series, we blend the best of high and low for just the right balance … enticing everyone from backpackers to luxury boutique hotel lovers to come along for the ride.

Valentine's Day is just a few weeks away, but instead of buying a box of chocolates for your significant other, turn the holiday into an excuse to set off to the source in one of these hotels sitting in the midst of cocoa groves where the sweet treat makes its way into everything from martinis to massages.
Boucan by Hotel Chocolat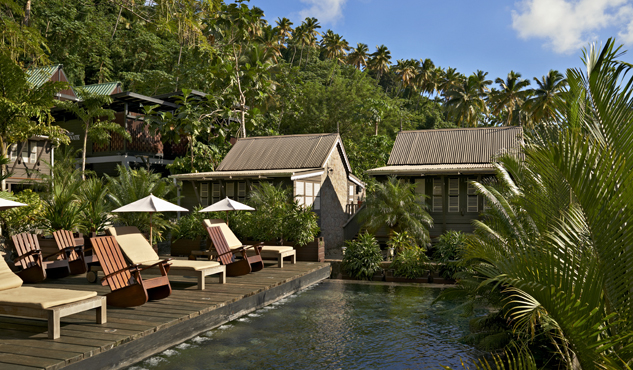 Photo courtesy of Boucan by Hotel Chocolat
Boucan was dreamt up over copious amounts of rum in Soufrière on the Rabot Estate, Saint Lucia's oldest plantation. After buying and sprucing up the 140-acre estate, which had belonged to the same family since the 1930s, British founders Angus Thirlwell and Peter Harris ventured into the chocolate business, growing their own beans and crafting Saint Lucia's first-ever single-origin chocolate. Sharing their chocolate wasn't enough though—the founders wanted those eating it to experience a stay right in the source.
During one rum-fueled evening on the old estate house verandah, the two guys drafted the plan for boutique Boucan by Hotel Chocolat, which opened early 2012. The views were just one of the reasons the founders settled on this plot of land, and their 14 lodges know just how to show them off, with a mountainside setting 1,000 feet above sea level overlooking the twin UNESCO World Heritage Pitons mountains and Caribbean Sea. Instead of farm-to-table, here you can take part in tree-to-bar, strolling through the cocoa groves selecting ripe pods to grind and mix into an artisanal chocolate bar. If you'd rather someone else do the mixing, the Cocoa Juvenate Spa crafts small-batch lotions and potions for cacao oil massages, scrubs and body wraps with a cacao mousse finish hydrating your skin and replenishing it with antioxidants.
Jade Mountain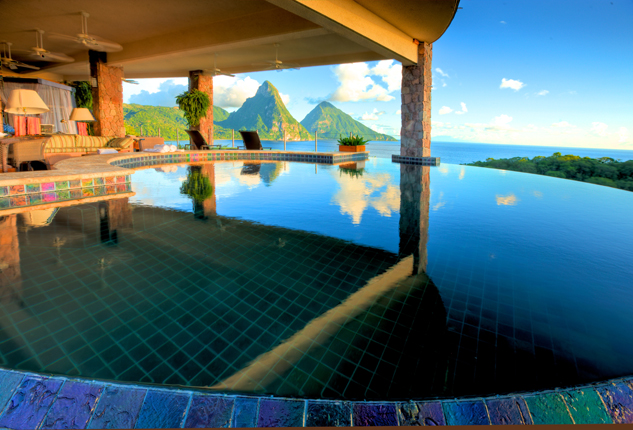 Photo courtesy of Jade Mountain
Also in Soufrière, Nick Troubetzkoy's 600-acre estate, home to honeymoon faves Jade Mountain and Anse Chastanet, is scattered with over 2,000 cocoa trees in the organic farm and along the Soufrière Hills that lead down to the sea. While Boucan holds the title of first single-origin chocolate maker, Jade Mountain is Saint Lucia's only bean-to-bar organic single estate boutique chocolate maker. Think of it in terms of wine, where one bar is crafted from the same crop of beans, just as a bottle may be crafted from a single vineyard's grapes. I don't think anything could say "I Love You" more than the resort's Chocolate Alchemy package, which starts with a sweet welcome cocktail in Jade Mountain's signature three-walled rooms that Nick lovingly refers to as sanctuaries, and continues with a chocolate lover's breakfast in bed, which I'd recommend taking on the terrace overlooking the Pitons (the plunge pool is not a bad pick, either). After an hour-long chocolate-infused treatment at the spa, guests can set out to the onsite Emerald Cocoa Estate for a sensory tasting to get down the basics of chocolate making before trying their hand at it in Jade Mountain's chocolate laboratory.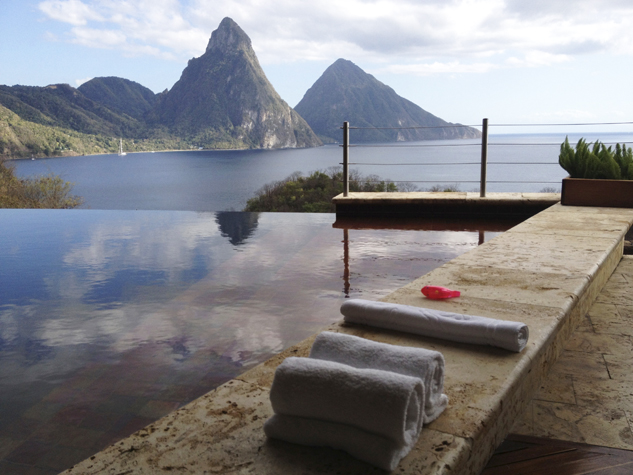 Photo by Lane Nieset

Fond Doux
For a more back-to-basics approach, Soufrière's Fond Doux is a full-on eco retreat sitting on a 250-year-old working organic plantation with 15 colonial-style cottages built without machinery around the area's natural landscape. At the Cocoa Pod and Jardin Cacao restaurants—perfectly placed in the gardens—chefs serve up plantation-to-plate cuisine blending daily harvested ingredients from the organic farms into Creole-inspired dishes. Of course cocoa beans are one of the main crops growing in the gardens, and guests can do more than walk through the groves by taking part in the chocolate-making process from start to finish, harvesting, drying, grinding and rolling the product into fruition, an activity so hot that even Prince Charles and the Duchess of Cornwall tried it when they toured the grounds in 2008. The hand-grown products also make their way into Mama La Terre Spa's treatments, designed to connect mind, body and soul with Mother Earth, the spa's namesake.
Cocoa Cottage
Just above capital city Roseau in Dominica's rain forest, Cocoa Cottage is more about the foraging than growing when it comes to chocolate production. The treehouse-style lodging features six hippie-chic rooms painted and decorated by local artists in mosaics and tribal-style motifs. Rooms focus on the bare essentials—fans to keep cool, hammocks on terraces for meditation and rest—and cuisine is just as practical with locally grown organic ingredients making their way into dishes and drinks, which include the house special, cocoa tea, brewed from cocoa beans growing around the property. Cocoa Cottage also weaves cocoa into its own branded chocolate, CocoJazz, crafted on site with other local wild crops and spices, blending dark chocolate nibbles with coconut shavings, ginger, mint, lemongrass, orange oils and cinnamon for a bar that's perfect for a midnight snack after a day of hiking around the nearby lakes and trails.
Lane Nieset is Paste's Jet-Set Bohemian columnist and a freelance writer covering all things travel from her home base in Nice, France.