Las Vegas is changing.
Although still a popular booze, concubine and gambling destination, these are no longer the primary draws. They've been replaced by palm-flanked resorts, global conventions, and killer food. And, let's not forget the celebrity performers, raucous (or peaceful) pools and even kid-friendly entertainment.
Still, Vegas remains the hotel capital of the world, featuring more rooms than any other city and 17 of America's 20 largest properties. So where should you stay? If you want to feel like a big freakin' deal, make it ones of these:
Four Seasons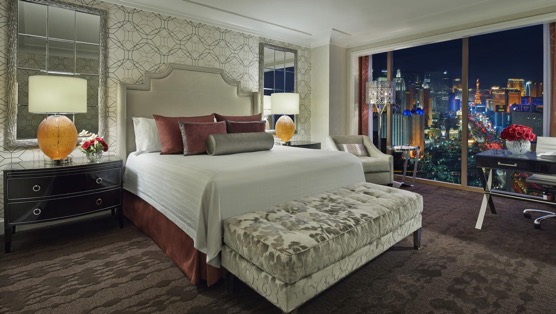 Photo: Courtesy of Four Seasons
It's not the most expensive hotel in Vegas. It's not even the most technologically advanced. But the Four Seasons is the nicest luxury hotel in the city with the best view of the strip.
Located on the top five floors of Mandalay Bay (with its own private entrance and express elevator), Four Seasons Las Vegas was recently renovated and it shows. The pictured view is no superimposed trick. It's for real, and it's amazing. Like something you would expect from a presidential suite.
Pro tip: Request a room ending in "01" for maximum impact.
Mandarin Oriental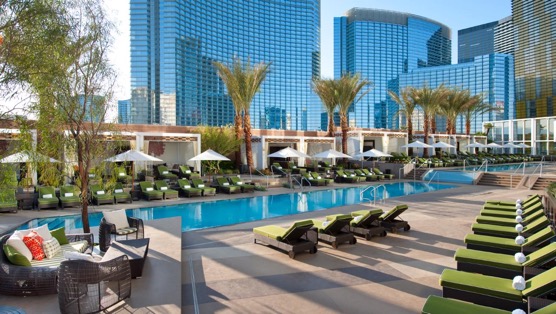 Photo: Courtesy of Mandarin Oriental
Las Vegas can be loud—visually, culturally and sonically. Not so here.
Mandarin Oriental is elegant zen—an indulgent refuge from the surrounding noise. It has the swankiest, most-relaxing and least-crowded pools, and a popular bar with stunning views of the north-side strip. Floor-to-ceiling glass walls overlooking the iconic boulevard, which you can even enjoy while sitting on the crapper.
Even the smell of the place is palatial (the hotel, that is—not the crapper).
Palazzo/Venetian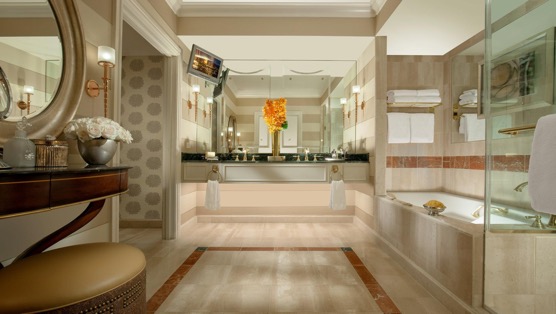 Photo: Courtesy of Venetian
Affordable grandeur. That's what this place is.
Although two different properties, The Palazzo and The Venetian are joined at the hip and pride themselves on luxurious, step-down suites for less than you would expect (for what you get at least). Namely, an imperial lobby, decadent rooms and ornamental furnishings, marble lavatories, two big-screen TVs and la vita bella.
The combined pools are hectic, hallways are uninspired and the overall service is slow. But you won't find more aggressively priced extravagance than at The Palazzo/Venetian.
Aria
Have you ever wondered what it would be like to stay in a state-of-the-art Beverly Hills home? Aria (pictured at top) has your answer. Room decor that's modern, expensive and cozy. Fabulous beds. High-tech opulence. Push the "goodnight" button next to the bed and your entire room gently shuts down.
Like the Palazzo/Venetian, all of this comes for less than you'd expect. Unlike the Palazzo/Venetian, the pools are just as plush but not overbearing—a wonderful place to stay.
Platinum Hotel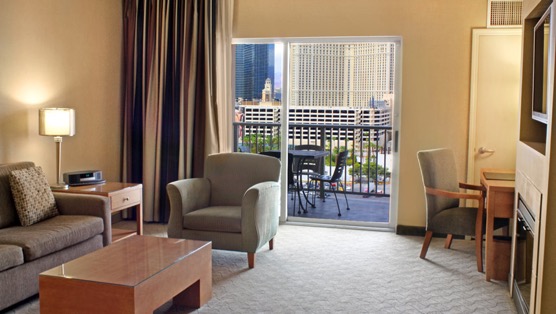 Photo: Courtesy of Platinum Hotel
When it comes to "living large," the Platinum Hotel means it literally, not metaphorically. This off-the-strip hotel is not as nice as its name implies. But its 1,000-to-2,000-square-foot suites are refreshingly spacious and an attractive value.
There are in-room fireplaces, full kitchens and available walk-out balconies. In some rooms there are even washers and driers, making this an ideal place for large parties or extended stays. If swimming is a high priority, the puny pool will let you down. Outside of that, the Platinum Hotel is deserving of its reputation as a visitor favorite with convenient views of the strip.
Off the Grid columnist Blake Snow writes epic stories for fancy publications and Fortune 500 companies. Visit his website or follow @blakesnow.