Wasting Away (Again!) at Margaritaville's Newest, Adults-Only All-Inclusive in Cancun
Photos courtesy of Margaritaville Resorts
Travel
Features
margaritaville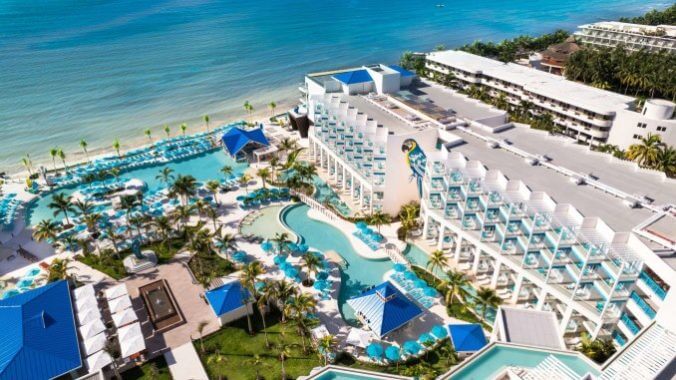 "Get Out There" is a column for itchy footed humans written by long-time Paste contributor Blake Snow. Although different now, travel is better than ever. Today we visit Jimmy Buffett's newest all-inclusive Margaritaville resort.
Author's note: This story was written two days before Buffett's unexpected death, which is sad because I loved his music, especially A1A, my favorite record of his. 
Billionaire Jimmy Buffet built quite the empire. In addition to his famous music, best-selling books, and Margaritaville restaurants, the "Tropic Rock" star owns over 30 hotels and resorts. After reviewing his first all-inclusive two years ago (4.5/5 stars), I returned to Cancun this summer to review his second, adults-only all inclusive, just three minutes down the road from the first. The latter is bigger, brighter, and brand new. 
But is it better?
Comparing apples to apples
No, it's not. But just barely. 
Although the unpretentious vibe, happy staff, comfort food, and inviting pools and cabanas are just as good, Margaritaville Island Reserve Riviera Maya (the new one) is a tad inferior in terms of building materials and decor. Whereas Margaritaville Riviera Cancun (the first one) is demonstrably chic, this one is a little more upper middle class. I'm comfortable with that. But with nightly rates that are 10-15% higher than the older but slightly more impressive first resort, the value is a little off. 
My biggest issue with the new resort, however, is the lack of a proper beach. At the first Margaritaville all-inclusive, there is an actual beach front, replete with beach chairs, umbrellas, and sand to enjoy. Here there is basically nothing—a sea wall that meets the water in high tide and only provides a few feet of actual beach in low tide. The end result is no one uses this area because they can't. That's disappointing (if not misleading) for a property that's billed as a beach resort. "Ocean front resort" is more accurate. 
Outside of these two critiques, Margaritaville Riviera Maya is on brand, laid back, and a remarkable place to escape in the Mexican gulf. But I'd be remiss if I didn't compare this apple to the other.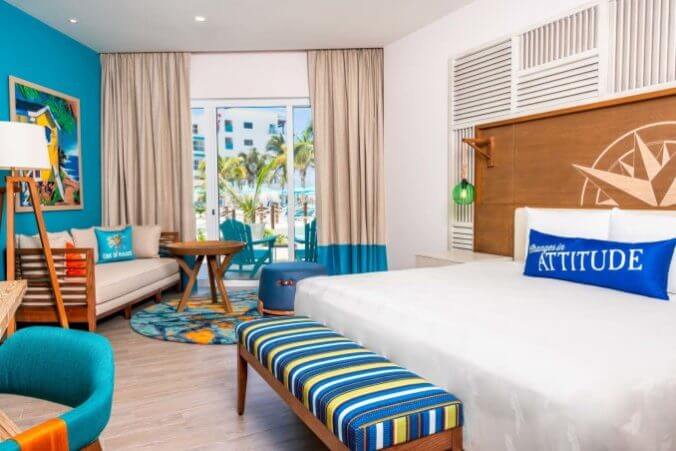 All things considered
Although I didn't encounter many (if any?) kids at the first Margaritaville resort, this one is exclusively adults-only. The staff, service, live bands, and food all stood out, just like the first resort. The landscaping? Perfect. The fire dancers? Good enough to make Hawaiians proud. 
Even though the amenities weren't quite as nice (with the exception of the amazingly charming Frank & Lola's Italian restaurant), I still enjoyed the loud decor, indulgent and clean food, and boat drinks at the five included restaurants, four bars, three pools, and one cafe. Better yet, Margaritaville Riviera Maya probably has cozier beds and a better layout. Although twice as big as the first resort (350 versus 150 rooms), this one has everything neatly tucked into a semicircle of paradise, with the rooms and buildings flanking the back three sides of the resort with the ocean at the front. It's more spacious and easier to navigate. 
There's also an impressive two court pickleball complex overlooking the Mayan jungle, plus beach volleyball. Some of my favorite memories were a full moonlit night over the ocean, limitless poolside seating, wondering how the grounds team planted so many palms, everything about the aforementioned Italian restaurant, bottomless guac, the roasted cauliflower, picanha steak, and mushroom gorditas. The food, staff, and relaxing outcomes were all worth writing home about.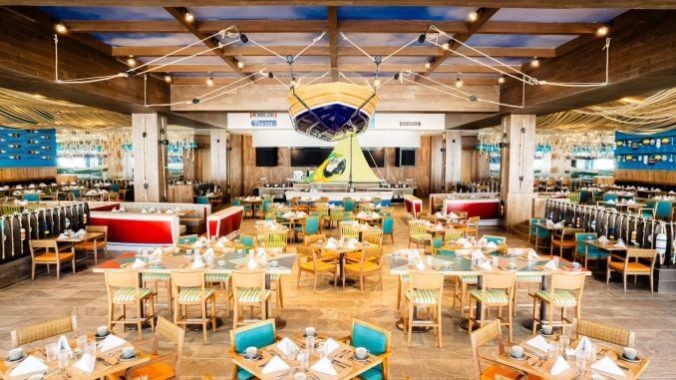 The final word
If you are new to all-inclusives, you will love Margaritaville Riviera Maya. It's 18 minutes from the Cancun airport and is better than most of the other all-inclusives I've reviewed, even if it's not as accomplished as its older sibling. If you're a seasoned all-inclusive fan, you will still appreciate the distinct environment that Buffett's team has created here. It's not perfect, but it's still fantastic. Four stars out of five.
---
Blake Snow contributes to fancy publications and Fortune 500 companies as a bodacious writer-for-hire and frequent travel columnist. He lives in Provo, Utah with his adolescent family and two dogs.