The National Park Foundation just released the sixth special edition in its popular Owner's Guide series, which, according to the NPF site, "is a one-stop resource to discover all of your over 400 national parks." This volume is named Winter Wonderlands. In it readers are encouraged to visit 15 spectacular national parks with snow-covered scenery and plenty of winter-inspired activities. It also provides general driving directions for navigating to each park.
Because visitation to national parks typically declines in the winter months, the NPF guide facilitates your escape to white solitude and an epic winter adventure. Visit the site, grab a parka and step into your snowshoes and prepare for a sight straight out of Frozen.
We've included brief summaries about nine of our favorites here. You can read more about the others once you've downloaded the guide from the site.
Bryce Canyon National Park, Utah
This park (see image above) holds a winter festival every February during President's Day weekend where visitors can embrace astronomy with some incredible views of the sky. Ranger-led night programs with telescopes and the works are offered, but you will need reservations for many of the activities. Need a place to stay? Check out the popular Ruby's Inn, right outside the north entrance to Bryce Canyon. While you're there, find your zen by signing up for a yoga class or take a risk and enroll in an archery competition.
Acadia National Park, Maine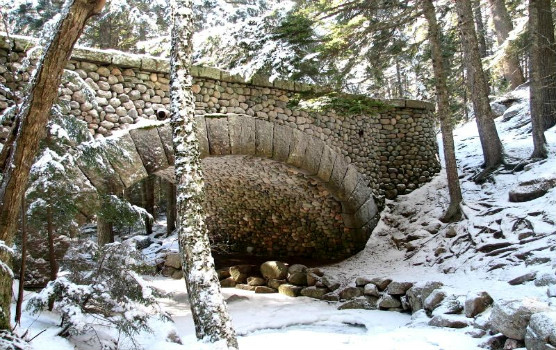 Photo via National Park Service
We know what you're thinking. Inland Maine winters bite … hard. And you're right—but the coasts are much milder, making this park the perfect winter escape. If you're feeling adventurous, you can hop on a pair of skis and high-tail it down the 40 miles of carriage trails (originally built by John D. Rockefeller), leading you right up to one of multiple ponds, where you can try your hand at ice-fishing. Though many facilities are closed for the season, the Winter Visitor Center at park headquarters will welcome you, along with popular sites along Ocean Drive. Nearby Bar Harbor offers travelers comfortable lodging and equipment rentals.
Grand Canyon National Park, Arizona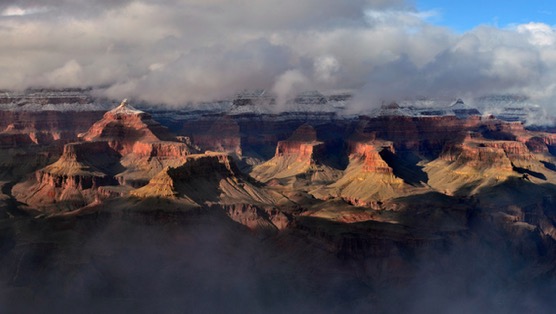 Photo courtesy of Grand Canyon National Park
The Grand Canyon's crowded chaos slows down a bit in the cold season. The North Rim is closed for the winter, but the South Rim is open all year. Feel like roughing it in the low temps? You can get a much lower rate on campsites in the winter—or at various lodges if you'd rather not be a human Popsicle. Hikers can take an icy journey along the famous Bright Angel Trail, and the history lovers can trek to El Tovar Historic Hotel to hear about the canyon's deepest secrets.
Lassen Volcanic National Park, California
Snowshoers and skiers are really psyched when the Lassen Volcanic Highway closes to the public. The reason: once the cars are cut off, this park becomes a winter-sports haven. From mid-November to late March, skiers, sledders and snowshoers come together to roam the miles of solitary wilderness. Beginners can head out to Manzanita Lake and practice on a number of slopes until they're ready for the big leagues. Afterward, you can join ranger-led walks where you'll learn all about ecology and winter survival.
Voyageurs National Park, Minnesota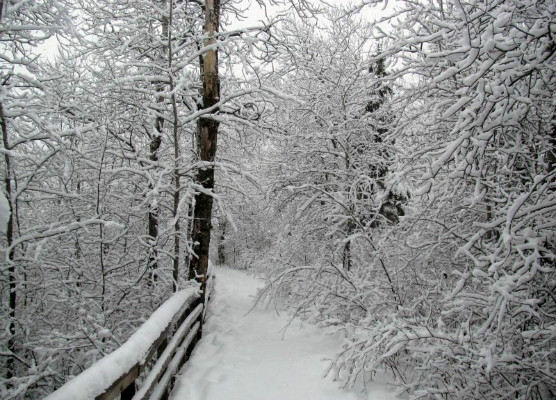 Photo via National Park Service
Just 11 miles east of International Falls sits a frozen sanctuary of snow-laden treetops and trails, ideal for cross-country skiing and snowshoe expeditions. The Rainy Lake Visitor Center is open year-round and offers rental equipment. The Tilson Creek Ski Trails and the Oberholtzer Trail are the perfect paths to strap on snowshoes and explore. Icehouses frequent this national park, but if you aren't into that sort of thing, you can look for a room in International Falls or near Rainy Lake outside the park.
Sequoia & Kings Canyon National Parks, California
This park may be small in size, but don't let that fool you. Beautiful, soaring sequoias envelope travelers in the Giant Forest Grove and provide a divine contrast from the pure snow covering the limbs and floor. The largest living tree on earth, the General Sherman Tree, is here. You can also take a quick trip to the nation's Christmas tree: the General Grant Tree. These parks are great for day trips, but if you fancy a longer stay, make sure you spend time at the Sequoia Natural History Association's Sequoia Field Institute where programs are offered to introduce you to seasonal outdoor activities. Pearl Lake Winter Hut will make a lovely, historic stay and is available December through April.
Cuyahoga Valley National Park, Ohio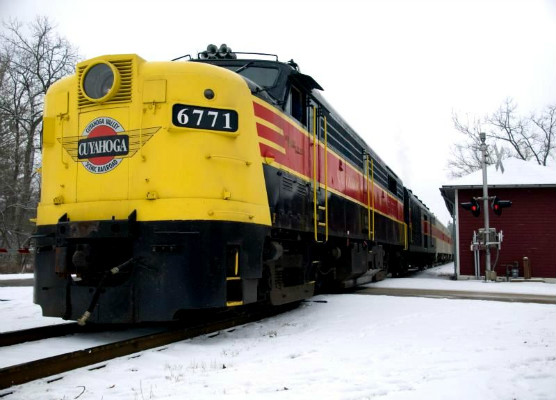 Photo via National Park Service
This is no ordinary national park. Despite the chilly temperatures, park-goers from all over still come to take part in the winter fun—including listening to educational speakers, contra dances and art workshops. Got cabin fever? Head outside to the Kendall Lake Shelter's Winter Sports Center and take lessons from personal instructors, or go for a hike on the snow-white trails.
After, mosey over to Cuyahoga Valley Scenic Railroad to catch one of the unique rides on wine-tasting trains, dinner trains and even a holiday-season trip to the "North Pole." Finding a place to stay shouldn't be difficult, but make reservations in advance for the Inn at Brandywine Falls or the Stanford House.
Olympic National Park, Washington
Even if you're not much of a mountain-climber or hiker, you can still enjoy the beauty of winter in this coastal park. Of course temperatures will still be rather cold, but the snow melts quickly and a stroll at low-tide is a relaxing way to wind down at the end of a long day of exploring. There are campgrounds at Mora Rialto Beach, Ozette Lake and Kalaloch, where visitors can make themselves comfortable. If you get up enough courage to venture to Hurricane Ridge, you won't be disappointed with what you find: intense snowshoeing and cross-country skiing.
Yosemite National Park, California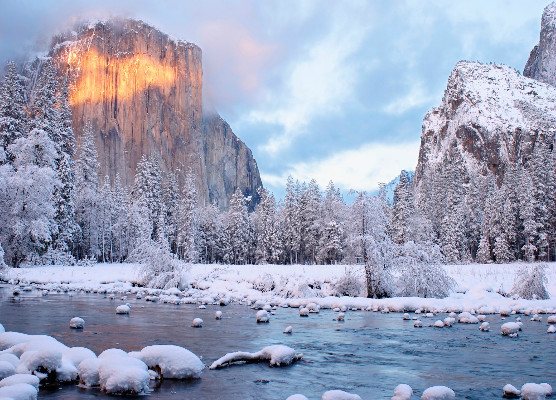 Photo via iStock/CompassAndcamera
Next Christmas, you're going to want to visit this park. For nearly a century, a Renaissance-inspired, seven-course dinner and four-hour pageant of carols and medieval entertainment has occurred annually to celebrate the Bracebridge Dinner at the Ahwahnee Lodge in December. Yes, it's a little pricy (around $400 per person), but worth every penny. If you'd like to be more frugal, you and the family can stay in nearby Curry Village. Skate your heart out from mid-November to March and take the kids to see the festive Christmas decorations around Ahwahnee.
Test your athletic ability at one of the only downhill ski areas in a national park: Badger Pass, the oldest ski area in the Golden State. You'll want to check the Valley Visitor Center for up-to-date trail conditions, though, as some trails can become inaccessible due to weather.
Gabbi Markle is a Travel intern Paste Magazine and a freelance writer based out of Athens, Georgia.